Original Diorama and Pilot Model Designed and Constructed by Brett Gallant
Photographs and Model Pictured here by Stephen Drees
Names, Logos, Designs and Photographs Owned and Copyright Brett Gallant
the Award Winning
Shelby's Marine Service
HO Scale Limited Edition Craftsman Kit Number 103
Released March 1998 | Sold Out
When Tom Shelby sold his tiny Shelby's Boats and Baits to the BlueSky Company, the whole county rejoiced! Everyone thought he would retire and that would be the end of all that fishy business. Well Tom tried to leave all the glamour behind but just couldn't. He moved across the tracks and down by the harbor eventually building his new marine facility, bigger and smellier than ever! That was nearly fifty years ago. Tom's second cousin Shep has taken over the family business and is trying to clean up the place. Shep Shelby still repairs the fishing vessels in need, and will still rent you a boat and sell you some bait. No matter how hard he tries, that smell lingers!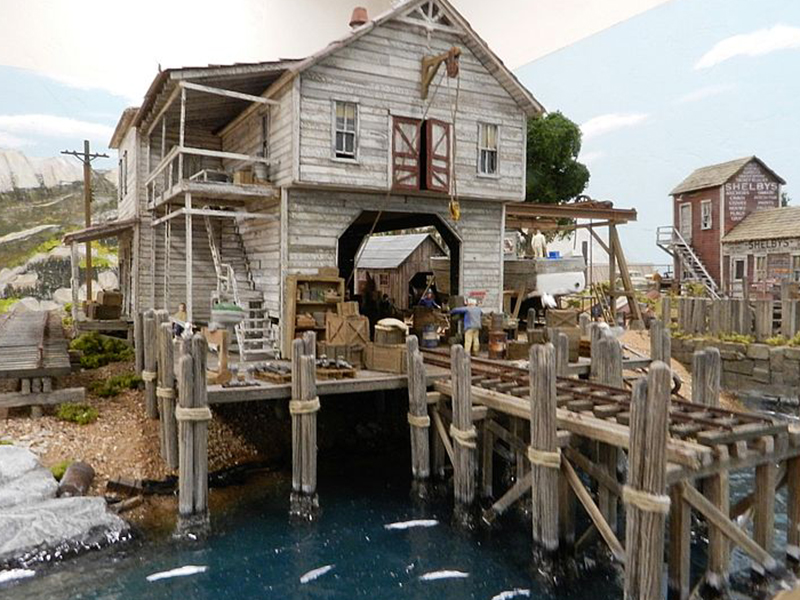 Shelby's is the companion structure to the BlueSky Company. They both have the same feel even though vastly different in style and coloring. I envision Shelby's along a lake shore bustling with activity, for me Lake Tahoe. The murky water testament to the paint, oil, and gasoline conveniently dumped shoreside.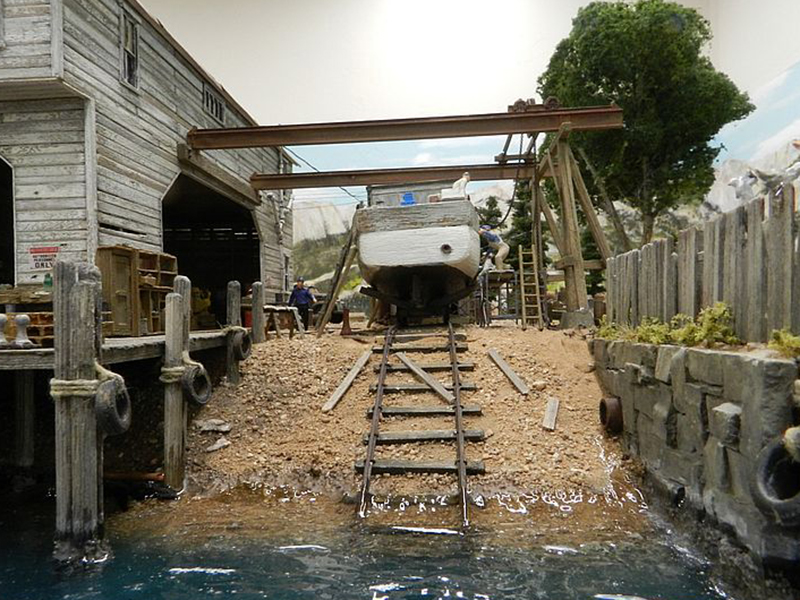 An unobstructed view of the boat ramp and crane area. Notice the scraps of lumber and multitude of oil and paint stains. The large, haphazard pile of discarded barrels along the rear of the small fence sits upon earth heavily saturated with oil and paint. The texture of the ground plays an important role in defining the scene and adding dimension.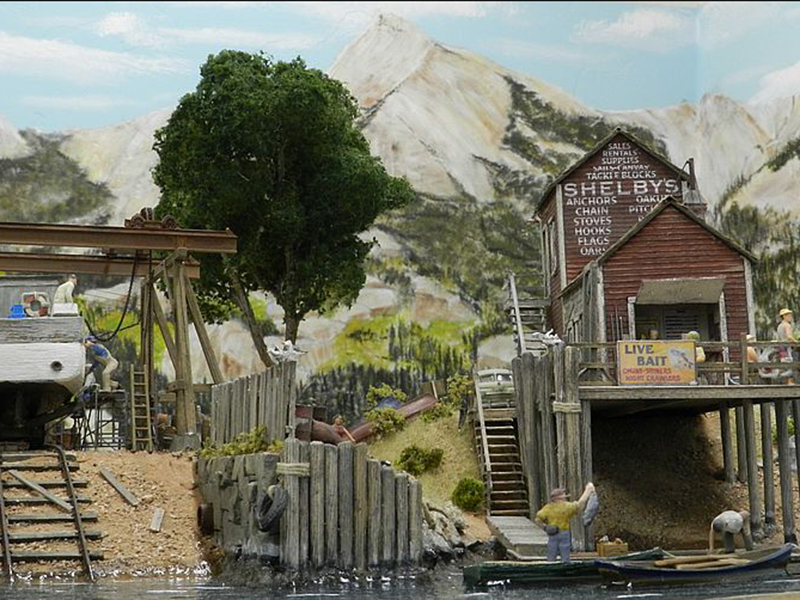 The bait and tackle shop wharf is a classic scene! The fishing nets wrapped around the railings is simple yet highly effective in creating the right atmosphere.The small dock below the wharf is home to the small rowboats used daily by the Shelby's crew. That is some nasty looking water, no swimming!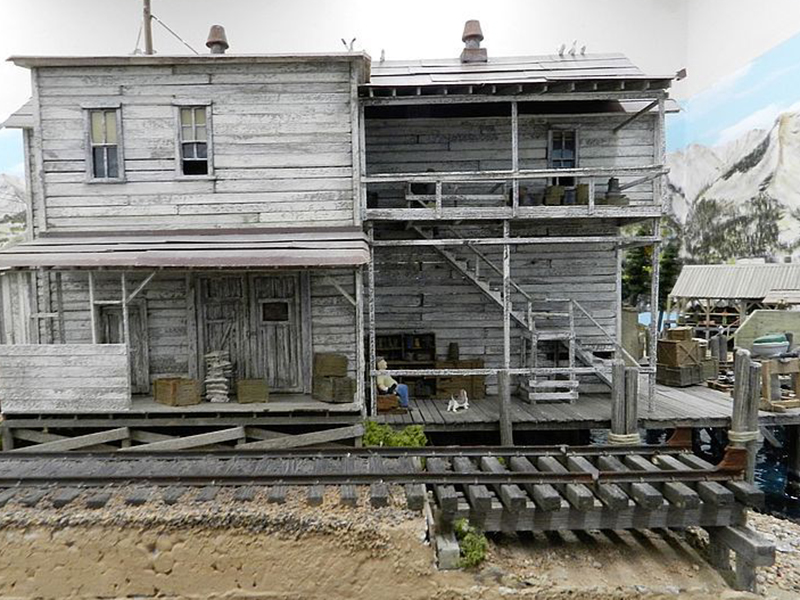 The porch and stairway/landing are a highly detailed addition to the side of the main building. They were one of the last elements added to Shelby's, they just seemed to fall into place fitting perfectly and enhancing the whole diorama.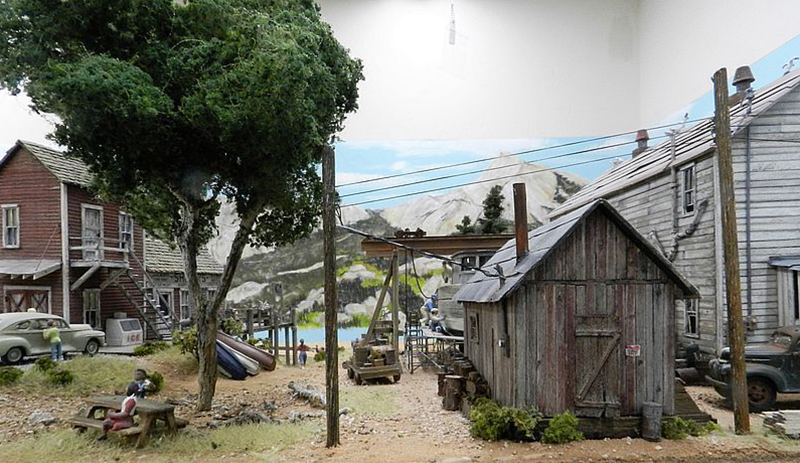 All of the elemental techniques of coloring and weathering the wood, working with the cast doors, and constructing the laser cut windows fall into place and blend well.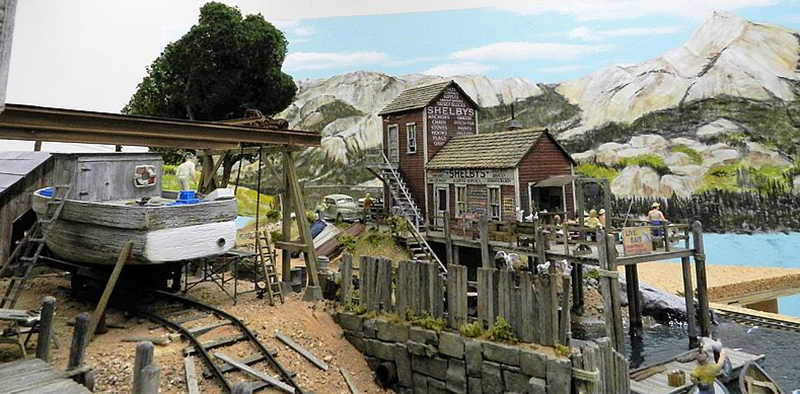 The small fence atop the stone wall creates a nice backdrop for all the clutter and junk lining the opposite side.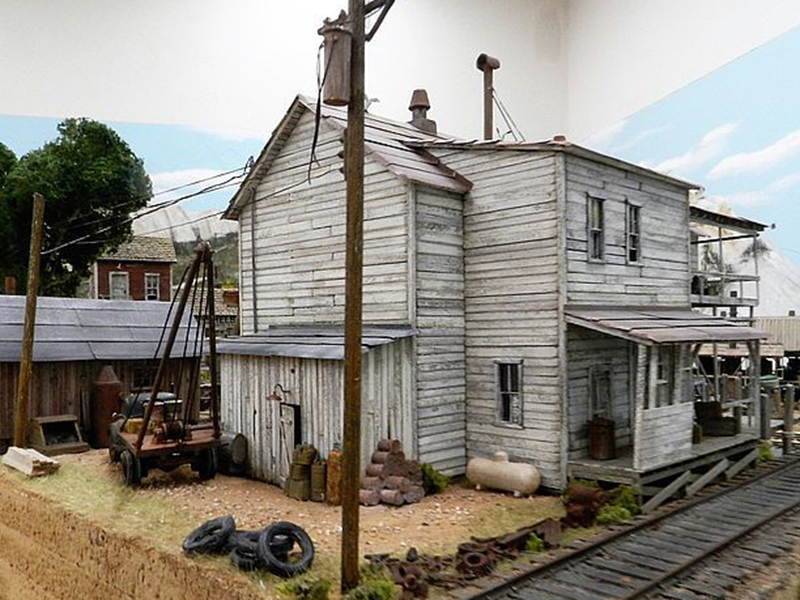 The hoist house is one of my favorite elements of the diorama. I love the mixture of wood and the funky cast resin foundation. I plan on scratch building an entire structure with this look.