Diorama and Pilot Model Designed and Constructed by Brett Gallant
Names, Logos, Designs and Photographs Owned and Copyright Brett Gallant
the Award Winning
Shipyard at Foss Landing
HO Scale Limited Edition Craftsman Kit Number 106
Shipyard Diorama Measures 18" x 17" as Pictured
Released August 2010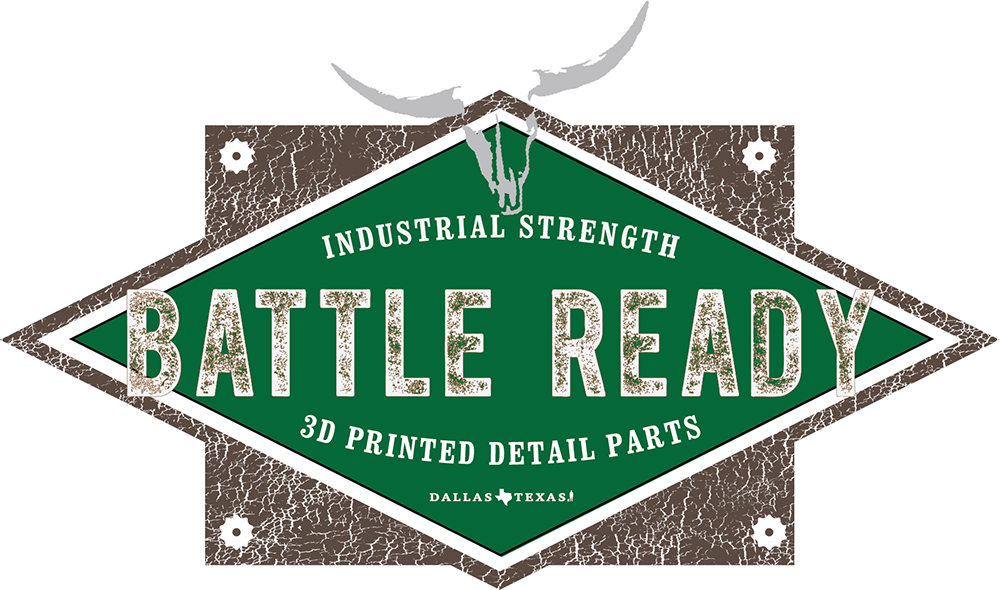 Updated with an Amazing Selection of 3D Printed Detail Parts!
this kit Redefines what is possible in HO Scale
Study the photographs and take in all the detail.
Remember, this is an 18" x 17" HO Scale diorama!
Like all SierraWest kits, all four sides are highly detailed.
Good luck choosing the view you like best!
HO Scale Shipyard
SPECIAL ORDER
Kit 106 | Order Now
Everything Pictured is Included Except Track and Senery
The Diorama Measures Approximately 18" x 17"
$345 plus shipping and applicable taxes
A $50 Deposit is Due Now, Upon Checkout
Balance Due + Shipping Upon Shipment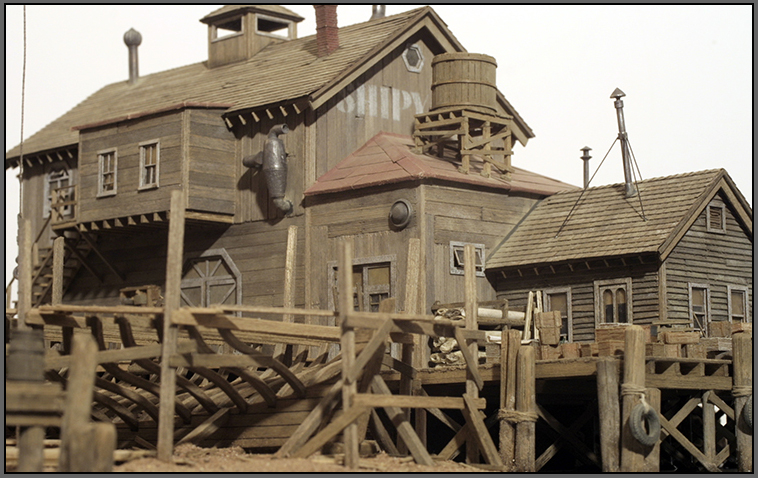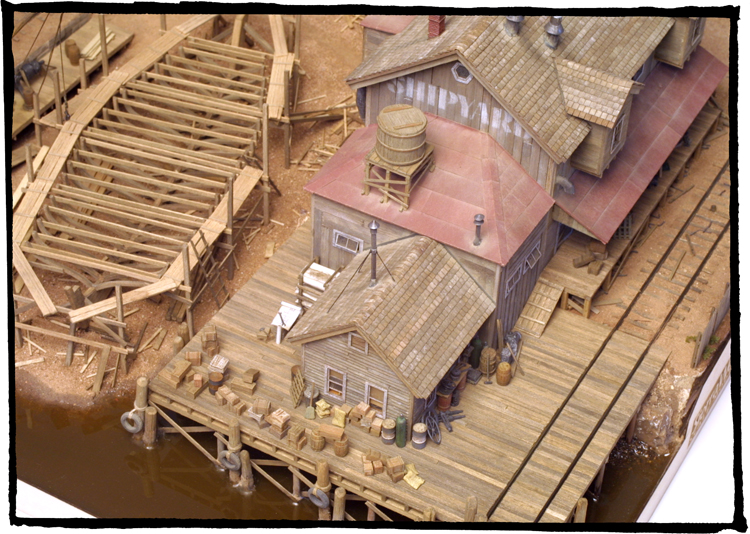 Designing and producing kits in both HO and O Scale gives me a unique perspective. I was tired of using the same techniques and construction methodology that I had used since I was ten years old. It was time for a fresh look and feel. I found that I could incorporate a superior level of detail and realism into the construction of the Shipyard using O Scale techniques and influences. In fact, it was quite easy and very satisfying; just look at the results. The Shipyard represents an evolution in HO Scale kit design and production. The Shipyard is the first HO Scale kit ever produced with the heart and soul of O Scale! There are so many features about the Shipyard that makes this kit unique... read on.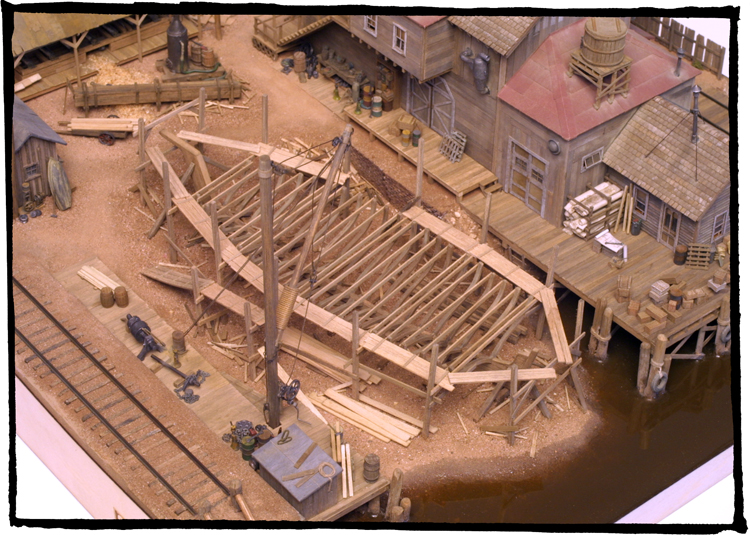 The most important new element is the way the castings are provided. Notice how effectively the clutter is integrated into the diorama, not merely placed around or on top. This is achieved by using individual single crates, barrels, and pieces of junk and clutter. Instead of a single large casting comprised of 8 crates stacked together, the Shipyard comes with eight individual crate castings so you create your own stacks. It is much faster and easier to paint the individual crates giving each unique character through dry brushing and chalk weathering. You add your own personality to each stack in the way you arrange and glue them together. They can be stacked in ways that a single large casting could never be produced. Leaning and off balance crates are more interesting than a simple straight stack! Look at the crate piles and see what I mean. Extend this new methodology over the entire diorama and you see how this fundamental change in modeling philosophy dramatically improves the level of detail and realism. But the innovation doesn't stop here...
The ship under construction is simply a stunning detail. I have always used the laser cut components in my kits in such a way as to aid the modeler, not to replace. The ship is no exception. The keel and ribs are laser cut plywood and chipboard laminated together to create a strong and realistic appearing composite. The scaffolding, planking, gangways, and bracing elements are all stripwood. This combination creates a natural appearing scene with the realistic feel I wanted to achieve. Modeled after Dave Revelia's award winning diorama, the ship under construction is the reason the diorama exists; so it better be great! The weathering and coloring methods are incredible too. They're fast and simple to perform and solvent free! How did I ever get along without this technique? It works equally well on all materials so you can match the weathering between wood walls, paper shingles, resin castings, etc...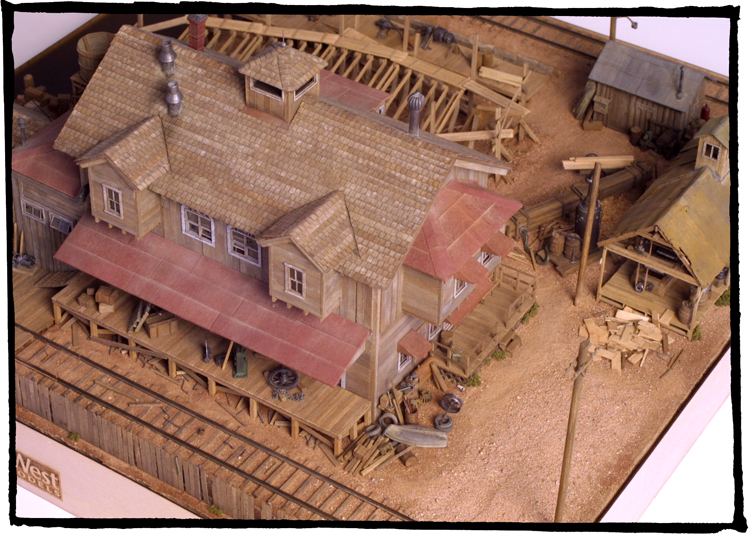 Extra time was spent detailing the main roof. Notice the way the shingle rows are staggered prototypically along with the addition of a realistic cap, flashing, fascia, and rafter details. Thanks to Nick Ogden for his technical expertise in making sure these were correct. In HO Scale extra details are easily overlooked. When added together they really enhance the appearance. It's that sum of the parts rule. Once again laser technology is used to create jigs and fixtures that aide in the construction. The laser cut roof is self-adhesive with each row peeled back one at a time. This makes adding the shingle strips straight and even quite simple. All you have to do is butt the shingle strip against the next row of adhesive backing to line it up. Nothing is faster or more effective, weathering ties it all together.
the Shipyard Features:
- A large realistically detailed main building constructed
board on board using my award winning techniques -
- Beautifully detailed laser cut doors and windows:
They don't look like they're laser cut! -
- Office and warehouse are board on board clapboard
Using my simple techniques -
- Storage yard with large table saw annex and shed -
Separate siding for lumber delivery -
- A second wharf with storage shed and large barge derrick -
- The large ship under construction features
planking, gangways, and scaffolding -
- A generous selection of famous SierraWest
resin and metal details to junk and clutter the scene -
- Cast resin brick and stone retaining walls create
the pit for the ship to sit in -
- The usual assortment of laser cut goodies,
digitaly templates, and our wonderful manual -
- New simplified weathering techniques for
the wood and metal castings -
I founded SierraWest in 1995 and have been a one man operation since day one. I make everything by hand to my exacting standards and know you will be pleased with your kit! I will never sacrifice quality for speed and always provide exceptional customer service and support including fast response to emails and phone calls. I am always here if you have any questions so please feel free to contact me anytime before or after you order. Thank you sincerely for you support!
The attention to the smallest detail is evident. The story telling is paramount in the development of each new kit. Instructions are provided leading you through every phase of construction including tool selection, assembly, weathering and aging, diorama composition, and scenery creation and application. It is of the utmost of importance to me that the techniques I develop and utilize are reproducible for modelers of all experience levels. When you view the pictures of the Shipyard remember this. SierraWest kits are unique in the level and amount of detail provided. Since all four sides are fully detailed, you have a ton of flexibility in placement and view-ability.