Diorama and Pilot Model Designed and Constructed by Brett Gallant
A Very Special Thanks to Brian Marriott for Techical Expertise
Names, Logos, Designs and Photographs Owned and Copyright Brett Gallant
the Award Winning
HO Scale O'Neills Fabrication
A Tribute to My Friend Kevin O'Neill
1951-2013
Limited Edition Craftsman Kit Number 211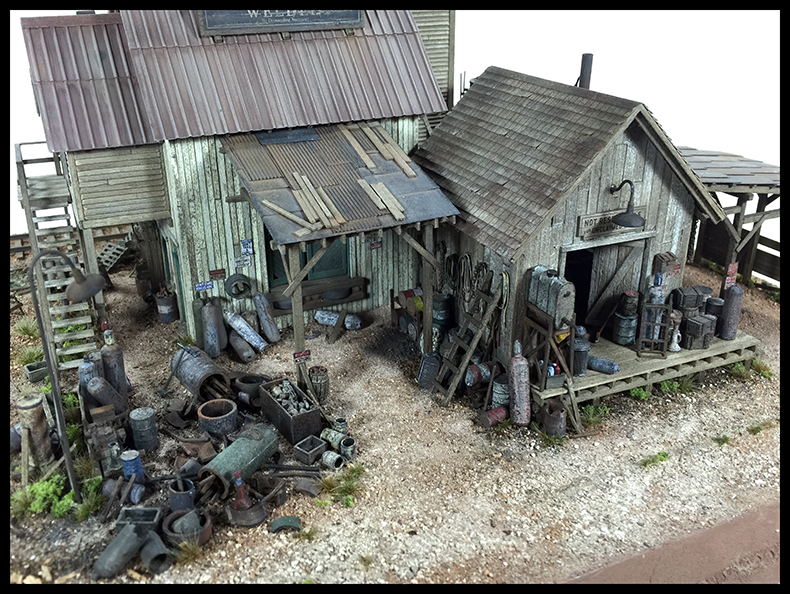 The large scrapping yard features two boilers with their steam tubes exposed. These boilers are being cut up for scrap metal. This is such a fantastic scene and one I have always wanted to create. The clutter is so realistic in its appearance that it is difficult to remember this is HO Scale and that the entire diorama is only 11 inches square. As you study the following photographs notice the rich deep, warm colors. This is all created with water based paints, artist chalk, and rubbing alcohol. My techniques have been used all over the the world by many award winning modelers and I am so proud of their results.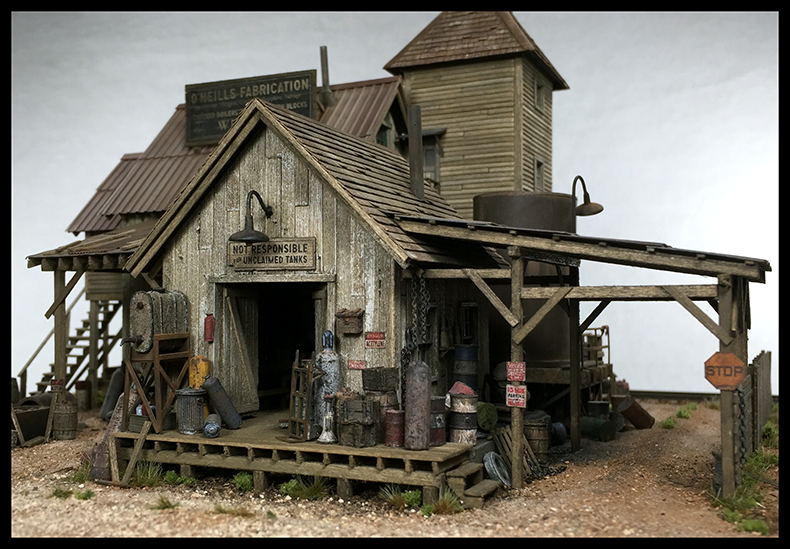 The details on the welding and repair shop dock create a scene worthy of being located right up front. All of these details speak of a busy operation with the appearance only individual castings can provide. Pay special attention to the wonderful hand truck. This is a new type of detail I created especially for O'Neills. It is impossible to cast such an accurate appearing hand truck in metal or resin so I set out to laser cut them in a prototypically thin material. You are going to love weathering and assembling these new details. Additional laser details include the raised kerosene tank support, pallets, iron railings, and saw horse ends. These details are scored so you simply fold them along the score line and glue the ends together. They are really amazing.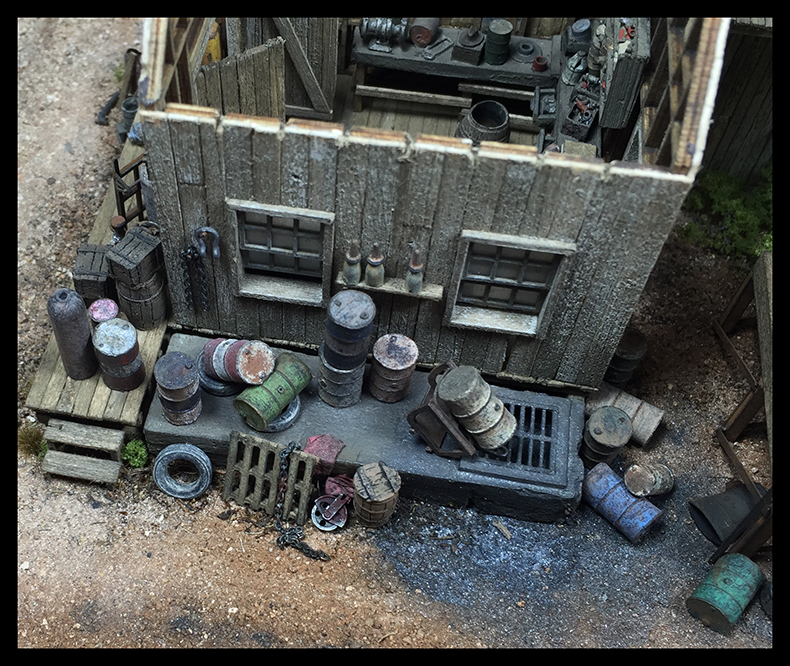 Removing the covered driveway exposes the raised concrete slab (resin casting) and sump underneath. The wonderful oil drum tipping cradle is one of my new laser details. Oil drums were off loaded from trucks using the tires to cushion their landing. They were then clamped onto the cradle and tipped over the sump where the oil would drain and be pumped into the large oil tank. Can't you just smell the oil? I assure you that the oil stain is 100% totally dry in the photograph. I will teach you how to achieve such realism using a water based paint and rubbing alcohol. While we are looking at this scene notice the incredibly realistic weathering on the drums. This is so simple to achieve you won't believe it. I can't wait to share these techniques with you. A special thanks to Brian Marriott for his expertise in consulting with me to achieve this highly prototypical scene.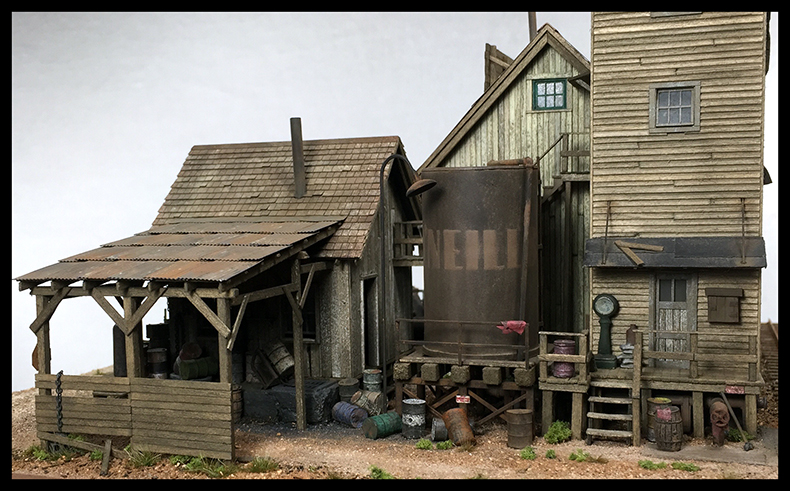 Here is a great view of the large oil tank with the O'Neills stenciling. To get this shot the photographer must have been standing on the front dock of the next Branchline Alley kit, the Brass and Iron Foundry. It burns the used motor oil to fuel its furnace. O'Neills is such a photogenic diorama on all four sides that it is difficult to choose the shots to show online! My famous comprehensive manual and digitally reproduced accurate templates guide you thoughtfully along the construction process. I consider myself a teacher in addition to being a manufacturer. My manual provides guidance and confidence building techniques allowing you to reproduce the results pictured here. I am so proud of the number of customers who have won major national awards with the SierraWest kits they have constructed, following the provided instructions!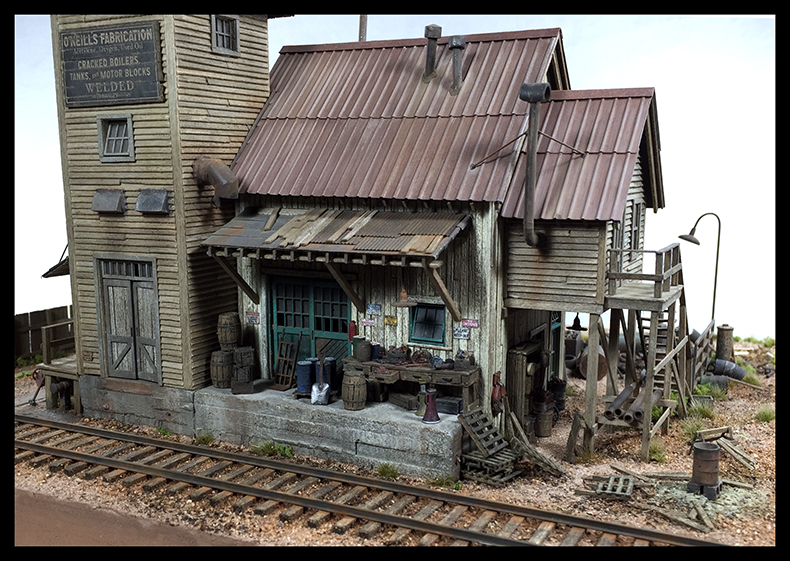 The rear loading dock with the carbide and acetone supplies needed to "brew" the acetylene inside. The cement loading docks are resin castings and add so much character to O'Neills. Remember, this is the back of the diorama. O'Neills includes many laser cut components to aide in your construction. These include assembly jigs, wall framing, doors, and windows. They are designed to compliment the craftsman building techniques, not replace them. This is very important. Careful thought and design practice combined with decades of experience provide for a unique building experience. I think the burn barrel scene is great. The pallets are being broken down and burned in the old drum.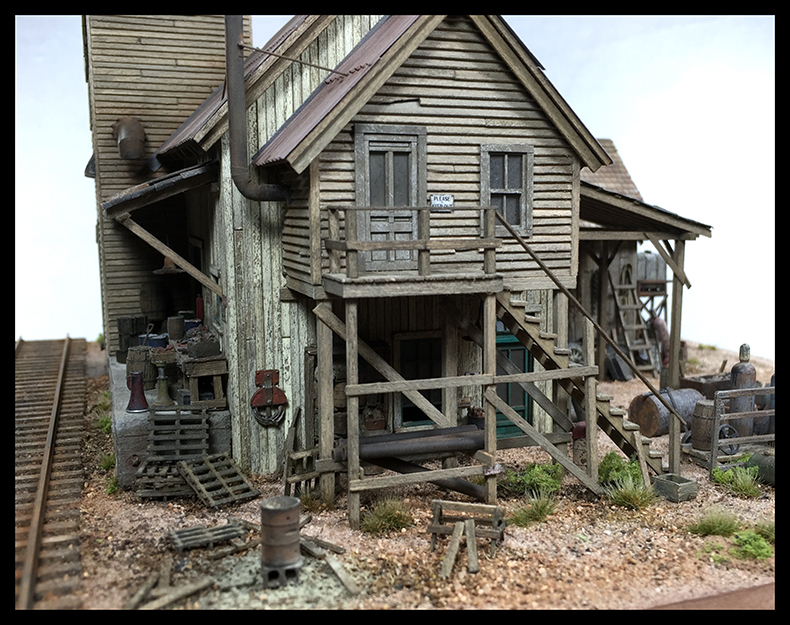 This side view of the downstairs main office and upstairs small residence (for the plant foreman) is one of my favorite views. I am never satisfied to sit back and use the same techniques and castings from kit to kit, year after year. I am always looking for better ways to weather, new castings to enhance the diorama, and better scenery materials. This adds interest and provides all of us a unique learning experience that never gets boring or stale. I am so proud that my kits are always evolving and improving!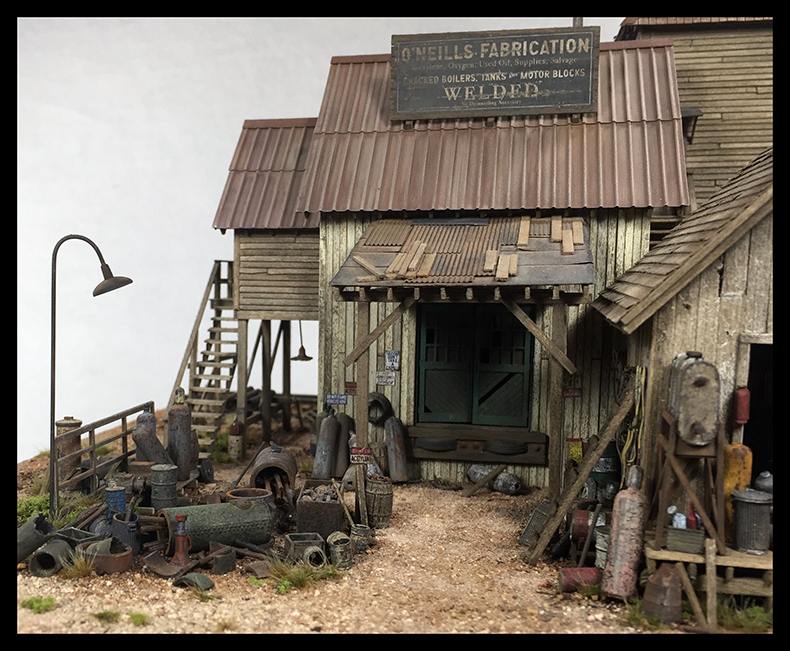 One final view of the covered dock and scrapping yard. The rich, natural colors comprising the main building provide such a realistic backdrop for all the detailing and clutter. I especially love the coloration of the ribbed roof. Like all of the O'Neill techniques, I paid special attention to creating reproducible results with a minimum of materials. Artist chalk, water based acrylic paint, and rubbing alcohol comprise the short list of supplies I used throughout the entire diorama.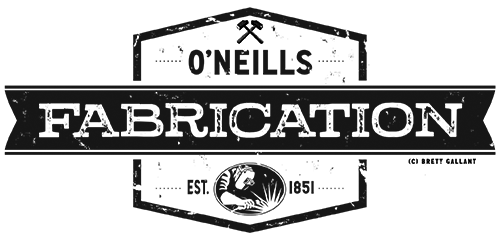 HO Scale O'Neills Fabrication
Kit 211 | Now Shipping
Everything Pictured is Included Except Track and Senery
The Diorama Measures Approximately 11" x 11"
Price does not include shipping and applicable taxes


I founded SierraWest in 1995 and have been a one man operation since day one. I make everything by hand to my exacting standards and know you will be pleased with your kit! I will never sacrifice quality for speed and always provide exceptional customer service and support including fast response to emails and phone calls. I am always here if you have any questions so please feel free to contact me anytime before or after you order. Thank you sincerely for you support!
The attention to the smallest detail is evident. The story telling is paramount in the development of each new kit. Instructions are provided leading you through every phase of construction including tool selection, assembly, weathering and aging, diorama composition, and scenery creation and application. It is of the utmost of importance to me that the techniques I develop and utilize are reproducible for modelers of all experience levels. When you view the pictures of O'Neills remember this. SierraWest kits are unique in the level and amount of detail provided. Since all four sides are fully detailed, you have a ton of flexibility in placement and view-ability.
Here are just a few of the features of SierraWest kits:
- Award Winning Board on Board Modeling Techniques -
- Learn My Techniques for Multiple Types of Wood Siding,
Masonry, Windows and Doors, and Roofing Materials -
- Large Assortment of New Castings and Realistic Clutter -
- Unique, Incredibly Fine Laser Made Details -
- Comprehensive Fully Illustrated Instructions -
- Thoughtful Time-Tested Techniques that You
Can Replicate to Advance your Skills and Confidence -
- Industry First Laser Cut Jigs and Assembly Aids -
- Intricate Laser Cut Windows, Doors, and Wall Framing -
- Signs Meticulously Researched and Reproduced
for Historical Accuracy and Time Period -
- Metal Roofing, Laser Cut Shingles, and Tarpapers -