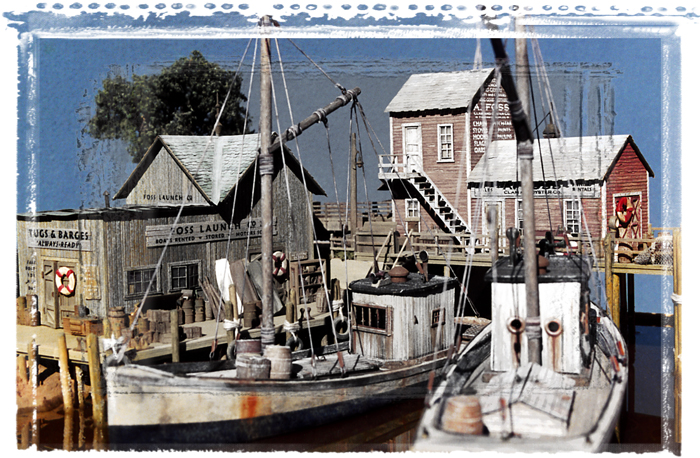 Diorama and Pilot Model Designed and Constructed by Brett Gallant
Names, Logos, Designs and Photographs Owned and Copyright Brett Gallant
the Award Winning
HO Scale Foss Landing
Limited Edition Craftsman Kit Number 3000F
Originally Released December 2000

Foss' Landing, 2022 Re-release
Order Now, Currently In Production

VERY LIMITED!
After over 20 years the iconic Foss' Landing is available again, only a few will be made
Upgraded details include a large assortment of our incredible 3D Printed parts!

PLEASE READ the FOLLOWING!
The lettering on the buildings are created with dry transfer decals
As these have aged they have become difficult to use
Plain printed signs will be included along with the original decals
HO Scale Foss' Landing

Kit 3000F | Order Now! Only a Few Left
Everything Pictured is Included
Except Track and Scenery and the
the Two Large Boats (order those below)
The Diorama Measures Approximately 11" x 11"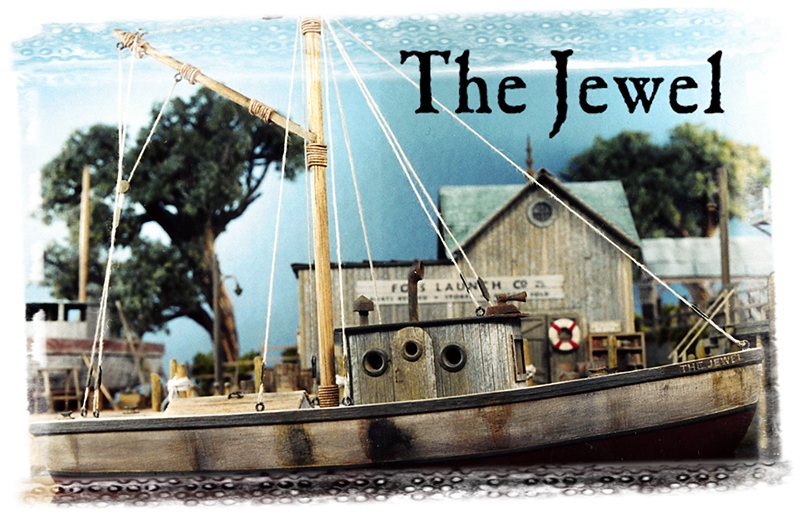 HO Scale "The Jewel" Waterline Resin Boat

Kit 503 | Order Now! Only a Few Will be Produced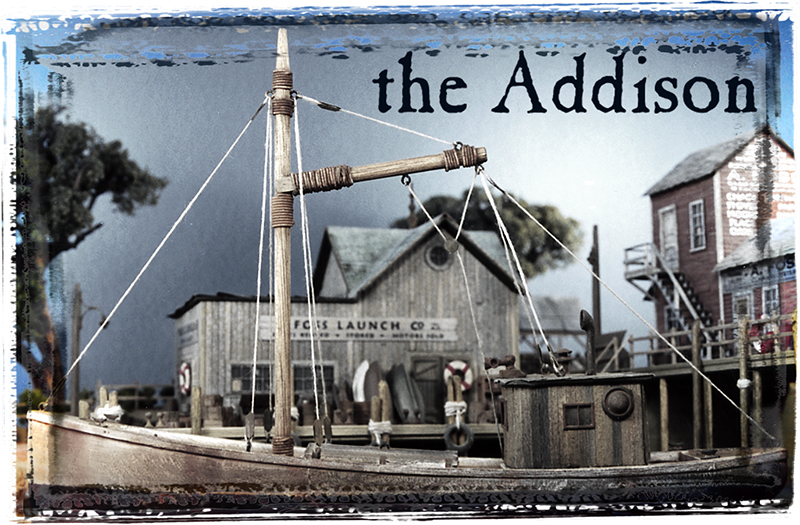 HO Scale "The Addison" Waterline Resin Boat

Kit 504 | Order Now! Only a Few Will be Produced


The two main structures, Foss Launch Company and Foss' Clam & Oyster Company are shown in this view. If the red Clam & Oyster building looks familiar it should! Originally part of Shelby's Marine, my most requested structure is now available on its own. Many new castings are included along with the all important decals used to sign the buildings. These give the diorama the true flavor and character of all that is waterfront modeling! How about the two beautiful fishing boats sitting in the calm water? They are a single piece resin hull and all the details pictured! Nautical details and rigging instructions are also included.

A beautiful water level shot of the diorama. It is the combination of the structures, details, scenery, and the magnificent fishing boats that combine to make it look so real! Can you smell the salt water and fish? Our comprehensive instructions cover all of these aspects and more. Those familiar with my kits know well how complete my instructions are allowing you to capture the same realism and character shown here. By now you have gotten a feel for the relationship between the main structures. Their different coloring, siding, shapes, roofing, and details create a true sense of individuality. They are tied together nicely with weathering so they fit well together blending into one truly fine waterfront scene. If you already own Shelby's try modeling the Clam and Oyster Company in a different color like faded green to differentiate the two. This will allow you to model the Foss' Landing scene in its entirety.