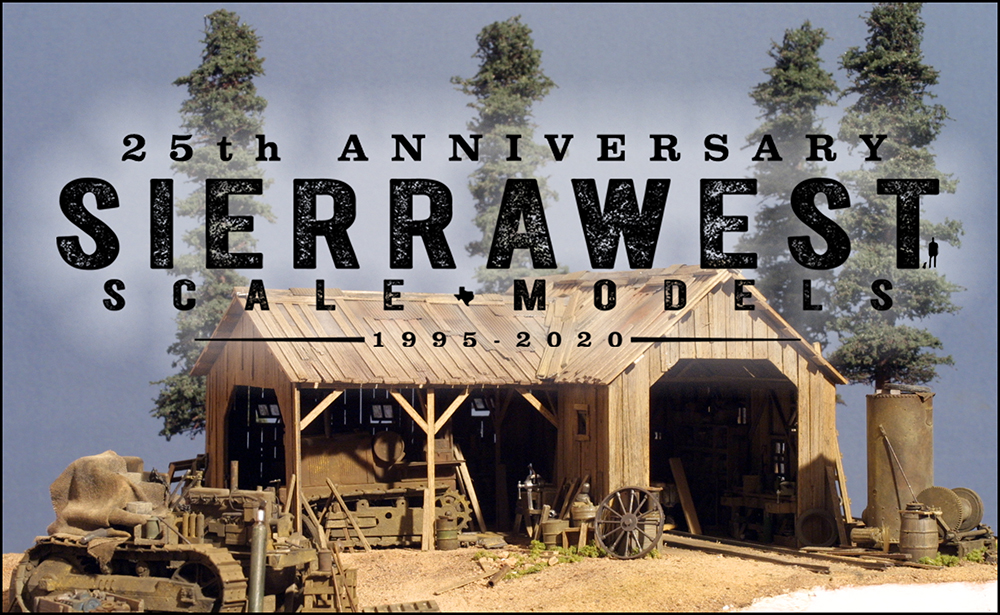 Pilot Model Constructed by Brett Gallant and Brian Nolan
Names, Logos, Designs and Photographs Owned and Copyright Brett Gallant
the Award Winning
Logging and Tractor Repair Shed
O Scale Limited Edition Craftsman Kit Number 301
Released May 2008
sold out
Special thanks to Brian Nolan for his help with the pilot model. Brian made the wall and roof sections using his wonderful wood weathering techniques. He was an award winning modeler, great friend, and I miss him very much... His methods are featured in the construction manual.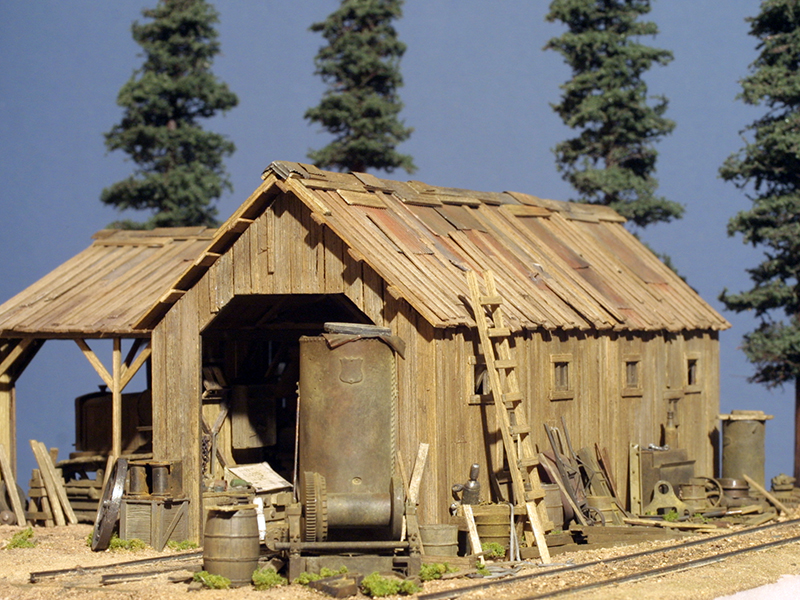 Over two months went into just creating all the wonderful details. These are brand new, mastered just for this kit. Study the photographs and discover just how much realism is packed into this 15" x 14" beauty. Detailed inside and out only the way SierraWest dresses a kit.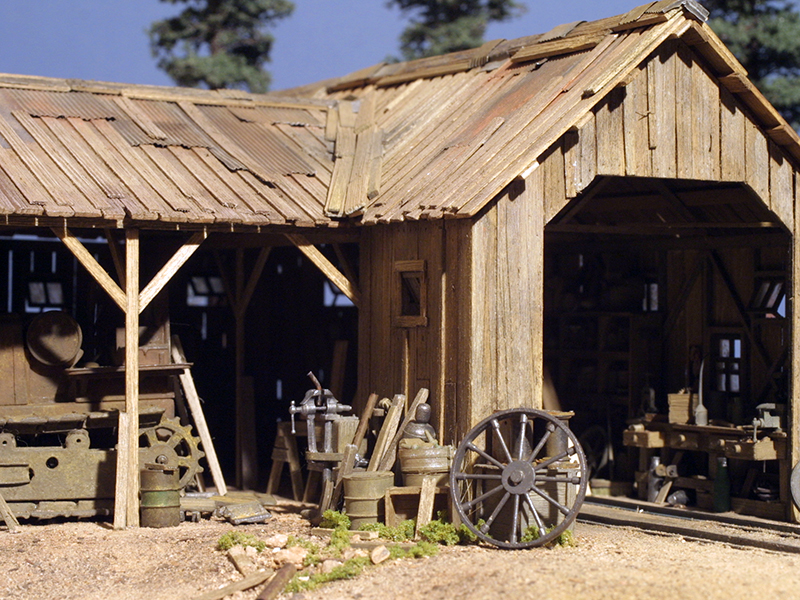 Utilizing resin and metal casting technologies allows me to create masters with clarity and crispness beyond compare. Everything pictured is included in the kit except the scenery and track. The star of the show is the CAT tractor sweltering in the heat. Looks like she's in for a major engine re-build.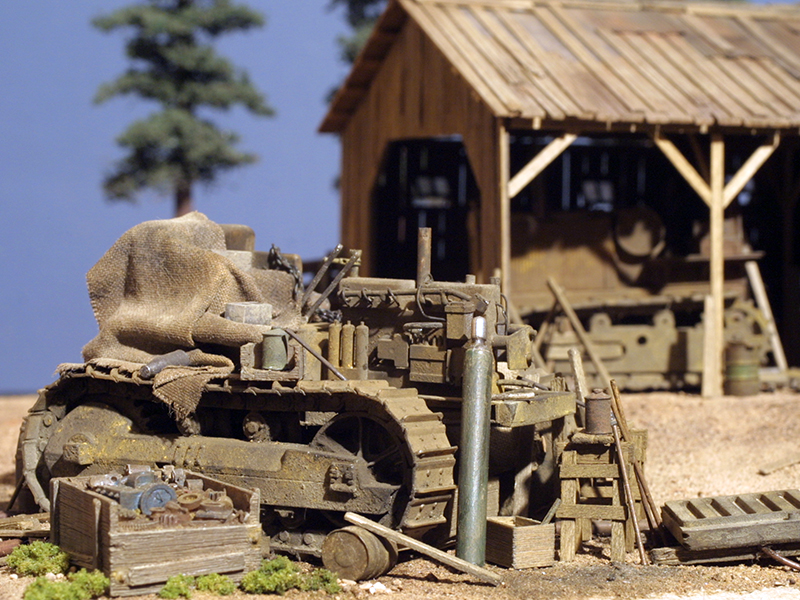 Creating a scene like the tractor under repair is effortless with the guidance given. Our legendary instructions lean heavily upon weathering techniques and scene creation. Original and unique laser cut jigs make building the palettes and saw horses fast and simple from individual pieces of stripwood. After decades of making kits, a natural balance has been found between the lasers and scratchbuilding. The lasers are a wonderful tool but can never replace you!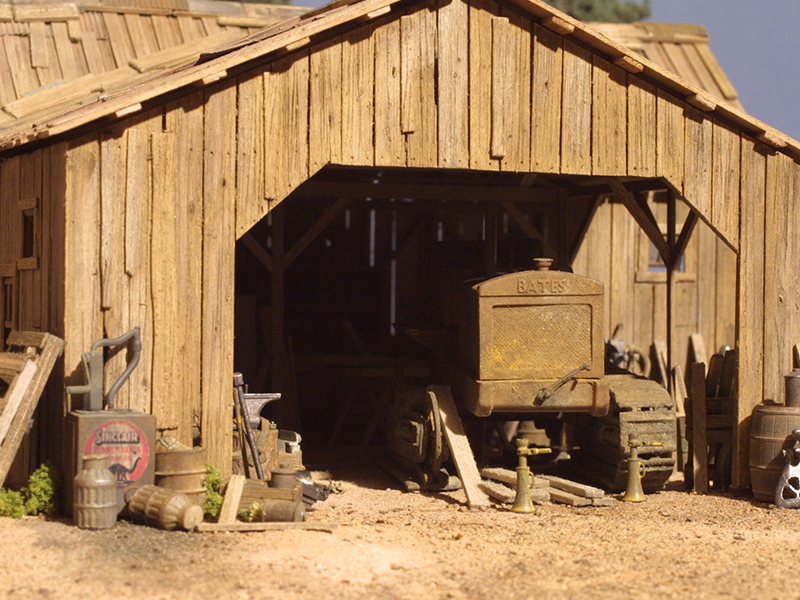 Yes, that is the second tractor under repair. The BATES is inside the shop for re-treading. The tractor is used with the kind permission of my good friend Keith Wiseman and Wiseman Model Services. Keith will be releasing the BATES as a compete kit that would make an awesome addition to the diorama! A detailed blacksmith shop sits behind the tractor. The anvil is just visible in the doorway. One of the brand new logging disconnects are included and is in the shop for re-decking.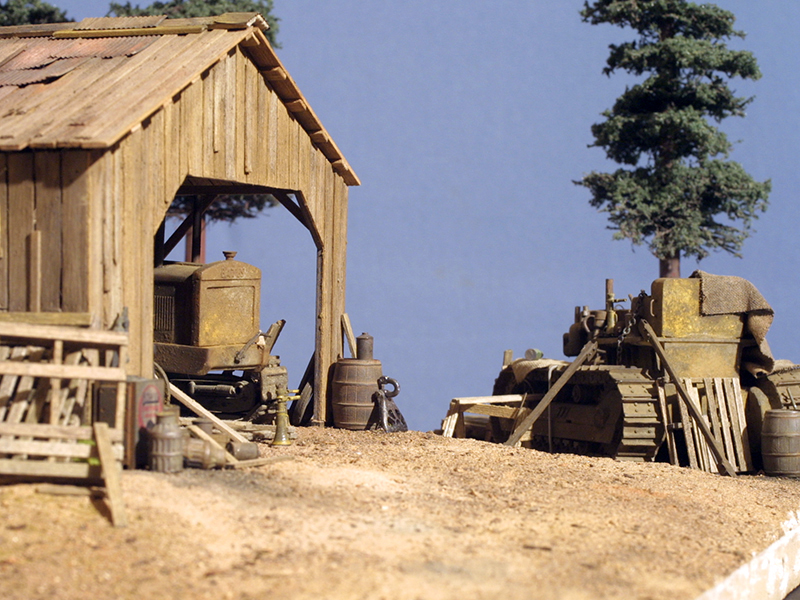 The structure itself features Board on Board construction over laser cut framing. This gives you all of the visual appeal and modeling control of a board on board structure without the tedious work of cutting and gluing up the framing. The windows are laser cut for accuracy while the window frames are made from stripwood for a prototypical appearance.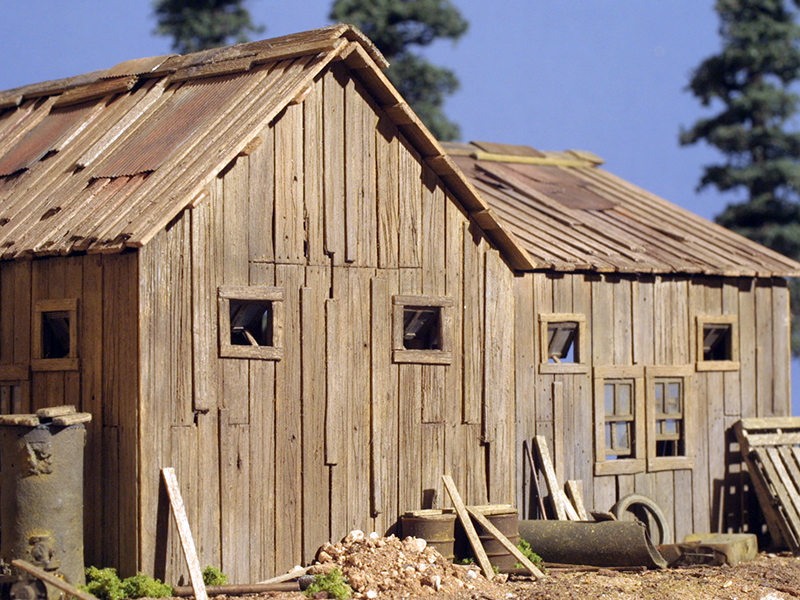 Also included is a AH&D hoist engine in for a major overhaul. Brian's wood weathering techniques really lend themselves to this kind of backwoods modeling. The shed is just simmering in the sun.