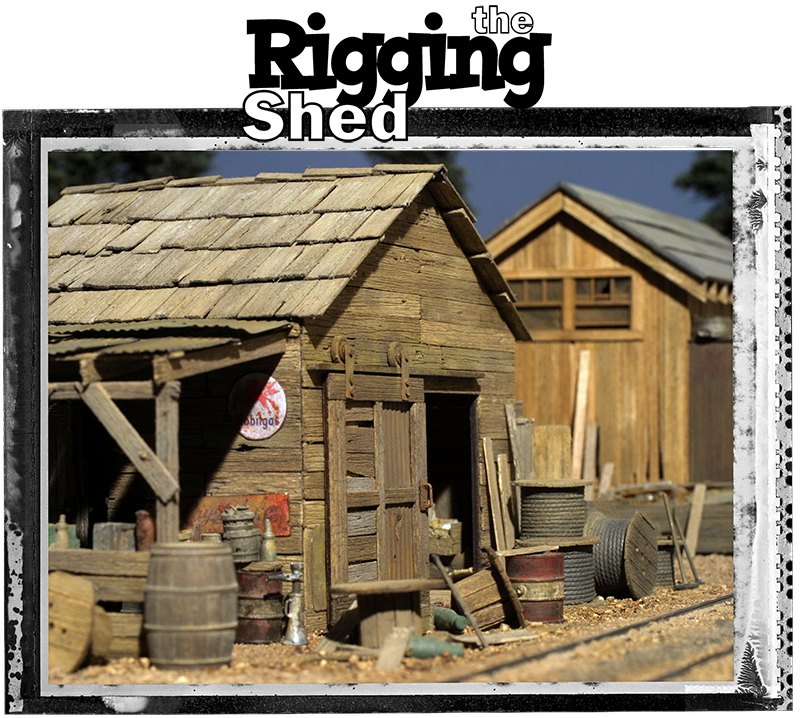 Pilot Model Constructed by Brett Gallant
Names, Logos, Designs and Photographs Owned and Copyright Brett Gallant
the Award Winning
O Scale Rigging Shed
Limited Edition Craftsman Kit Number 303
Released September 2009 | Small Run Now Available
Updated for 2021 with new 3D Printed Details
O Scale Rigging Shed
In Stock | Now Shipping | Very Limited Availability.
A beautiful assortment of resin, white metal and 3D printed details updated for 2021.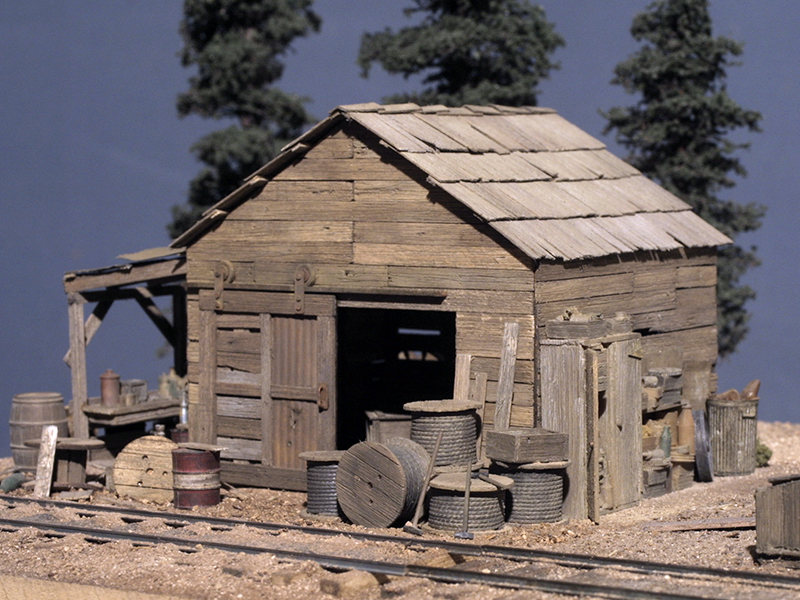 The O Scale Rigging Shed is part of the Deer Creek Land & Timber Company. It features everything pictured except track, scenery, and vehicles. Loaded with that classic SierraWest feel, just take in all that wonderful junk and clutter on all four sides. New castings created especially for this kit are central to the storytelling theme. I make and cast my own details in resin and white metal for the utmost crispness, quality, originality, and value. New masters are made and castings are selected from my vast library to tell a specific story. These are details you will only find in a SierraWest kit. The rigging shed also features a fully detailed interior for those great open door shots...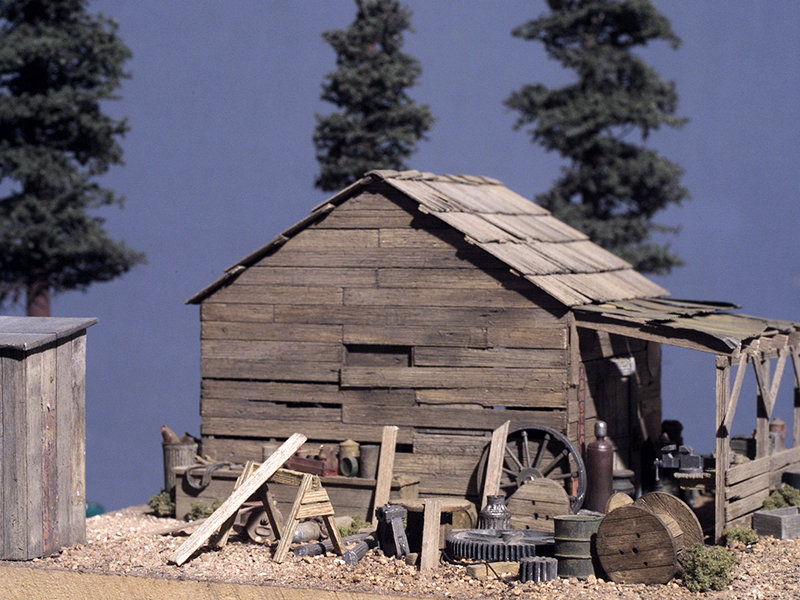 As you follow the pictures around the little shed it becomes evident that the details are literally surrounding the structure. Study the photographs carefully and take it all in. The diorama is 7" x 10". Junked cable reels and trash have been discarded haphazardly in stark contrast to the tool shed and its neatly cluttered yard.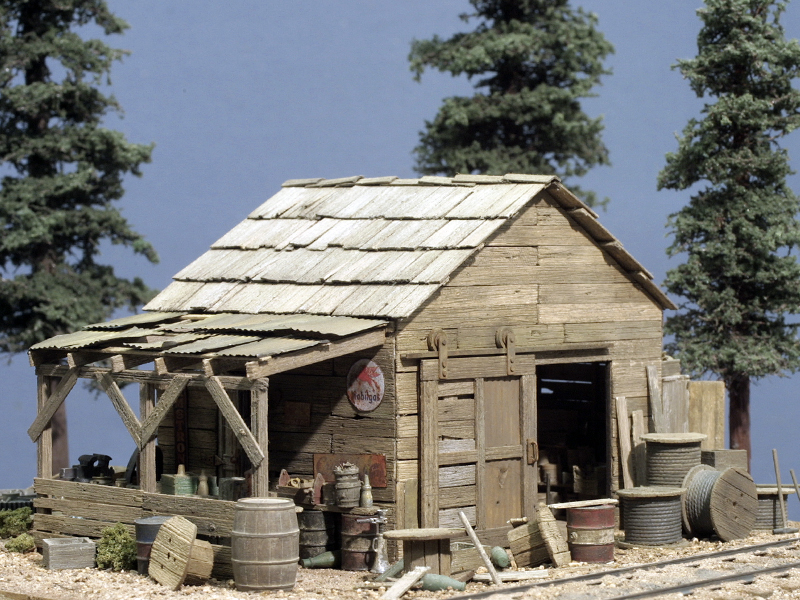 The shed is a laser cut wood frame so you can spend your time weathering and adding the siding. Comprehensive instructions are included detailing every step of board on board modeling from the coloring and weathering to the tools and tips/tricks used to create realistic walls as pictured. I present clinics all over the country on this very subject. I know what you want to learn and how best to present it. I have refined these techniques over many, many years - they're worth the price of the kit alone! Grain, knots, weathering, coloring, and achieving that illusive dry and dusty appearance are covered in detail with tons of photographs and examples. Now take a close look at that shake shingled roof. Hand laid using simple methods with outstanding results. Learn techniques like these and more that you can apply to other kits and scratch building projects.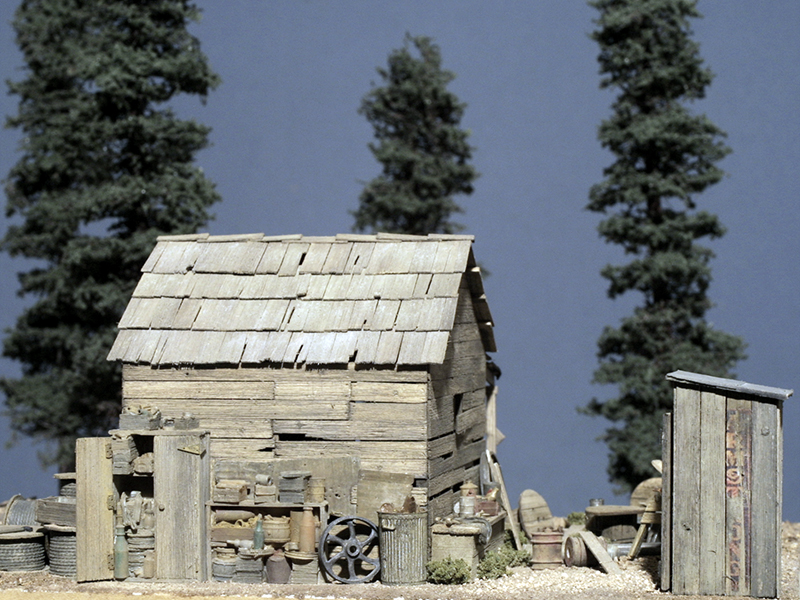 So what else is in the box? Laser cut jigs are a hallmark of SierraWest kits, first used and created here. You receive the laser cut jig to construct realistic saw horse ends. No laser burns here! The doors are made of stripwood to match the siding perfectly. (Check out the laser cut hinges and door knobs.) Corrugated aluminum, color signs, tarpaper, chain, accurate templates, and our famous spiral bound instructions are also enclosed.