pilot model constructed by Brett Gallant, Karl Allison, and Kevin O'Neill
Names, Logos, Designs and Photographs Owned and Copyright Brett Gallant
the Award Winning
BlueSky Company Warehouse
An Iconic Craftsman Kit from Brett Gallant
Exquisite detailing and craftsmanship
Keeping true to my original 1995 HO Scale release
The BlueSky Company diorama measures 30" x 12.5"
O Scale Limited Edition Craftsman Kit Number 304
Released April 2011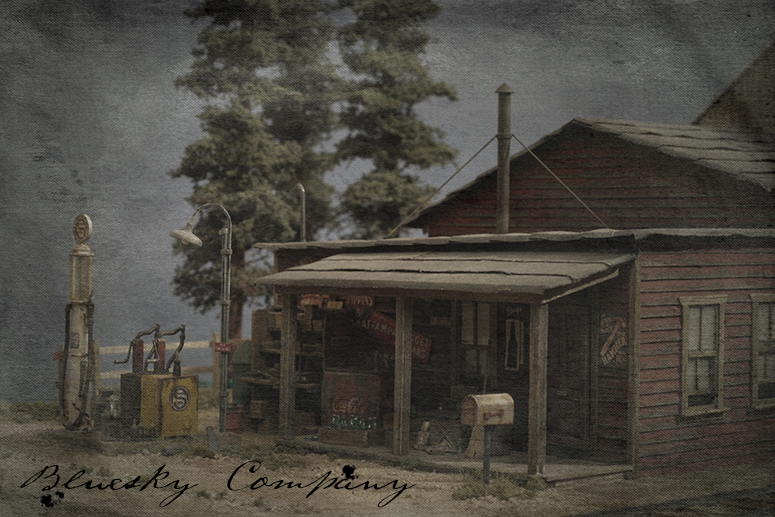 With a little help from my friends...Karl Allison and Kevin O'Neill have done some pretty heavy lifting here! They were hard at work for weeks on components for the pilot model pictured here. Karl was building the main structure in Mississippi while Kevin was digging into the tractor repair shed and painting castings in New York. We met in early February 2011 here in Dallas and put it all together. The combined talents makes for one incredible kit - lots of creative ideas flowing here folks...The O Scale BlueSky Company Includes: • Laser Cut components that include sub-walls, jigs, and windows/doors that supplement the board on board building process, aid construction, and leave you in charge! • Clutter, castings, and scene creation like only SierraWest can produce. Everything pictured is included except vehicles, scenery, and track. • My famous comprehensive manual and digitally reproduced accurate templates. • Awesome new color sign sheets, stripwood, wire, tarpapers, glazing, lots more... New techniques and ideas are introduced to improve and expand your modeling capabilities. I am always pushing myself to set new standards, create new construction techniques, improve and refine weathering and scenery techniques, design, create, and cast better castings, write more precise manuals and templates, well you get the idea!
O Scale BlueSky Company
Short Run Now Available
Kit 304 | Now Shipping
Everything Pictured is Included Except Track and Scenery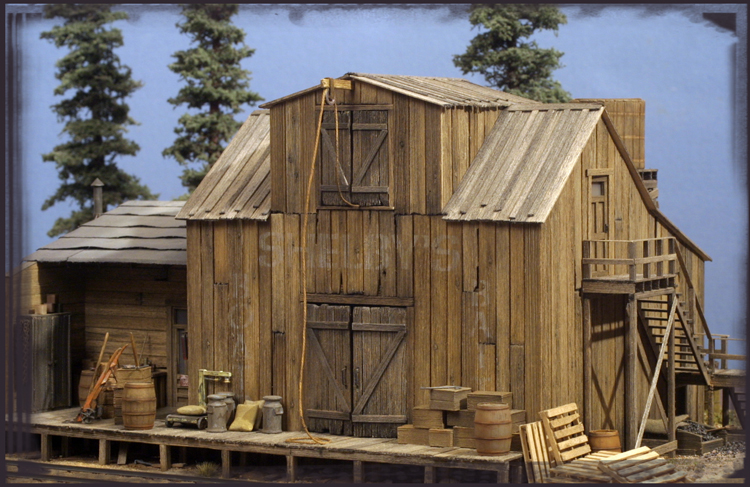 The main barn is constructed board on board over laser cut wall framing speeding the construction along making it more fun and accurate. This allows you to concentrate on the visible portion of the wall, the siding. Laser cut door and window components accent the finished appearance of the buildings and are designed thoughtfully so they don't look laser cut and spoil the structure. The laser is used only as a construction aide not a substitute for quality modeling and sound techniques. You will not find the telltale signature of the laser while ogling these photographs fellow enthusiasts.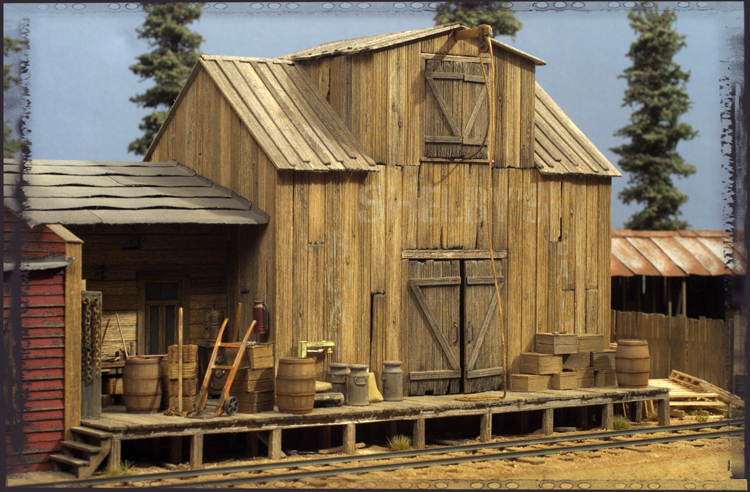 Why all those incredible Castings? (Yes they are all included...) I spend most of my production time and energy creating details like the one's pictured since scene creation and story telling are the focus of the modeler. Everything we do in recreating a miniature world imparts information to the viewer. The era, age, care or neglect of the environment, level of activity, etc... are all visually formed when we build a kit. Wipe the details away and the backbone for that story remains but it is the very details themselves that create interest and form the narrative.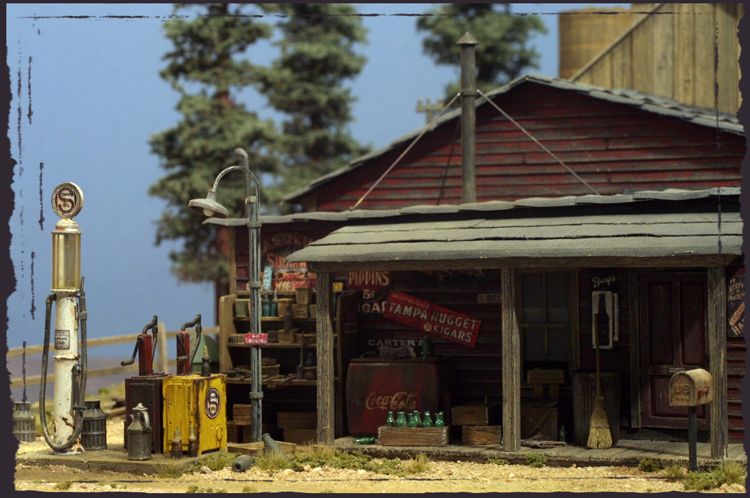 I utilize resin and metal to create my castings with unrivaled clarity and sharpness. I take their quality VERY seriously and make the finest detail parts available. A new approach to detailing is unveiled in O Scale - this changes everything! Study the scene... notice how realistic the clutter appears. These details are created using individual components like cans, wrenches, gears, bottles, etc... Weathered and painted separately then glued in place. This allows you to concentrate on more realistic appearing details with natural variety. Just look at the wonderful character and coloration. This has not been possible before. A true evolution in casting design and production.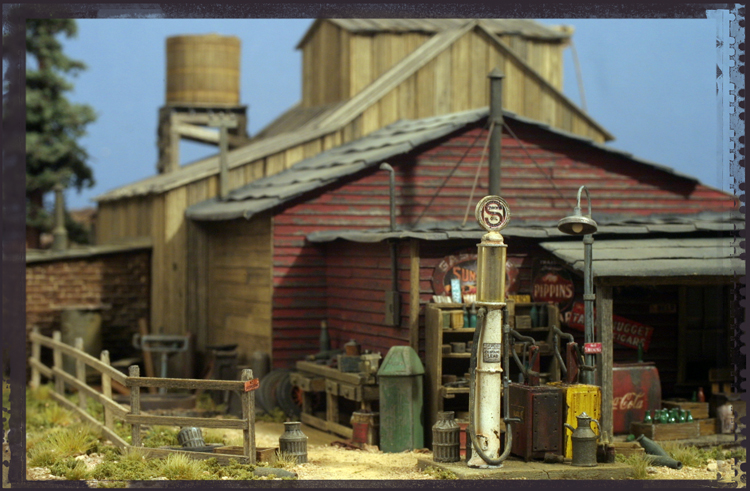 The beautifully aged red clapboard general store is modeled board on board the easy way. A laser cut clapboard wall base is supplied then you simply glue the stripwood to the base. It aligns and spaces the boards perfectly for you with no effort. The results are incredible.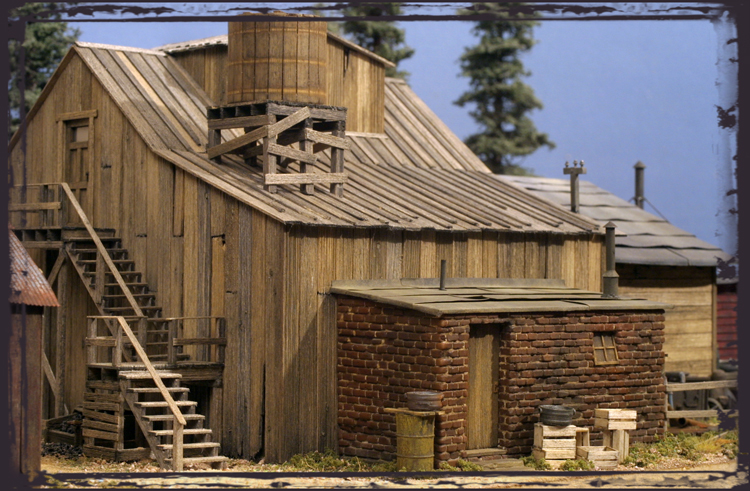 The brick cookhouse is a single piece resin casting mastered by Karl Allison. The prototypical corners and door/window openings are outstanding. Simple weathering techniques exploit all that cast in beauty and character. Just soak it all in... and remember, this is the back of the diorama!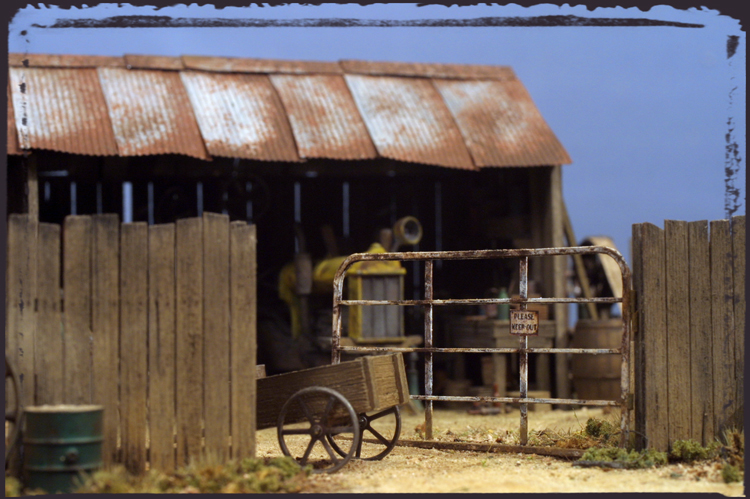 Love that iron gate as much as I do? It came to life the weekend Karl and Kevin were here working on the pilot model. I wanted a gate like Brian Nolan modeled on his machine shop diorama but knew I could never cast it well. Too thin and fragile. So Karl said to just laser cut it... so I did. Handed the pieces to Kevin and thirty minutes later there you go. Now that is some awesome collaboration and look at the gate you get in the kit!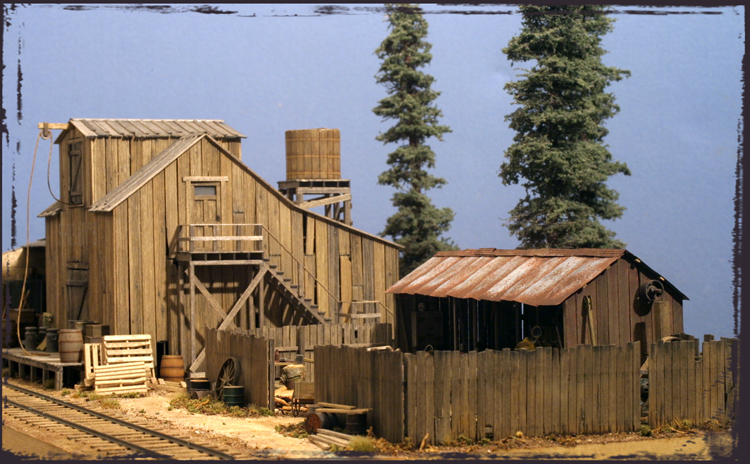 The original HO Scale release includes this story in my December 1995 Model Railroader advertisement: "Years ago the old barn was once home to Shelby's Boats and Baits; remnants of the sign still linger to this day. But when lumber and ore were discovered in the area, the BlueSky Company quickly moved in, bought up land, laid down tracks, and converted the old barn into their storage warehouse. Old Tom Shelby moved down the road and opened his famous Shelby's Marine. The county grew rapidly with all of the money and people flowing in. With business prosperity came the need for additional space so BlueSky Co. officials added some offices and a general dry goods store. They'll gladly trade your hard earned wages for some bread or snuff! There are crates of supplies and fruit, sacks of flour and grain, barrels of oil and tar that need to be received from the local freight and shipped out over Company lines to the field. BlueSky workers are kept busy, as will your operations!"
Many an award winning modeler including Brian Nolan, Dave Revelia, Carl Laskey, and Mike Chambers constructed that HO Scale kit and I am proud of the achievements and awards it earned.

I founded SierraWest in 1995 and have been a one man operation since day one. I make everything by hand to my exacting standards and know you will be pleased with your kit! I will never sacrifice quality for speed and always provide exceptional customer service and support including fast response to emails and phone calls. I am always here if you have any questions so please feel free to contact me anytime before or after you order. Thank you sincerely for you support!
The attention to the smallest detail is evident. The story telling is paramount in the development of each new kit. Instructions are provided leading you through every phase of construction including tool selection, assembly, weathering and aging, diorama composition, and scenery creation and application. It is of the utmost of importance to me that the techniques I develop and utilize are reproducible for modelers of all experience levels. When you view the pictures of BlueSky remember this. SierraWest kits are unique in the level and amount of detail provided. Since all four sides are fully detailed, you have a ton of flexibility in placement and view-ability.
Here are just a few of the features of SierraWest kits:
- Award Winning Board on Board Modeling Techniques -
- Learn My Techniques for Multiple Types of Wood Siding,
Masonry, Windows and Doors, and Roofing Materials -
- Large Assortment of New Castings and Realistic Clutter -
- Unique, Incredibly Fine Laser Made Details -
- Comprehensive Fully Illustrated Instructions -
- Thoughtful Time-Tested Techniques that You
Can Replicate to Advance your Skills and Confidence -
- Industry First Laser Cut Jigs and Assembly Aids -
- Intricate Laser Cut Windows, Doors, and Wall Framing -
- Signs Meticulously Researched and Reproduced
for Historical Accuracy and Time Period -
- Metal Roofing, Laser Cut Shingles, and Tarpapers -