Pilot Model Designed by Brett Gallant
Diorama Constructed by Brett Gallant and Kevin O'Neill
Names, Logos, Designs and Photographs Owned and Copyright Brett Gallant
the Award Winning
O Scale Wood Cutters Shack
Detailing and Craftsmanship SierraWest is Famous for
Limited Edition Craftsman Kit Number 305
The Wood Cutters Shack diorama measures 12" x 10 inches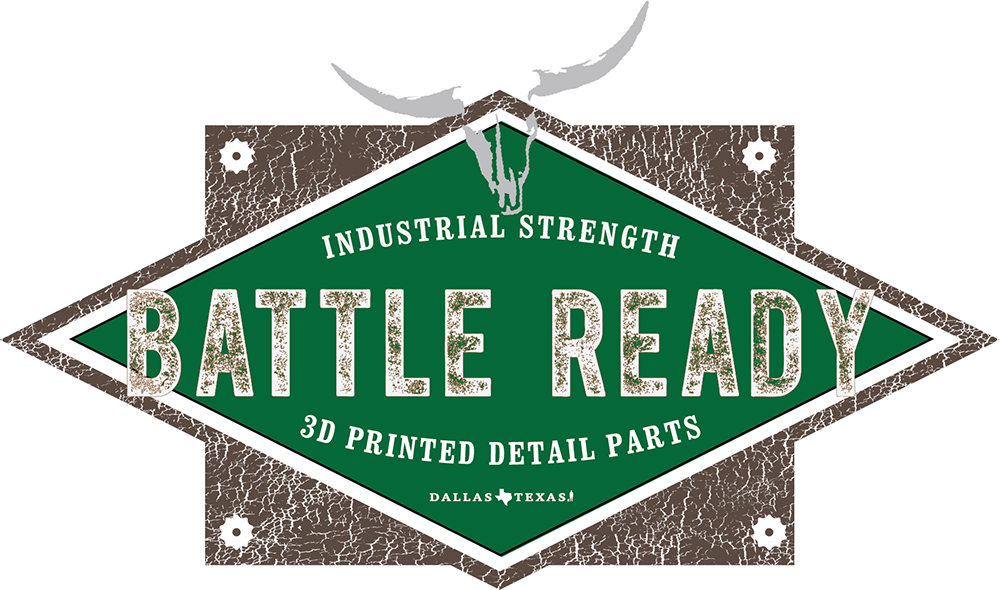 Updated with an Amazing Selection of 3D Printed Detail Parts!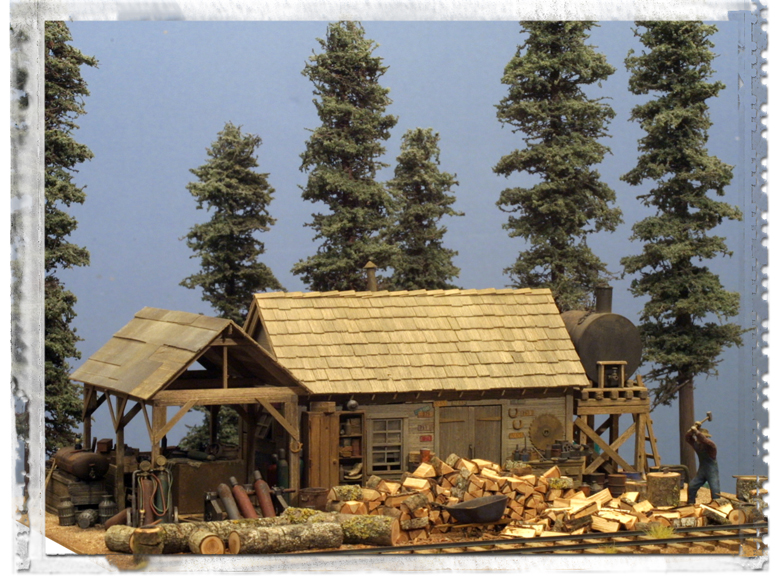 One of the challenges in designing "backwoods" dioramas for over twenty years is keeping the structure simple yet interesting. The Wood Cutters Shack exemplifies this so elegantly. The prototypical details surrounding the two small shacks literally envelope them and create an instant and obvious narrative. This is a wonderful kit to start out with if you are new or just wanting to explore the possibilities O Scale has to offer. Its a great size with lots of different materials to work and learn with. The details alone with my award winning instructions are worth the price alone!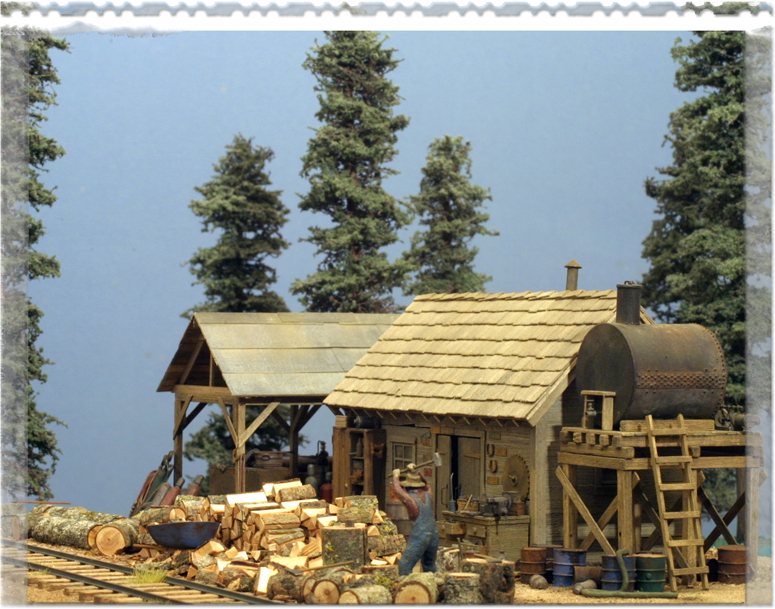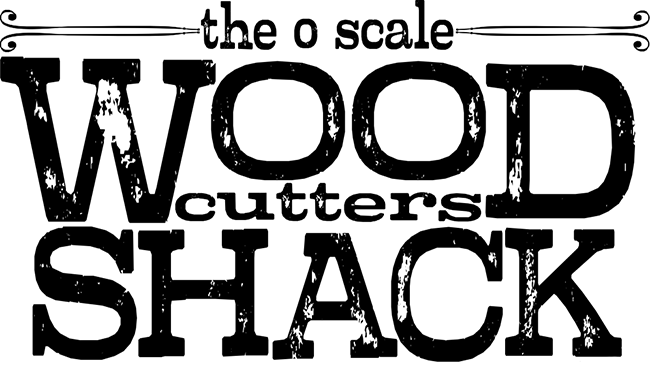 O Scale Wood Cutters Shack
Kit 305 | Now Shipping
Everything Pictured is Included Except Track and Senery
The Diorama Measures Approximately 12" x 10"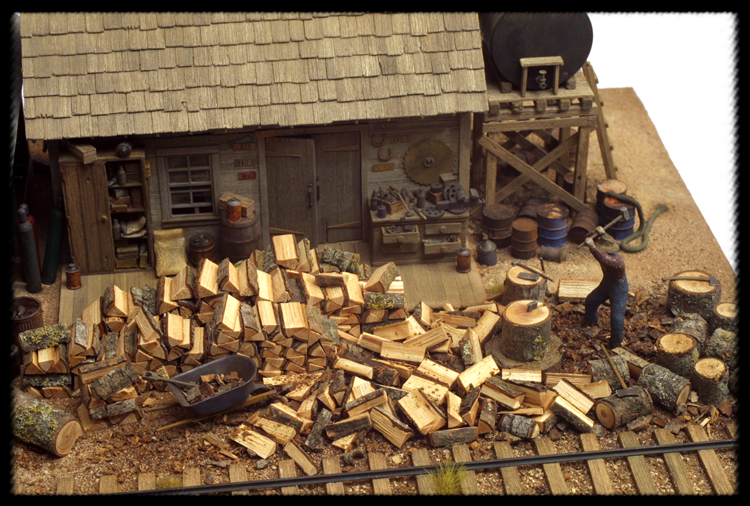 The O Scale Wood Cutters Shack includes a beautiful assortment of new details. Casting with my well known and unrivaled clarity and sharpness. I take the quality of my castings VERY seriously and create the finest detail parts available. A new approach to detailing is unveiled in O Scale - this changes everything! Study the scene... notice how incredibly realistic the clutter appears. These castings are created using individual components like cans, wrenches, gears, bottles, etc... Weathered and painted separately then glued in place. It is so much easier to weather a single wrench then glue it to a workbench than it is to try and paint a wrench cast in place on top of the workbench. This allows you to concentrate on more realistic appearing details with natural variety. Just look at the wonderful character and coloration. A true evolution in diorama creation.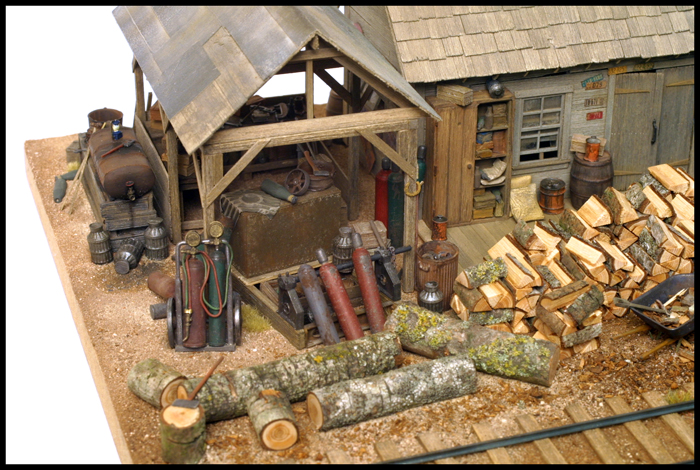 Notice how effectively the clutter is integrated into the diorama, not merely thoughtlessly scattered around. This is achieved by using individual single crates, barrels, junk, and clutter. You can create your own scenes. It is much faster and easier to paint the individual components giving each unique character through dry brushing and chalk weathering. You add your own personality to each piece in the way you glue them together. They can be arranged in ways that a single large casting could never be produced. Leaning and off balance items are more interesting mimicking real life! Extend this new methodology over the entire diorama and you see how this fundamental change in modeling philosophy dramatically improves the level of detail and realism creating wonderful scenes bristling with realistic clutter and character.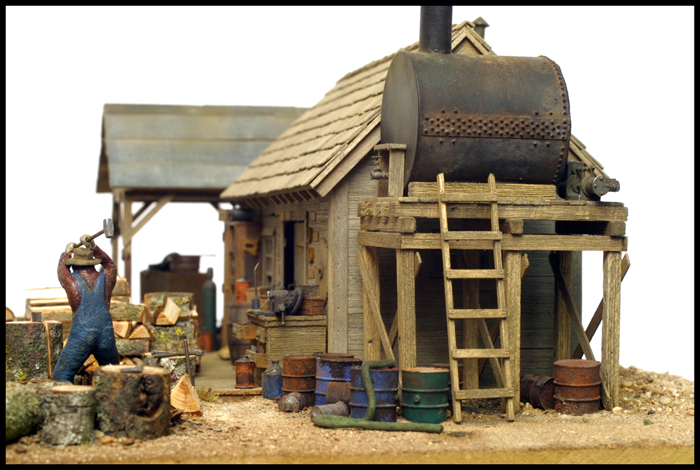 The O Scale Wood Cutters Shack is a pretty faithful translation of my classic HO Scale version released back in 1999. Everything pictured is included except track and scenery. The logs and split firewood are simply Douglas Fir tree branches I cut, split and stacked - just like the real thing! (That must be why it looks so realistic.) These branches are not included so you gotta go get your hands dirty and cut your own...
Stripwood, our usual laser cut goodies (windows, mylar, wall frames, jigs, etc...) accurate templates, color signs, license plates, horseshoes, our comprehensive manual, etc... are all included in the box. No skimping, just the highest quality parts made with care along with the best instructions that are loaded with techniques, tips, sources, and photographs so you can achieve the satisfying results like those pictured here.
Now lets remove the six-pole shed and look under the hood. More wonderful details and well thought out scenes are lurking... What a fantastic view with all the empty acetylene tanks and the home - made hoist engine under repair. Looks like one of those fix up projects that might be slipping away from the gents working around the shack however... but it is a handy place to store the empty tanks! Notice the stock support and crates full of spare parts. Remember, everything pictured is included and are individually cast details. That's why the scene looks so crisp and realistic.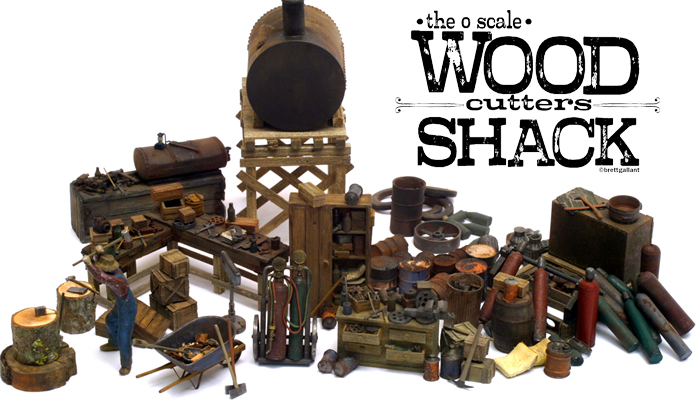 The detail castings were painted and weathered by my friend Kevin O'Neill. Kevin might just be the finest casting painter there is... the proof is pictured right here folks! His methods and techniques are presented in the construction manual and are an extension of the methods used by me over the years. Paint and powdered chalk. No magic just quality modeling and creativity like I have never seen before. makes you want to pick a brush and paint like Kevin! I would also like to thank Karl Allison and Nick Ogden for their help with this project. All of the details pictured above and below are included with the Wood Cutters Shack except the three tree stumps.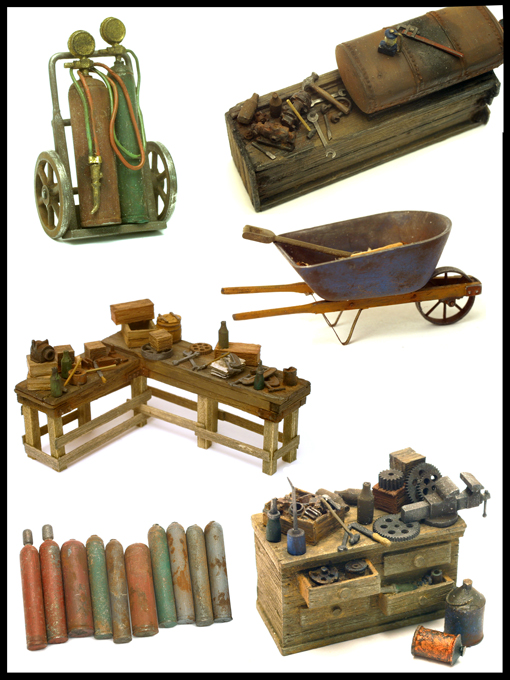 I founded SierraWest in 1995 and have been a one man operation since day one. I make everything by hand to my exacting standards and know you will be pleased with your kit! I will never sacrifice quality for speed and always provide exceptional customer service and support including fast response to emails and phone calls. I am always here if you have any questions so please feel free to contact me anytime before or after you order. Thank you sincerely for you support!
The attention to the smallest detail is evident. The story telling is paramount in the development of each new kit. Instructions are provided leading you through every phase of construction including tool selection, assembly, weathering and aging, diorama composition, and scenery creation and application. It is of the utmost of importance to me that the techniques I develop and utilize are reproducible for modelers of all experience levels. When you view the pictures of the Wood Cutters Shack remember this. SierraWest kits are unique in the level and amount of detail provided. Since all four sides are fully detailed, you have a ton of flexibility in placement and view-ability.
Here are just a few of the features of SierraWest kits:
- Award Winning Board on Board Modeling Techniques -
- Learn My Techniques for Multiple Types of Wood Siding,
Masonry, Windows and Doors, and Roofing Materials -
- Large Assortment of New Castings and Realistic Clutter -
- Unique, Incredibly Fine Laser Made Details -
- Comprehensive Fully Illustrated Instructions -
- Thoughtful Time-Tested Techniques that You
Can Replicate to Advance your Skills and Confidence -
- Industry First Laser Cut Jigs and Assembly Aids -
- Intricate Laser Cut Windows, Doors, and Wall Framing -
- Signs Meticulously Researched and Reproduced
for Historical Accuracy and Time Period -
- Metal Roofing, Laser Cut Shingles, and Tarpapers -