Pilot Models Constructed by Brett Gallant
Names, Logos, Designs and Photographs Owned and Copyright Brett Gallant
the O Scale
Brass and Iron Foundry
Subscription Program
Part Two - Kit 314b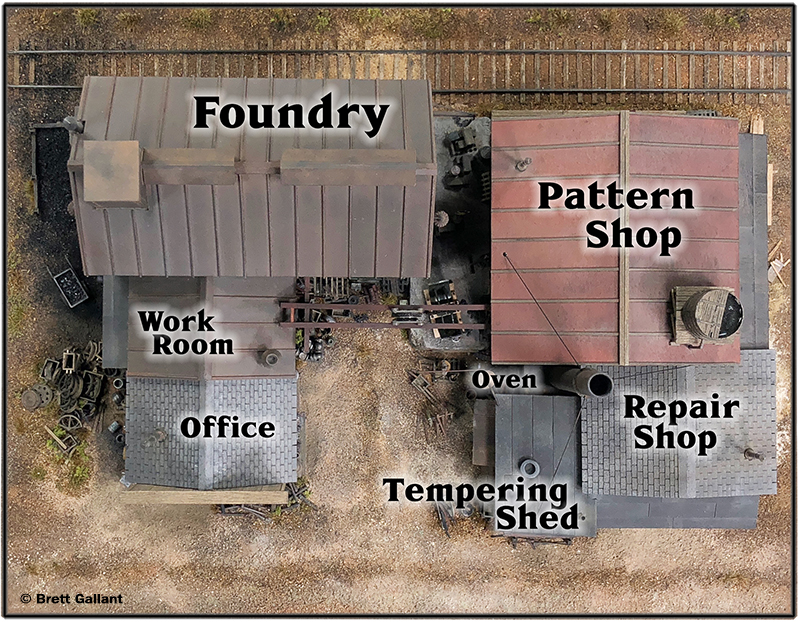 The photograph above is of the HO Scale Foundry. It is a thoughtfully researched multi-structure diorama with so many fascinating angles and scenes. The large stone main Foundry building anchors the diorama. Extending toward the front is a small stone materials preparation workroom and the company office. The clapboard office with its simple false front and recessed entry is a vintage scene that would have been so common anywhere in North America. The Pattern Shop anchors the right side of the diorama with the repair shop and incredible tempering oven/shed scene where truck springs were made in the early days of the automobile. Henry Ford would have been just one of the many characters seen wandering about the scene! The O Scale version is a faithful upscale of my award winning HO Scale diorama.
Brass and Iron Foundry Part Two
314b - Exterior Detail Set
Pattern Shop Docks
Repair Shop Porch
Tempering Oven
O Scale Brass and Iron Foundry Part Two
Kit 314b | Now Shipping
$225 plus shipping and applicable taxes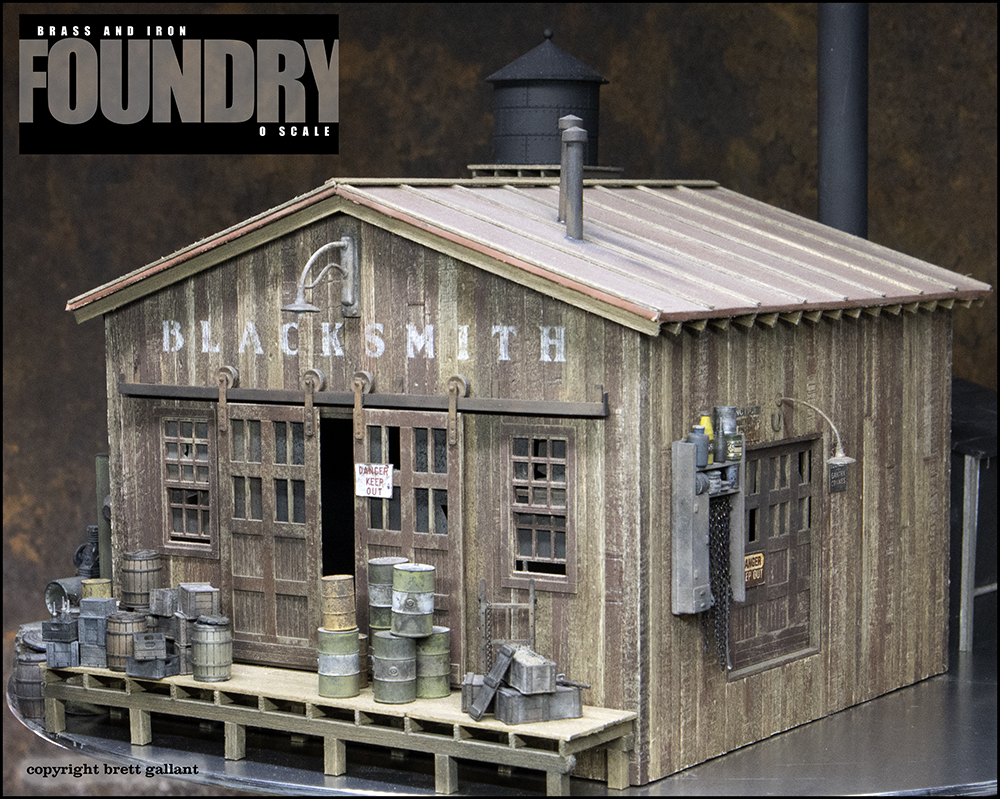 Detail set 314b (part two) includes everything pictured above and in the following photographs except the water tank and stack for the tempering oven, those two details are included in the next release. When this detail set 314b is added to part one 314a, your Foundry will look like these photographs.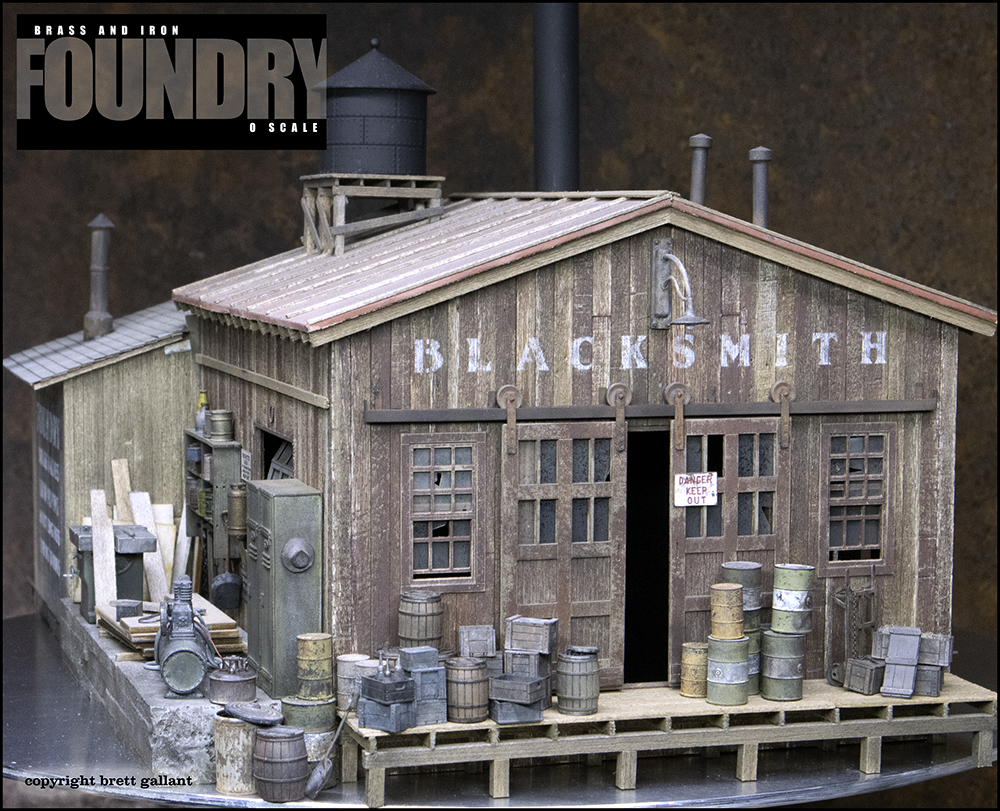 Detail set 314b includes an amazing combination of hand-poured resin, cast metal, and 3D Printed details. Having the capability to produce details utilizing all three technologies provides for the widest possible assortment of castings. I am so excited for you to get your hands on these! They're so much fun to paint and weather and bring the Foundry docks to life with carefully thought out storylines, researched for plausiblilty while still allowing for a bit of traditional craftsman kit whimsey.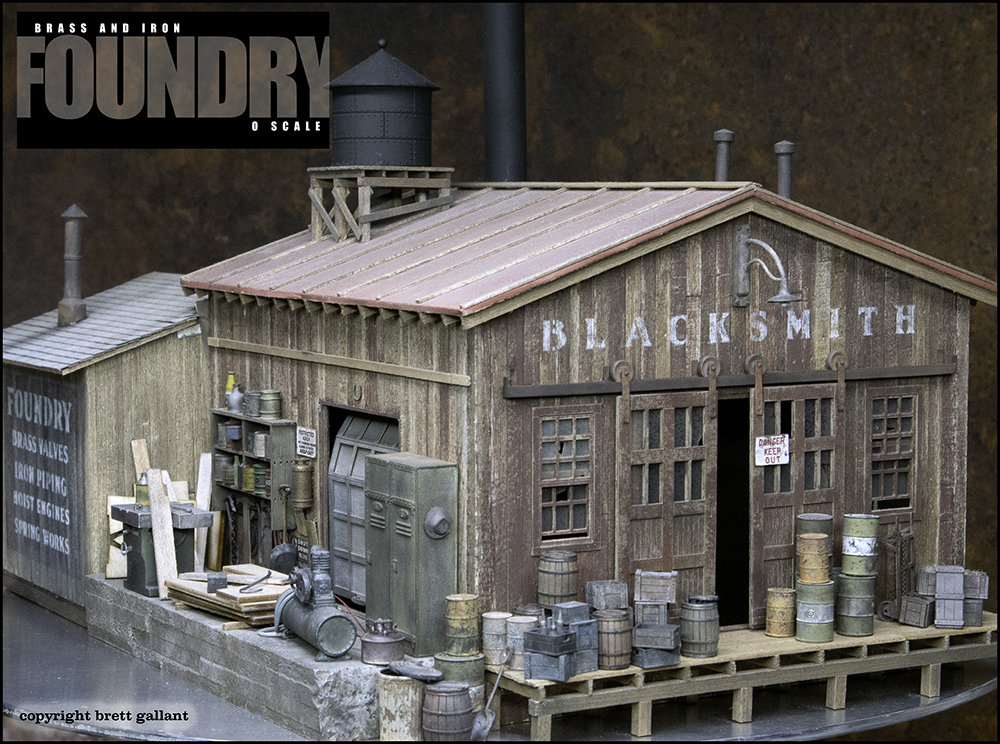 I can't decide which scene I love more. Each turn of the diorama reveals a level of detail simply unimaginable even a few years ago! The rear dock includes drums filled with casting oil and kerosene as well as wooden barrels filled with nails. Don't you love the weathering on these new details? I cannot wait to share the new techniques I have developed that makes achieveing results like this so easy. Seriously, you're gonna shake your head!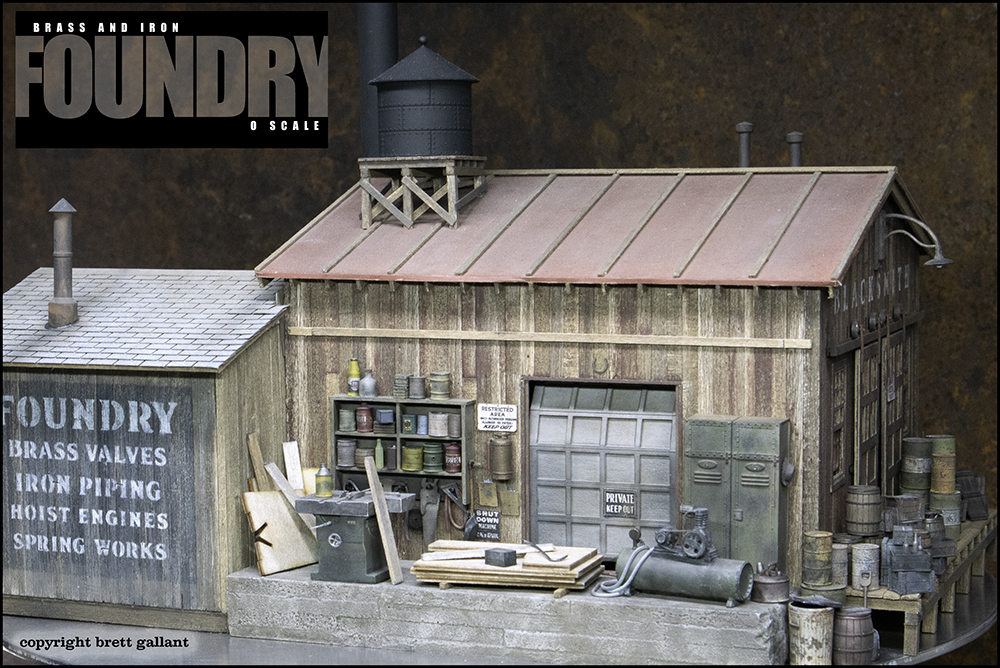 The next installment of the Foundry, kit 314c, will include the side dock and front porch overhangs. My single favorite detail has to be the early electric air compressor. The level of detail on this beast is only to be appreciated in person. It will blow you away! Emery and I had a blast working this detail out and getting it "just right". I believe it exemplifies just what 3D Printing is capable of today that poured resin and spun metal cannot achieve.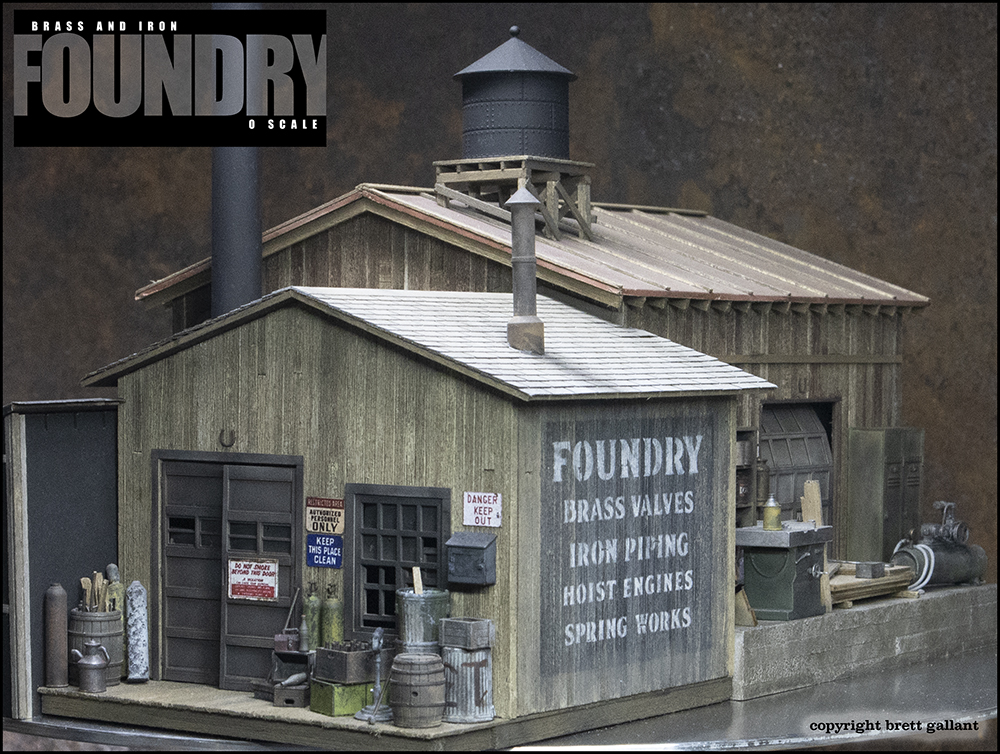 Another standout detail is the pair of oversized beer bottle crates, filled with individual longneck bottles, of course! That small wooden barrel (in front of the trash cans) is really special. it is a dilapidated old junker with bands slowly rotting away and falling off. We call it the "BUB". (beaten up barrel.)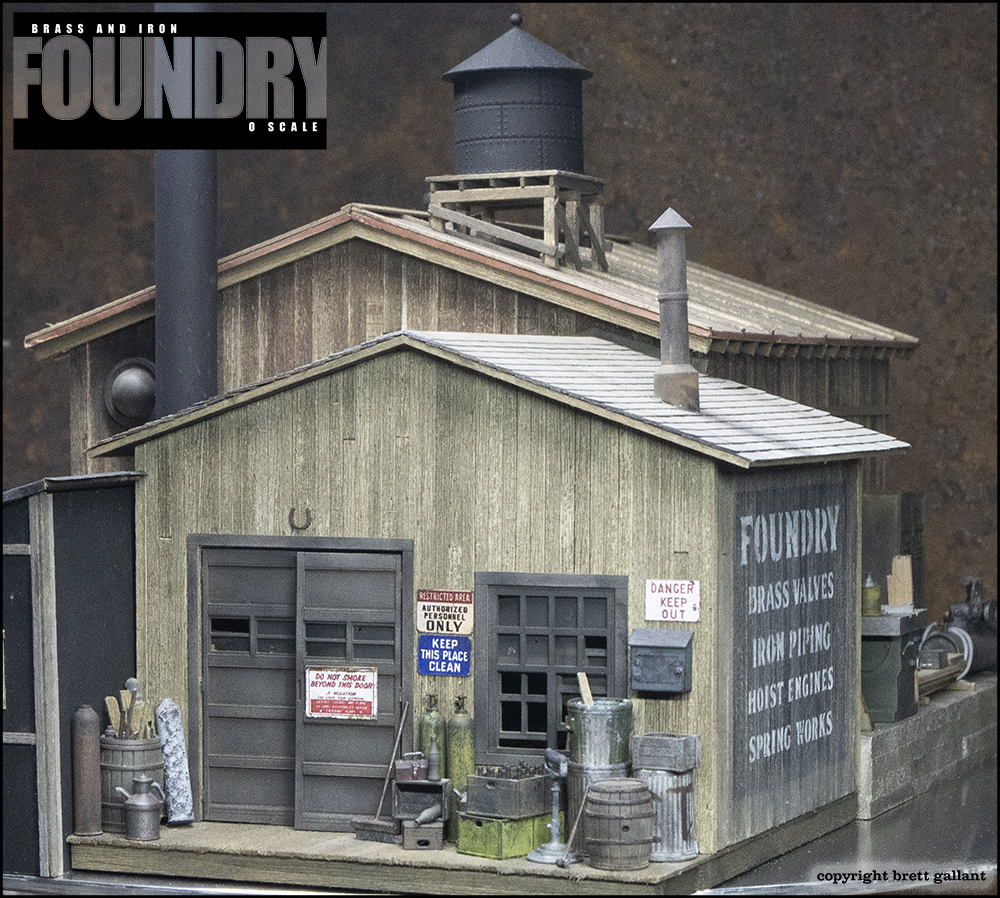 Kit 314c will include a full interior detail set for the tarpaper Tempering Shed. I am super excited about working and creating this important scene. The interior details will literally be spilling out the large door into the busy, cluttered yard. Tons of story telling and unique character.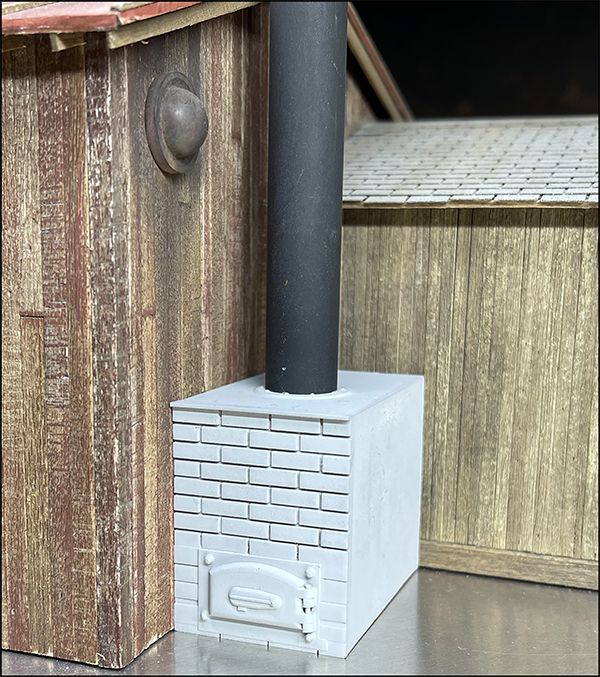 The Tempering Oven is included in this kit as it is needed to properly align the structures but will be fully painted, weathered, and installed in the next kit along with the Tempering Shed.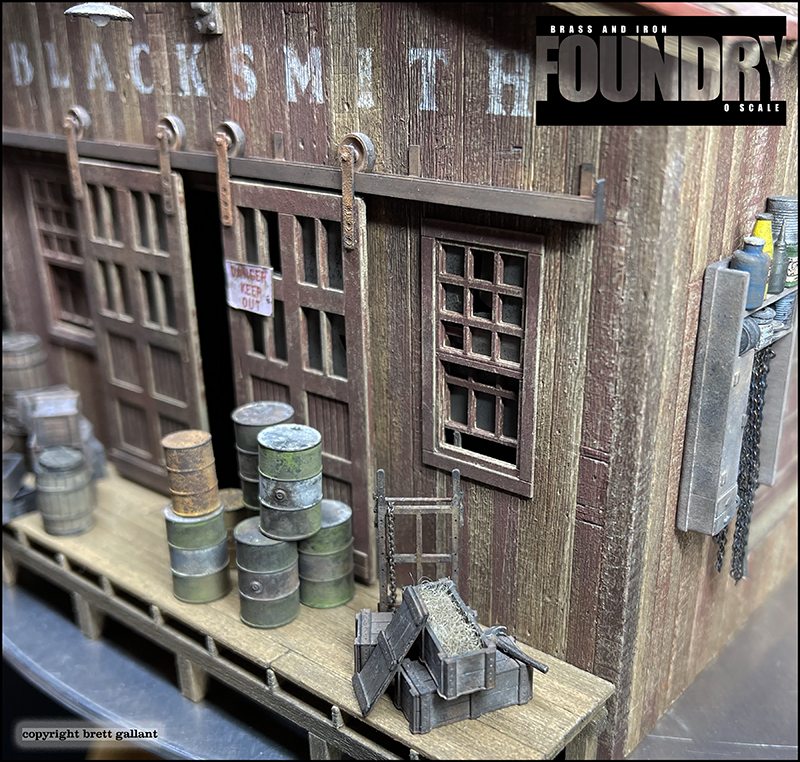 Those three long crates with the separate lid (how cool is that?) are filled with brass ingots destined for the foundry oven. The open crate and "straw" packing material is something I have always wanted to model and include in a kit. There will be more of these crates along with the actual ingots included in a future kit. That dock is so overflowing with details that I am not sure there's really even enough room to walk around! The drums are filled with casting oil and kerosene and flow directly into the barrel and crate scene.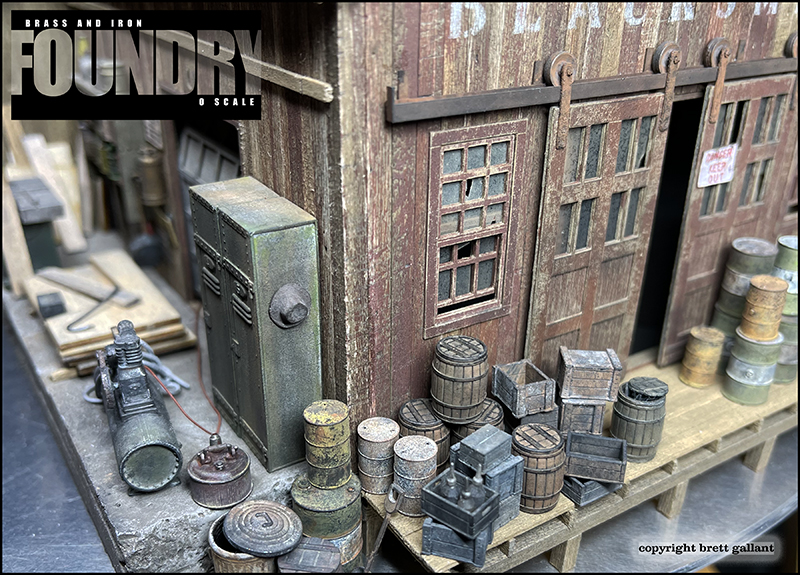 All the different materials, textures, and colors create such an interesting scene. Lots to take in here that exemplifies how versatile the various materials and weathering techniques are. It's gonna be a shame to place a dock covering over the cement dock but no worries, it will be removeable! Those small "nail" barrels are filled with, uhmmm yeah, nails! These are used in constructing the wooden casting patterns, the lifeblood of any small foundry.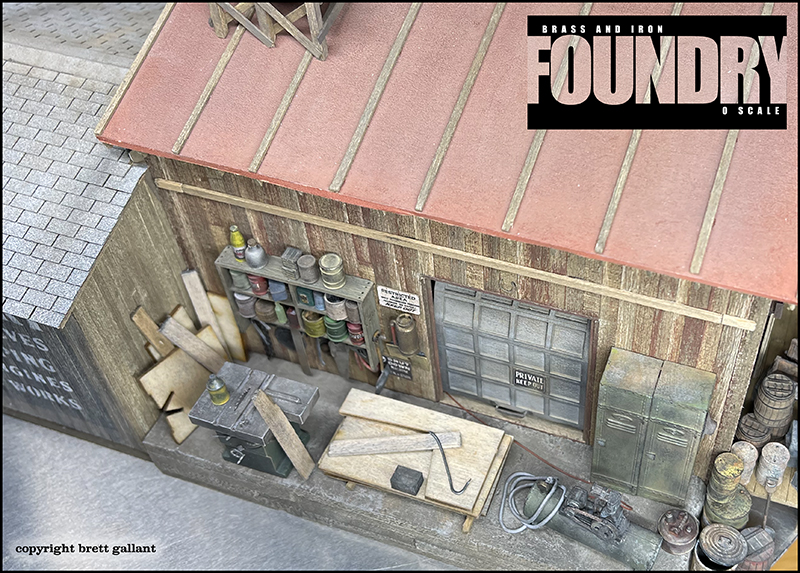 As we round the corner to the main pattern shop dock (the resin concrete dock casting is so incredible with amazing detail) the table saw anchors such an important scene. It is based upon a 1930's Oliver brand table saw and is brimming with prototypical detal. There is so much happening on this dock. Be sure to take time to study the photographs and pick everything out. Lots of new details here!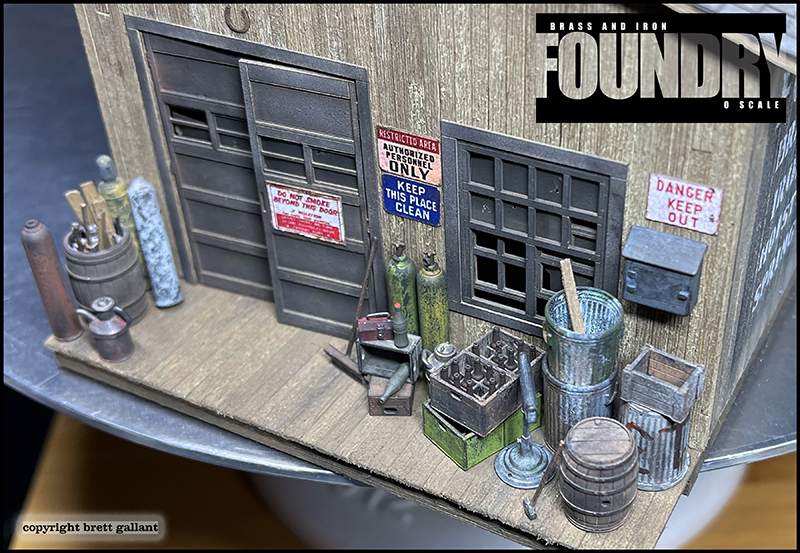 One final view of the front porch and its beautiful casting set. Check out the base on the small stock support. Notice the tiny set screw on its column near the base. Superb detail!
Future Releases:
314c - Exterior/Interior Details
Pattern Shop
Repair Shop
Tempering Shed (Interior)

314d - Exterior Details
Tempering Shed
Repair Shop
Transfer Dock

Brass and Iron Foundry
315a - Structures
Foundry
Work Room
Office

315b - Exterior Details
Work Room
Office

315c - Exterior Details
Gantry Crane and Yard

315d - Exterior Details
Sand Bay
Coal Bin
Part Three
O Scale Foundry Bonus Detail Set