Current Materials Listing and Suppliers
This listing is kept up to date so pleaase advise any changes
Rembrandt Chalk Sticks
(Soft Pastels)
In color theory, a tint is the mixture of a color with white, which increases lightness, and a shade is the mixture of a color with black, which reduces lightness. In general with the Rembrandt Chalk Sticks numeration system, the number to the left of the period indicates color while the number to the right denotes whether it is a tint or a shade of that color.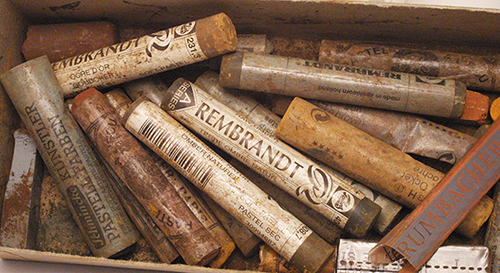 Purchase Individual (open stock) Sticks from Dick Blick or Amazon
Do Not Purchase Sets

The Basic Colors:
704.5 Grey
700.5 Black
100.5 White
Wood (Brown) Family
408.3 Raw Umber
408.5 Raw Umber Shade
408.9 Raw Umber Shade
234.3 Raw Sienna
Rust (Red/Orange) Family
411.3 Burnt Sienna
411.5 Burnt Sienna Shade
411.7 Burnt Sienna Shade
231.3 Gold Ochre
Spray Paint
Available at Wal-Mart, Target, Lowe's, Home Depot, ACE, Craft Stores, Amazon, etc..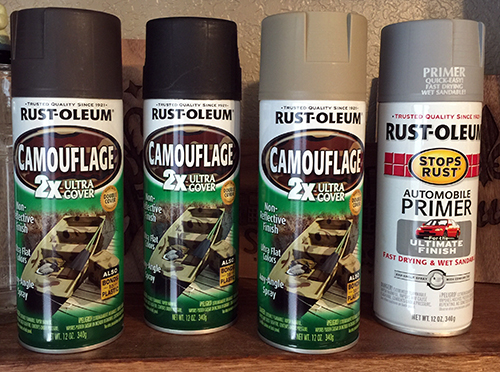 Rust Oleum or Krylon Camouflage Colors:
Khaki (earth replacement) and Brown
Any brand of Flat Black
Flat Grey Auto Primer
Flat Red Primer
Brush Paint
Craft Store and Premium Hobby Brands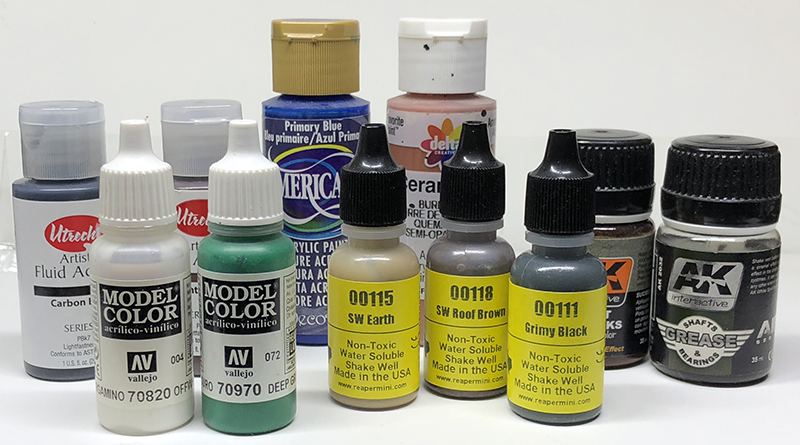 These can be purchased at many different stores including Dick Blick, Amazon, Wal_Mart, Hobby Lobby, Michaels, JoAnns, AC Moore, and many others.
Black
White
Bone
Ivory
Light Brown
Medium Brown
Umber (Dark Brown)
2-3 Shades of Gray
2-3 Shades of Red
2-3 Shades of Green
Primary Yellow
Primary Blue
Orange
Purple
Metallic Paint from Reaper Miniatures
Aged Pewter – 09196
Tarnished Steel – 09206
Blackened Steel – 09205
Tarnished Brass – 09198
Adamantium Black - 09124
Chemical Blackening Agents
For White Metal Castings and Brass Wire
(A-West Blacken It is no longer available)
My techniques require two different agents
One for White Metal and one for Brass Wire
(Two sources for each listed below)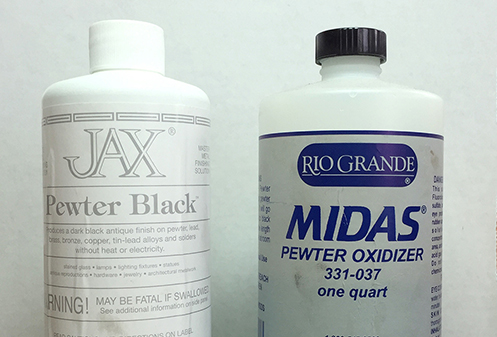 Chemical Blackener for White Metal Castings:
General Purpose Blackening Agent for White Metal Castings
- JAX Pewter Black -
or
The Professional Stuff (Strong): Pewter Oxide for White Metal Castings
- Rio Grande Midas Pewter Oxidizer -
and
Chemical Blackener for Brass Wire
General Purpose Blackening Agent for Brass, Bronze, and Copper Wire
- JAX Brown Black -
or
The Professional Stuff (Strong): Black, Brown Patina for Brass Wire
- Rio Grande Midas Black, Brown Patina -
Glue
Elmer's WoodGlue Max for wood-to-wood or chipboard
Gel Cyanoacrylate (super glue) for plastic-to-wood or plastic
5 Minute, 2 Part Epoxy for metal-to-metal or wood
India Ink and Rubbing Alcohol
Higgins non-waterproof black ink
Item 46030 available from amazon
Ordinary Isopropyl Alcohol 70% or 90%