Diorama and Pilot Model Designed and Constructed by Brett Gallant and Karl Allison
Names, Logos, Designs and Photographs Owned and Copyright Brett Gallant
the Award Winning
Donkey Repair Yard
Companion Structure to the Loco and Service Shops
HO Scale Limited Edition Craftsman Kit Number 209
The diorama as pictured is 19.5" x 4.75"
(Photographs show the Loco Shops and Donkey Repair Yard)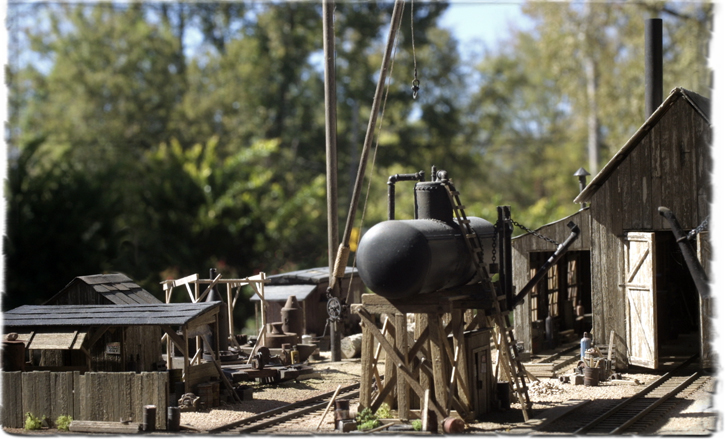 HO Scale Donkey Repair Yard
Kit 209 | Now Shipping
Photographs show both the Loco Shops
and Donkey Repair Yard Kits
The Diorama Measures Approximately 19.5" x 4.75"
please check back for availability
temporarily out of stock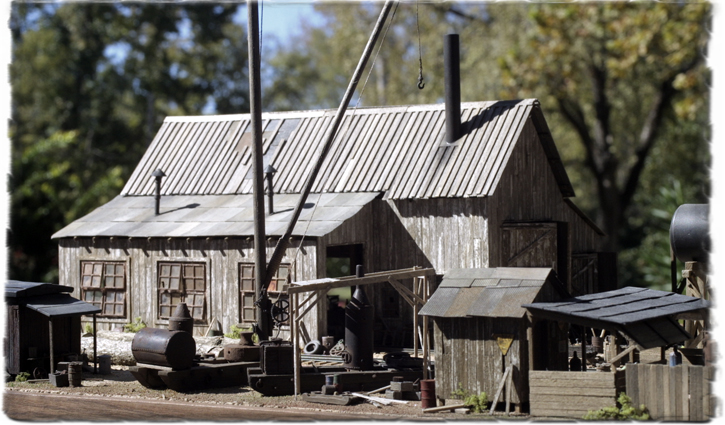 The Donkey Repair Yard includes the welding shed, donkey parts storage yard and work area, a loader under repair, A Dolbeer Donkey under repair, a large derrick crane, and the boxcar storage shed for tools and supplies.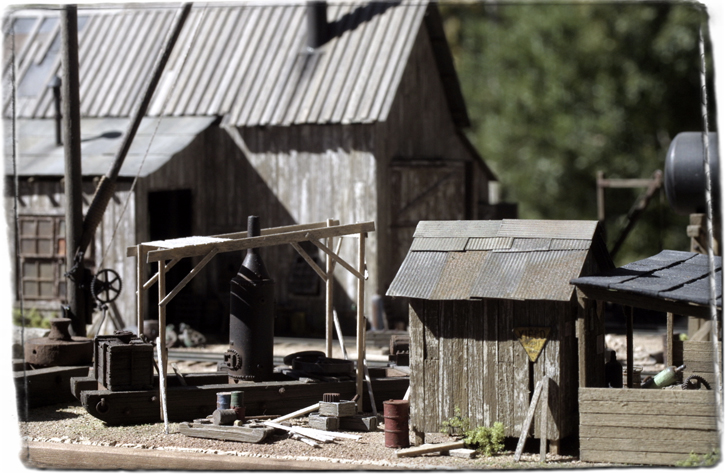 Everything is perfectly integrated to match the Loco and Service Shop in design, materials, and construction techniques.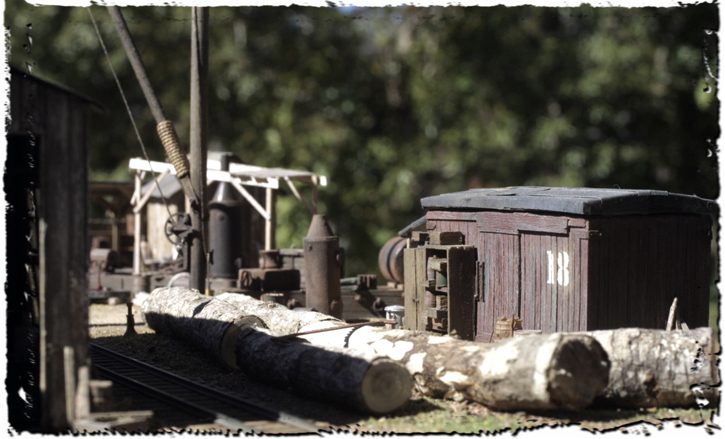 The diorama measures 19.5" x 4.75" and follows prototype practices in the layout and types of details included. The donkey repair facility was usually located right next to the siding to make unloading and loading easier.
details of the
Donkey Repair Yard

Raw logs (not included) are delivered and unloaded by the derrick crane on one end. They are then shaped into sleds in front of the boxcar shed. Lots of tools and clutter is included to make this scene. At the opposite end sits the storage yard and welding shed where the boiler and hoist/yarder mechanisms are repaired. Plenty of donkey parts are included to spread around and stack up. The assembly and repair of the donkey or yarder occurred in between.



I founded SierraWest in 1995 and have been a one man operation since day one. I make everything by hand to my exacting standards and know you will be pleased with your kit! I will never sacrifice quality for speed and always provide exceptional customer service and support including fast response to emails and phone calls. I am always here if you have any questions so please feel free to contact me anytime before or after you order. Thank you sincerely for you support!
The attention to the smallest detail is evident. The story telling is paramount in the development of each new kit. Instructions are provided leading you through every phase of construction including tool selection, assembly, weathering and aging, diorama composition, and scenery creation and application. It is of the utmost of importance to me that the techniques I develop and utilize are reproducible for modelers of all experience levels. When you view the pictures of the Donkey Repair Yard remember this. SierraWest kits are unique in the level and amount of detail provided. Since all four sides are fully detailed, you have a ton of flexibility in placement and view-ability.
Here are just a few of the features of SierraWest kits:
- Award Winning Board on Board Modeling Techniques -
- Learn My Techniques for Multiple Types of Wood Siding,
Masonry, Windows and Doors, and Roofing Materials -
- Large Assortment of New Castings and Realistic Clutter -
- Unique, Incredibly Fine Laser Made Details -
- Comprehensive Fully Illustrated Instructions -
- Thoughtful Time-Tested Techniques that You
Can Replicate to Advance your Skills and Confidence -
- Industry First Laser Cut Jigs and Assembly Aids -
- Intricate Laser Cut Windows, Doors, and Wall Framing -
- Signs Meticulously Researched and Reproduced
for Historical Accuracy and Time Period -
- Metal Roofing, Laser Cut Shingles, and Tarpapers -