Diorama and Pilot Model Constructed by Karl Allison and Brett Gallant
Original Design by Brett Gallant
Names, Logos, Designs and Photographs Owned and Copyright Brett Gallant
the Award Winning
O Scale Railroad Camp
the office and warehouse
A Legend Returns in O Scale
Limited Edition Craftsman Kit Number 306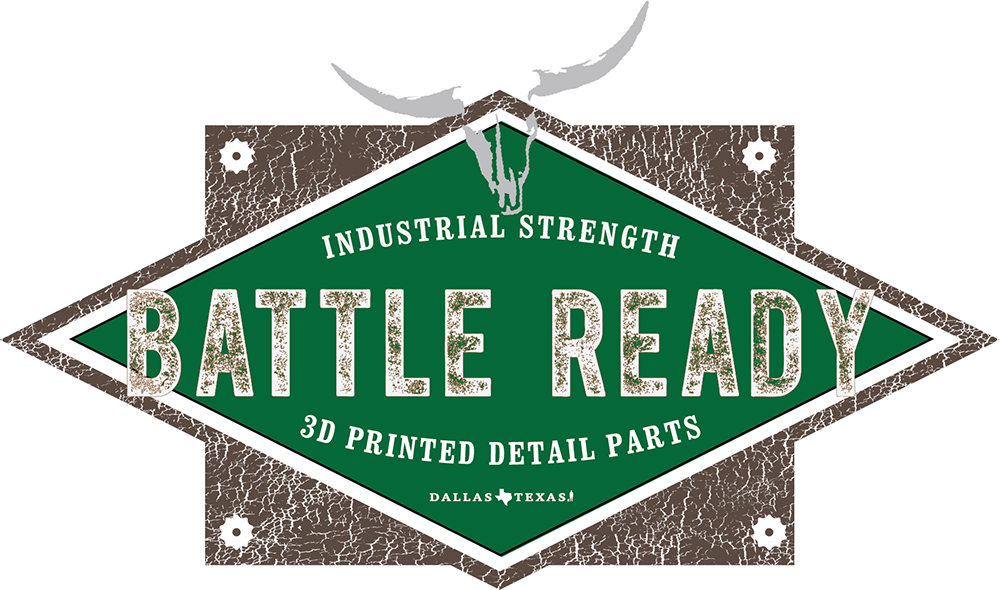 Updated with an Amazing Selection of 3D Printed Detail Parts!
This O Scale release of railroad camp is visually true to the original HO Scale design I introduced in 2002. It was important to preserve the look and feel of that original kit. The original HO Scale railroad camp kit is a hard to find classic now. It included three main structures. The office and warehouse, truck repair facility, and boiler and welding shop. The O Scale version will include all three kits in original form with this office and warehouse kit being relesed first.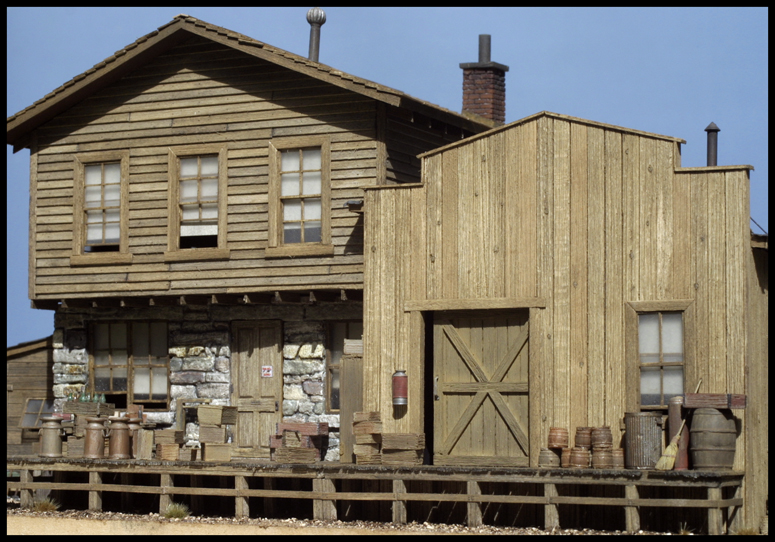 Nick Ogden created the beautiful stone wall masters and Karl adapted them for use here. The resin stone wall castings feature interlocking corners for ultimate realism, no seams! Laser cut sub walls combined with my comprehensive instructions and simple techniques for board on board construction means any modeler can achieve results to be proud of. I have been teaching and refining these techniques for decades. You will feel comfortable with them quickly. The appearance of railroad camp relies heavily upon these modeling techniques. Commercial milled wood siding could never reproduce the stunning realism pictured here. This has been a hallmark of every SierraWest kit!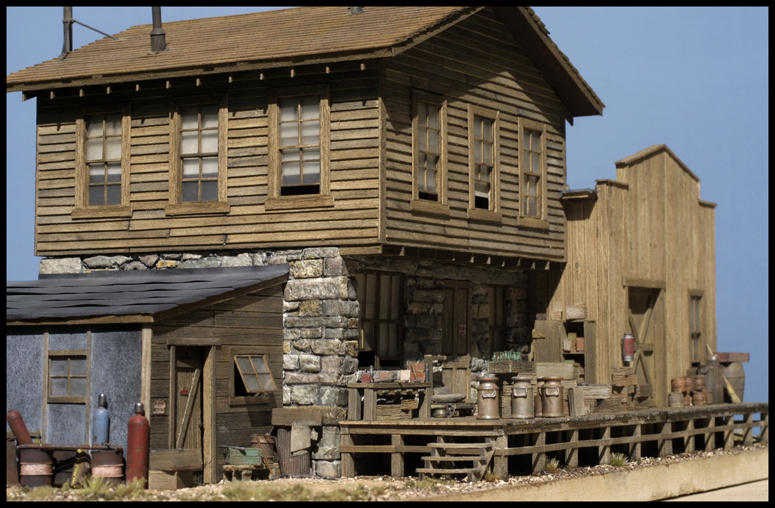 Details make the scene come alive. Seriously, without them it is just not a diorama! As is typical with all my kits since the very beginning, I loaded railroad camp up with the highest quality resin and white metal details found anywhere. Made here by me, the crispness and clarity is second to none. All the junk and clutter pictured is included, along with the best instructions for painting and weathering them that you will find. Straight forward and realistic in the methodology, these techniques have been developed and refined over many years using paint and artists chalk. All modelers will be very satisfied with the materials and techniques utilized to finish the kit. Customers new to my kits will find it a fantastic way to improve their skills and gain valuable experience with new techniques and tools.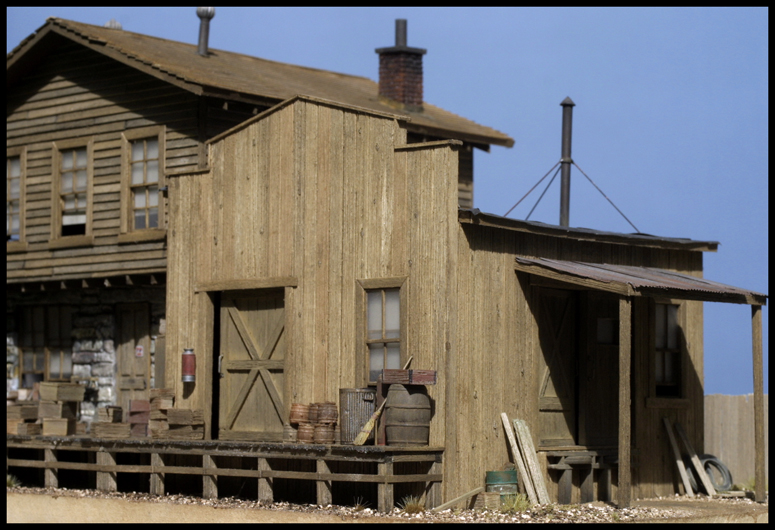 Laser cut windows and window glass make construction simple. Additional laser cut components includes wooden shingles and cutting and positioning jigs for rafters, fascia, window frames, etc... These laser cut jigs were invented by me and first used over 7 years ago in my original O Scale kit. I use my lasers as an aid to improve and help your modeling, not a substitute. This is very important! You will never improve your modeling skills if you only build kits where the laser has done all the work for you. Take your time and study the photographs, you will not find the tell tale signs of the laser. Crafting a realistic scene like railroad camp relies upon the perfect combination of design, individual details and award wining techniques. More of my customers win awards at the National train shows with SierraWest kits than any other manufacturer...
O Scale railroad camp - office and warehouse
Kit 306 | Now Shipping
Everything Pictured is Included Except Track and Senery
The Diorama Measures Approximately 10" x 17.5"

I founded SierraWest in 1995 and have been a one man operation since day one. I make everything by hand to my exacting standards and know you will be pleased with your kit! I will never sacrifice quality for speed and always provide exceptional customer service and support including fast response to emails and phone calls. I am always here if you have any questions so please feel free to contact me anytime before or after you order. Thank you sincerely for you support!
The attention to the smallest detail is evident. The story telling is paramount in the development of each new kit. Instructions are provided leading you through every phase of construction including tool selection, assembly, weathering and aging, diorama composition, and scenery creation and application. It is of the utmost of importance to me that the techniques I develop and utilize are reproducible for modelers of all experience levels. When you view the pictures of railroad camp remember this. SierraWest kits are unique in the level and amount of detail provided.

Here are just a few of the features of SierraWest kits:
- Award Winning Board on Board Modeling Techniques -
- Learn My Techniques for Multiple Types of Wood Siding,
Masonry, Windows and Doors, and Roofing Materials -
- Large Assortment of New Castings and Realistic Clutter -
- Unique, Incredibly Fine Laser Made Details -
- Comprehensive Fully Illustrated Instructions -
- Thoughtful Time-Tested Techniques that You
Can Replicate to Advance your Skills and Confidence -
- Industry First Laser Cut Jigs and Assembly Aids -
- Intricate Laser Cut Windows, Doors, and Wall Framing -
- Signs Meticulously Researched and Reproduced
for Historical Accuracy and Time Period -
- Metal Roofing, Laser Cut Shingles, and Tarpapers -


Part Two of Railroad Camp is the Truck Repair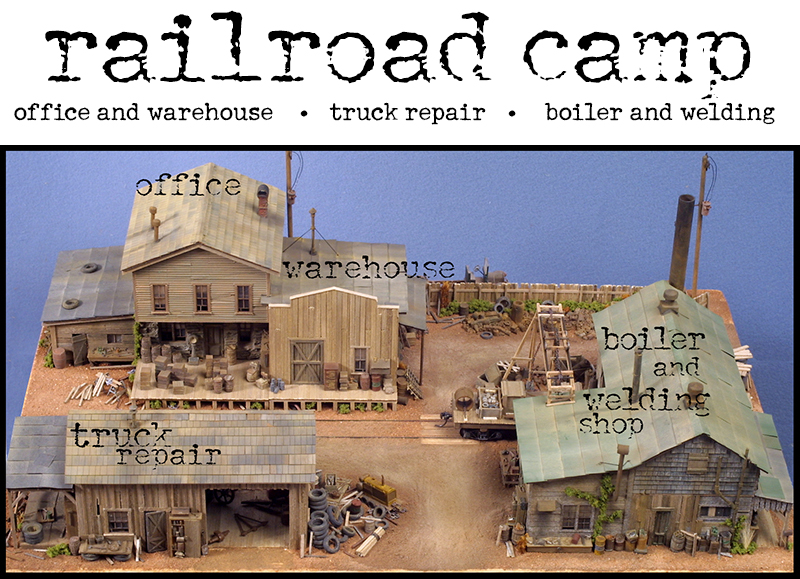 The O Scale Railroad Camp Office and Warehouse was released in 2011 and was the first of three kits that will complete the original railroad camp diorama as re-imagined in O Scale. The Truck Repair is the second. The complete HO Scale railroad camp diorama is shown above. Released in 2002, it has won several best of show awards. The Boiler and Welding Shop will complete the series in O Scale. If you ordered either railroad camp kit, you will receive more information when available.