- My Tribute to Gary Nash -
Diorama and Pilot Model Designed and Constructed by Brett Gallant
Names, Logos, Design, and Photographs Copyright Brett Gallant
the O Scale
Railroad Camp Truck Repair
Craftsman Kit Number 312
Part Two of the Railroad Camp Series
Truck Repair as pictured measures approximately 12" x 6"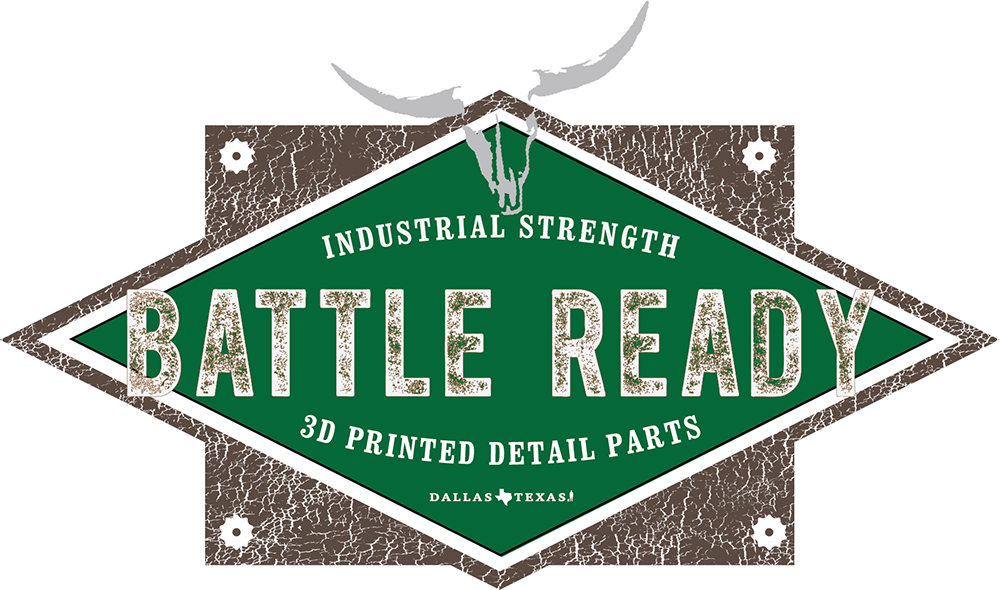 Updated with an Amazing Selection of 3D Printed Detail Parts!
Long Live the King!
In August 2002 when I released the original HO Scale railroad camp kit, I never would have imagined I would be producing an O Scale version over 15 years later! Hundreds of modelers have enjoyed this classic backwoods beauty and it has won many awards including best of shows. She certainly has aged gracefully!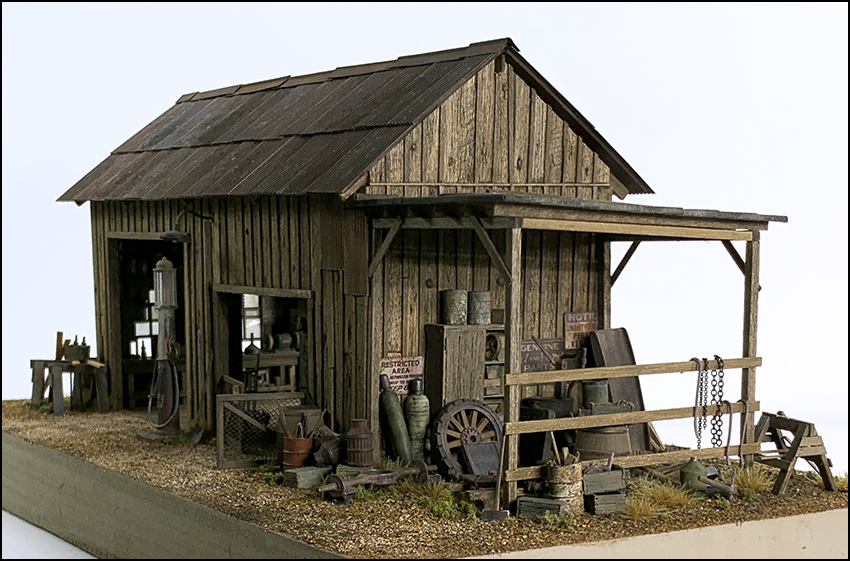 The Truck Repair is constructed utilizing individual siding and batten boards over a tarpaper covered, board on board wall frame. Slotted laser cut plates and headers are provided so all you do is cut studs from the supplied stripwood. They slide into the laser cut slots to create a very accurate frame that is fast and easy to construct. However, it retains the prototypical appearance of a hand-made one. You are then able to concentrate on detailing the siding. The depth and character of the walls are evident in the photographs. The included laser cut window components are designed thoughtfully so they enhance the structures appearance. The laser is used only as a construction aide, not a substitute for quality modeling and sound techniques.
My modeling passion is creating prototypically detailed scenes like the one's found in the many railroad history books we collect. I want my dioramas to evoke nostalgic memories and feelings reminiscent of the photographs found in those books. Combining castings, laser cut components, and the scenery is the very definition of diorama modeling and a true art form. I love it when non-modelers "get it" discovering the scenes narrative among the various components. My goal is to teach customers how I achieve these results and am so pleased to be able to combine my manual and online videos tutorials for an awesome combination. I consider myself a teacher, cheerleader, and mentor as well as a kit manufacturer. This is so important to me.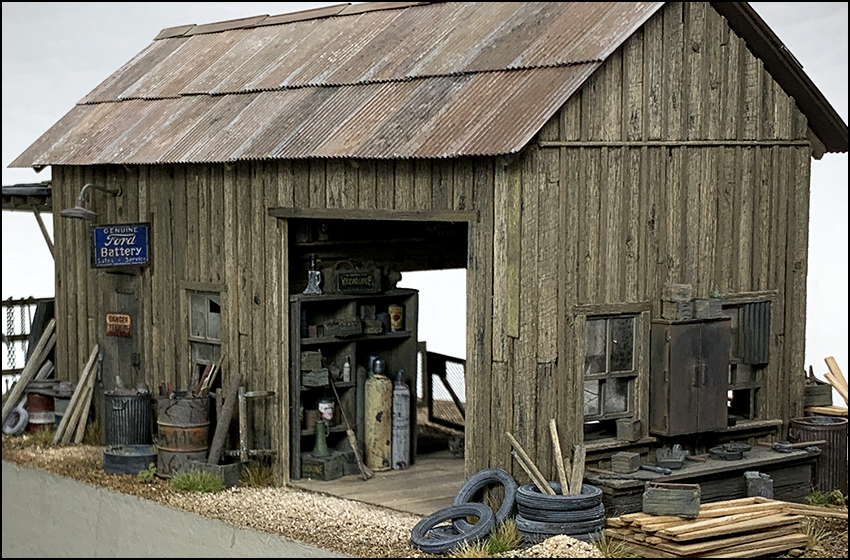 Yes, ALL the incredible details pictured are included! I spend most of my production time casting the many parts found in my kits. I utilize resin and metal to create my castings with unrivaled clarity and sharpness. Employing two very different materials and proprietary casting techniques allows me a tremendous amount of creative freedom in providing you with the best assortment possible. I take their quality very seriously and make the finest detail parts available. Study the diorama, inside and out... notice how realistic the clutter appears. The many scenes are created using individual components like cans, wrenches, gears, bottles, etc... Weathered and painted separately then glued in place. This allows you to concentrate on creating more realistic appearing scenes with natural variety and unique storytelling. Making it your own by arranging the clutter as you desire is a simple and enjoyable process.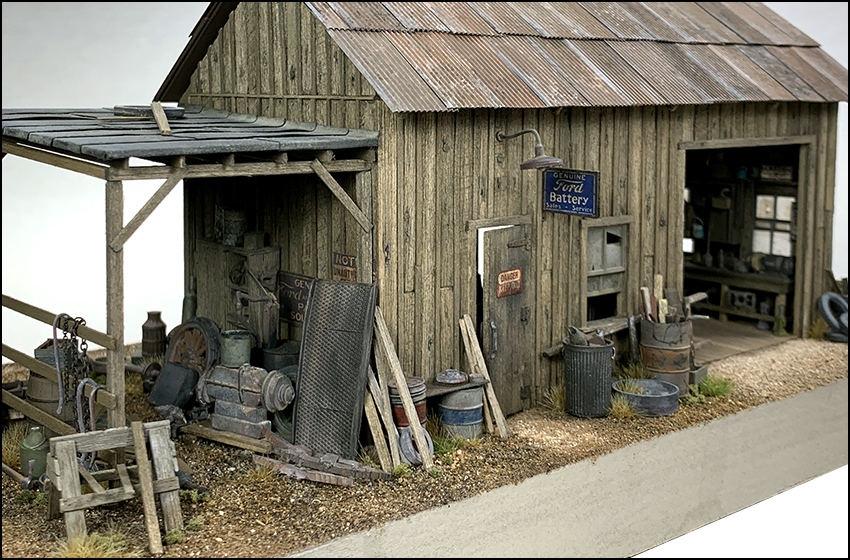 Scene creation and story telling are the focus of my kits. Everything I do in creating a miniature world is designed to provide information to the viewer. The era, age, care (or neglect) of the environment, level of activity, etc... are all created when we build a kit. Wipe the details away and the backbone for that story remains but it is the very details themselves that create interest and form the narrative.

O Scale Railroad Camp Truck Repair
Kit 312 | Now Shipping
Everything Pictured is Included Except Track and Scenery
The Diorama Measures Approximately 12" x 6"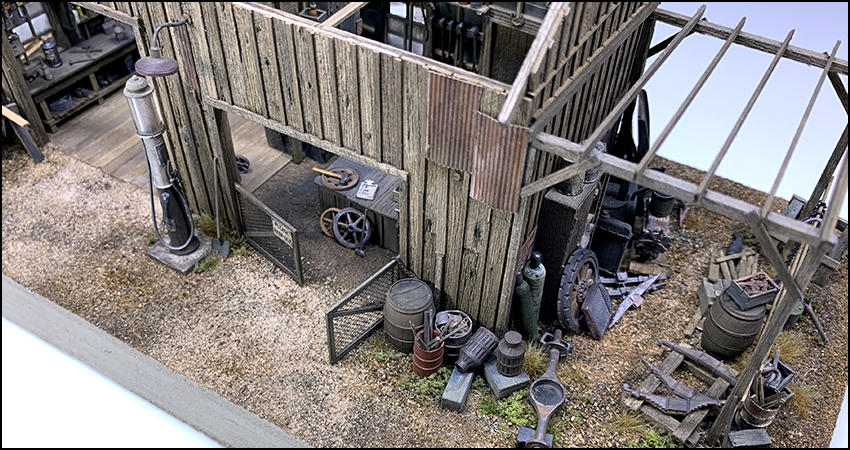 Removing the roof on the side shed exposes my favorite scene. Spare truck parts are stored here including a couple radiators, piles of leaf springs, an old motor, a drum of engine oil, grease cans, wheels, and an extra rear axle. All these components are blended together so naturally. The scenery compliments the detailing and provides an important backdrop. Instructions are included explaining exactly how I create my scenery and what materials I use.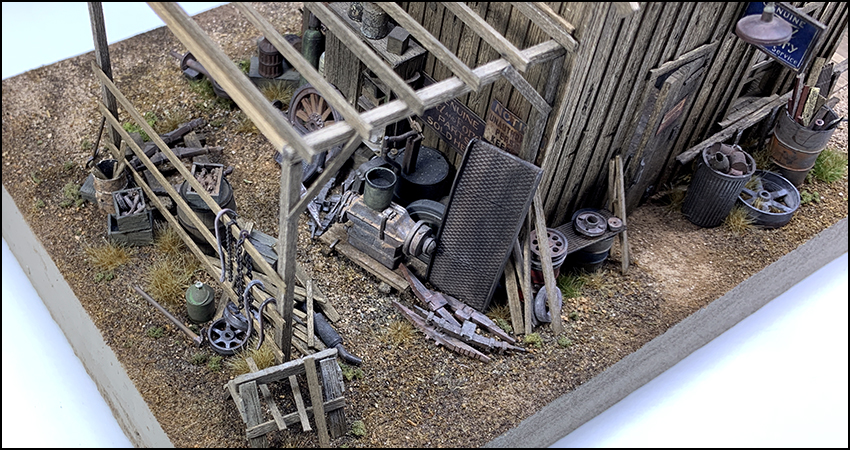 The interior of the truck repair shop is fully detailed with removable roofs. There's no way you're going to want to hide all the incredible details! I have seen many best of show contest models that do not come close to this level of finely crafted detail. The shop is divided into two areas. The main area with the wooden floor boards is the repair shop where the trucks are brought in to work on. The large workbench and shelving stores many tools and supplies. The walls are covered with belts, gaskets, fan blades, bottles, and vintage signage. The smaller dirt floor side features an oversize spare parts bin and the large square workbench. It includes an anvil for light duty blacksmithing. One corner includes a station for recharging truck batteries. Appropriate signage and details including the old batteries, along with containers of distilled water and acid used to refill them are included. This is such a neat little scene and would have been very common.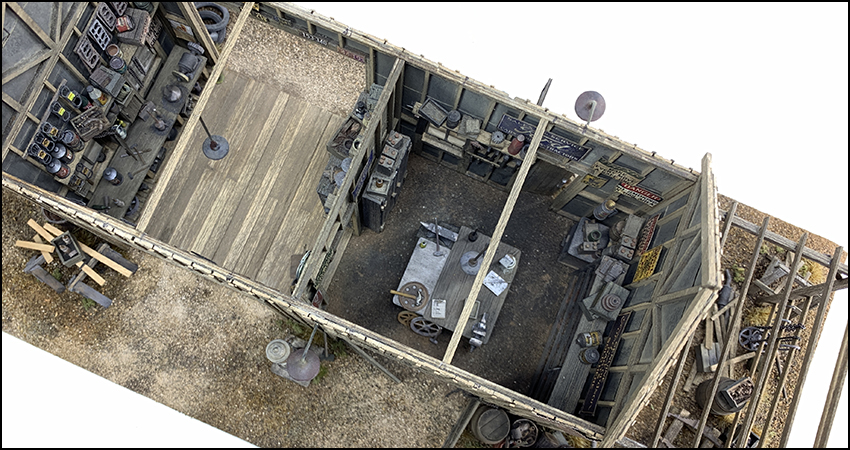 The details are a comfortable combination of individual pieces and cast-in place clutter. The interior is such a wonderful representation of my manufacturing philosophy. A satisfying mix of resin and metal castings along with very fine laser cut details like fan belts, gaskets, paint brushes, and clipboards. My manual takes all the mystery out of creating scenes like this with lots of large clear photographs and concise instructions on weathering and scene creation.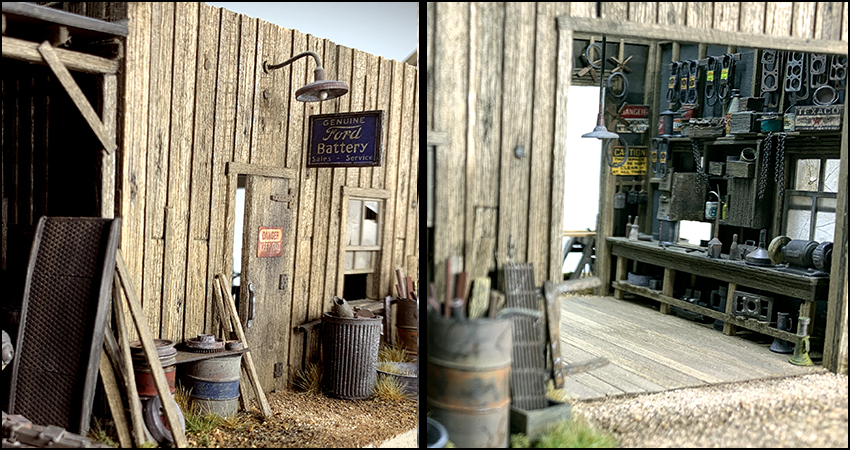 The attention to the smallest detail is evident. The story telling is paramount in the development of each new kit. Instructions are provided leading you through every phase of construction including tool selection, assembly, weathering and aging, diorama composition, and scenery creation and application. It is of the utmost of importance to me that the techniques I develop and utilize are reproducible for modelers of all experience levels. When you view the pictures of the Truck Repair remember this. SierraWest kits are unique in the level and amount of detail provided. Since all four sides are fully detailed, you have a ton of flexibility in placement and view-ability on a layout.
I founded SierraWest in 1995 and have been a one man operation since day one. I make everything by hand to my exacting standards and know you will be pleased with your kit! I will never sacrifice quality for speed and always provide exceptional customer service and support including fast response to emails and phone calls. I am always here if you have any questions so please feel free to contact me anytime before or after you order. Thank you sincerely for you support!
Here are just a few of the features of SierraWest kits:
- Award Winning Board on Board Modeling Techniques -
- Learn My Techniques for Detailing Wood Siding,
Windows and Doors, and Roofing Materials -
- Large Assortment of New Castings and Realistic Clutter -
- Unique, Incredibly Fine Laser Made Details -
- Comprehensive Fully Illustrated Instructions -
- Thoughtful Time-Tested Techniques that You
Can Replicate to Advance your Skills and Confidence -
- Industry First Laser Cut Jigs and Assembly Aids -
- Intricate Laser Cut Windows, Doors, and Wall Framing
Designed to Enhance the Structures Appearance -
- Signs Meticulously Researched and Reproduced
for Historical Accuracy and Time Period -
- Metal Roofing and Tarpapers -


Part One of Railroad Camp is the Office and Warehouse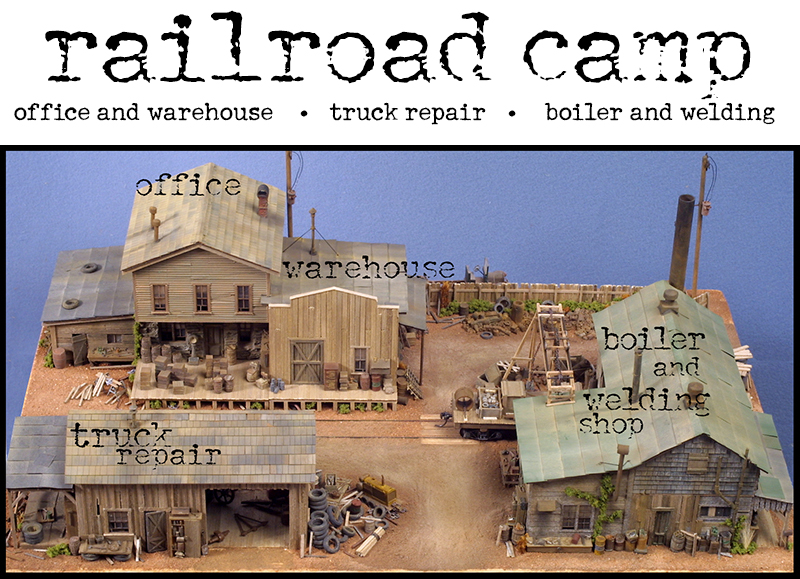 The O Scale Railroad Camp Office and Warehouse was released in 2011 and was the first of three kits that will complete the original railroad camp diorama as re-imagined in O Scale. The Truck Repair is the second. The complete HO Scale railroad camp diorama is shown above. Released in 2002, it has won several best of show awards. The Boiler and Welding Shop will complete the series in O Scale. If you ordered either railroad camp kit, you will receive more information when available.