Diorama and Pilot Model Designed and Constructed by Brett Gallant
Special Thanks to Ken Karns for His Assistance
and a Hearty Nod of Appreciation to Bill Obenauf, Alan Hubbard, and Joel Freedman
Based Upon an Original Concept by Carlton Cornish
Names, Logos, Design, and Photographs Copyright Brett Gallant

the Award Winning

O Scale O'Neills Fabrication
A Tribute to My Friend Kevin O'Neill
1951-2013
Limited Edition Craftsman Kits 311a and 311b
O'Neills Fabrication diorama measures 15" x 16"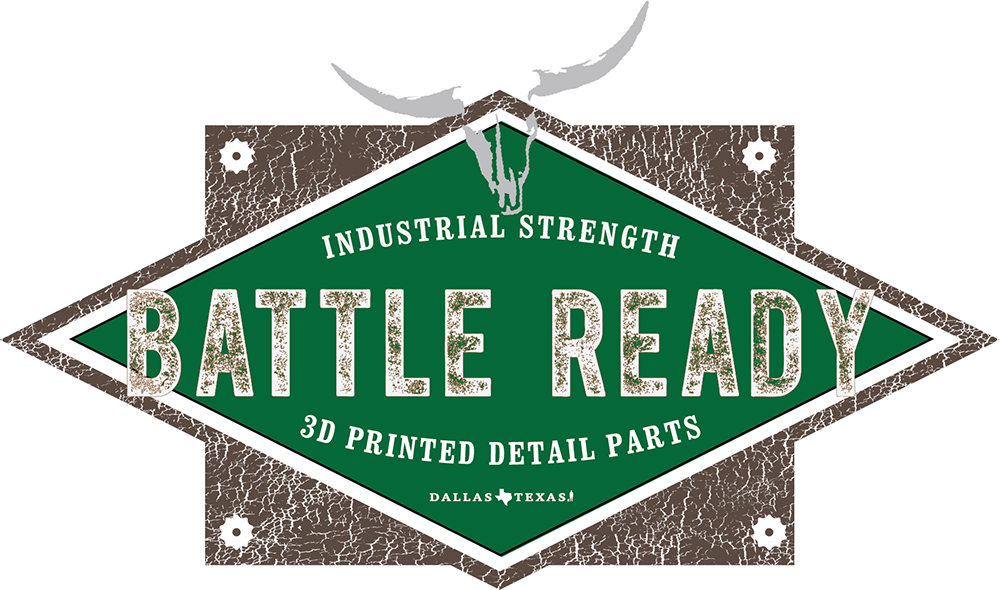 Updated with an Amazing Selection of 3D Printed Detail Parts!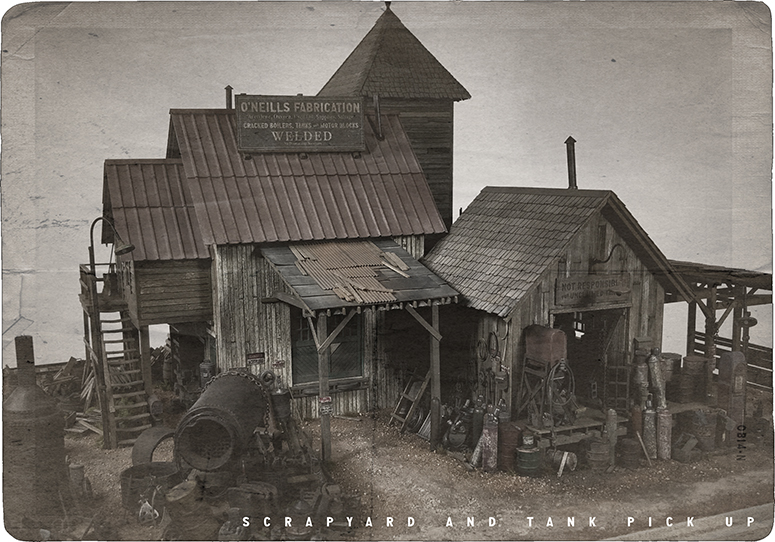 O'Neills Fabrication is a classic early Twentieth Century business brimming with finely crafted details and prototypical activity. O'Neills evokes memories of a simpler time and would be right at home in any geographic locale. The beautiful scrapping yard scene features two detailed boilers in various stages of being scrapped. O'Neills is not a junkyard so you will find this detailed scene is filled with specific types of clutter including the scrapped boilers, tanks, boiler tubing, crates of valves, bins of scrapped parts, and empty grease buckets. The covered loading dock is for the transfer of empty and full acetylene and oxygen tanks. Locals bring their empties in for exchange. The side wall of the repair shop is covered in welding hoses ready for sale or rental.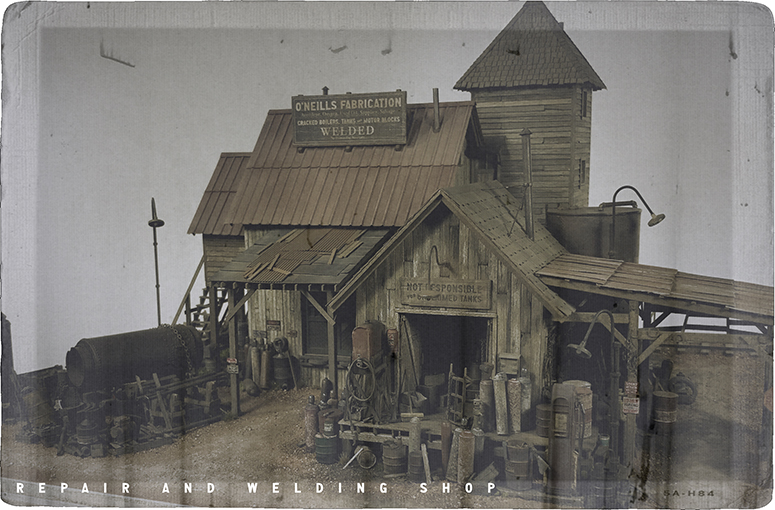 The locals bring their empty acetylene and oxygen tanks in to exchange them for full tanks. The small repair and welding shop inspects and repairs these returning tanks. The fully detailed interior includes a degreasing station to clean and prepare the valves for tank re-filling. Gasoline and kerosene are available too. The covered drive through leads to the large used oil storage tank and has its own unique story to tell.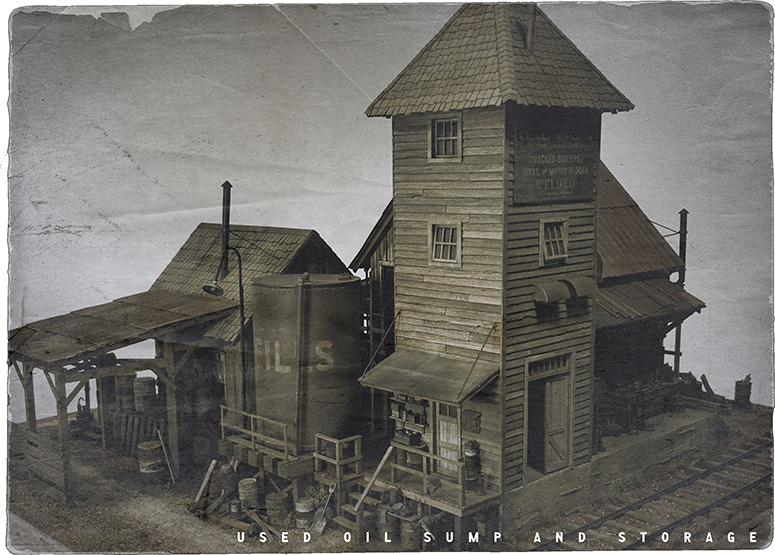 Used motor oil is brought to O'Neills in 55 gallon drums from the surrounding farms and businesses. O'Neills purchases the oil for pennies a gallon then the drums are off-loaded under the covered driveway. One at a time, each drum is clamped on a tipping cradle then up-ended over the sump to drain. Next the used motor oil is pumped into the large storage tank. This oil can then be re-sold and pumped into tankers or used by the neighboring Brass and Iron Foundry to fuel their furnace.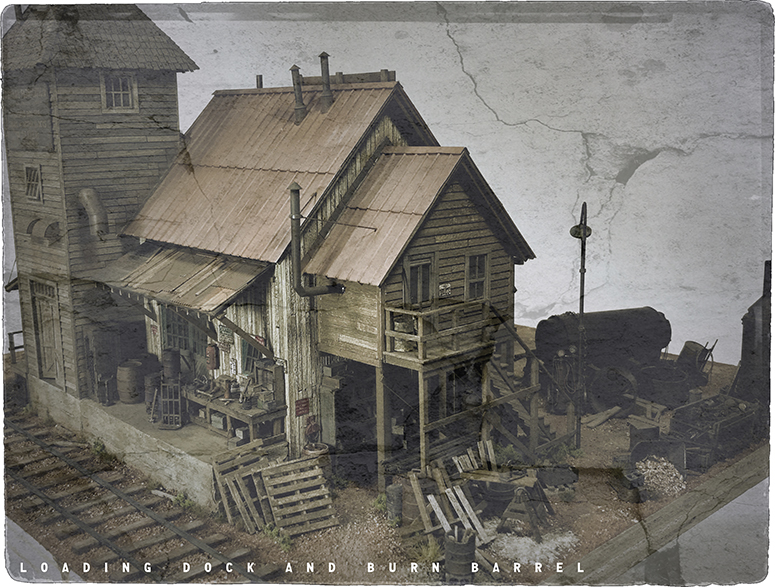 In the manufacturing of acetylene, three main components are needed. Carbide, acetone, and distilled water. On the rear loading dock you will find Carbide (in the wooden barrels) and the Acetone (in the blue drums). These raw materials are brought in by rail while the distilled water is obtained by distilling the local water supply. The acetylene is produced and the tanks are then filled inside the main building. Oxygen tanks are filled elsewhere and exchanged at O'Neills.
O'Neills Fabrication is a two-part kit and
both parts must be purchased
in order to complete the diorama
O Scale O'Neills Fabrication Part One
Kit 311a | Now Shipping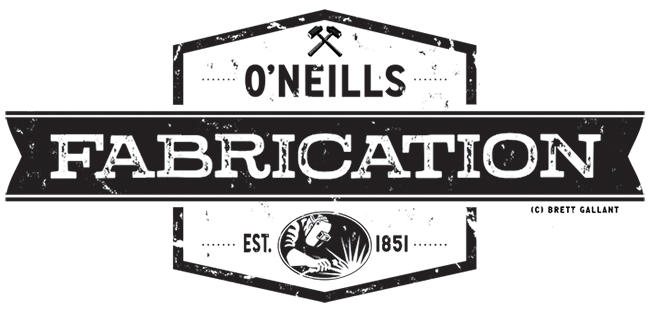 O Scale O'Neills Fabrication Part Two
Kit 311b | Now Shipping

O'Neills Fabrication is a two-part kit and both parts must be purchased in order to complete the diorama as pictured. Part One, includes the structures, structural components, and a great selection of details to get you going. Part two consists of my resin and metal detail castings for you to fully detail the diorama.
the O Scale version is a faithful upscale of my award winning HO Scale diorama (yeah, it's already taken a first place award!) But... I didn't just reproduce the HO Scale kit in O Scale, I added a ton of extra details and detailing... for example the awning over the fueling dock includes wall anchors, a frame, and guy wire supports. More stories are told including the incredible gas pump scene. New weathering techniques take advantage of the wonderful relationship the sierrawest paints have with chalk! These techniques were used on the acetylene tanks, large oil tank, and the corrugated roofing. New laser cut shingles that are so much closer to individual hand laid shake shingles... Re-imagining the way the details are cast. For example - the acetylene tanks. These are so very important to the diorama so I cast them in resin instead of metal. This allows a whole new weathering technique to be utilized. The resin tanks are more difficult to cast but this is the very essence of the two-part kit! I can go that extra mile and not cut corners! (Please only order Part Two if you have ordered Part One.)
The attention to the smallest detail is evident. The story telling is paramount in the development of each new kit. Instructions are provided leading you through every phase of construction including tool selection, assembly, weathering and aging, diorama composition, and scenery creation and application. It is of the utmost of importance to me that the techniques I develop and utilize are reproducible for modelers of all experience levels. When you view the pictures of O'Neills remember this. SierraWest kits are unique in the level and amount of detail provided. Since all four sides are fully detailed, you have a ton of flexibility in placement and view-ability.
Here are just a few of the features of SierraWest kits:
- Award Winning Board on Board Modeling Techniques -
- Learn My Techniques for Multiple Types of Wood Siding,
Masonry, Windows and Doors, and Roofing Materials -
- Large Assortment of New Castings and Realistic Clutter -
- Unique, Incredibly Fine Laser Made Details -
- Comprehensive Fully Illustrated Instructions -
- Thoughtful Time-Tested Techniques that You
Can Replicate to Advance your Skills and Confidence -
- Industry First Laser Cut Jigs and Assembly Aids -
- Intricate Laser Cut Windows, Doors, and Wall Framing -
- Signs Meticulously Researched and Reproduced
for Historical Accuracy and Time Period -
- Metal Roofing, Laser Cut Shingles, and Tarpapers -