Diorama and Pilot Model Designed and Constructed by Brett Gallant
Special Thanks to Ken Karns for His Assistance
and a Hearty Nod of Appreciation to Bill Obenauf, Alan Hubbard, and Joel Freedman
Based Upon an Original Concept by Carlton Cornish
Names, Logos, Design, and Photographs Copyright Brett Gallant

the Award Winning

O Scale O'Neills Fabrication
Part Two
A Tribute to My Friend Kevin O'Neill
1951-2013
Limited Edition Craftsman Kits 311a and 311b
O'Neills Fabrication diorama measures 15" x 16"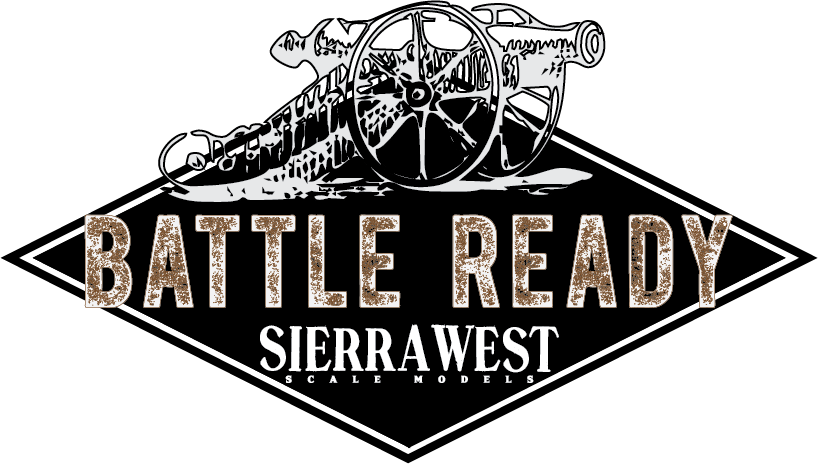 Updated with an Amazing Selection of 3D Printed Details!
Take in all the wonderful details and storytelling that is the heart of O'Neills Fabrication!
(the photographs below are of the completed diorama, parts one and two)
O'Neills Fabrication is a two-part kit. Part two consists of the resin and metal detail castings for you to fully detail the diorama. The pictures on this page are of the completed O'Neills Fabrication Diorama and include Part One (available separately) and Part Two.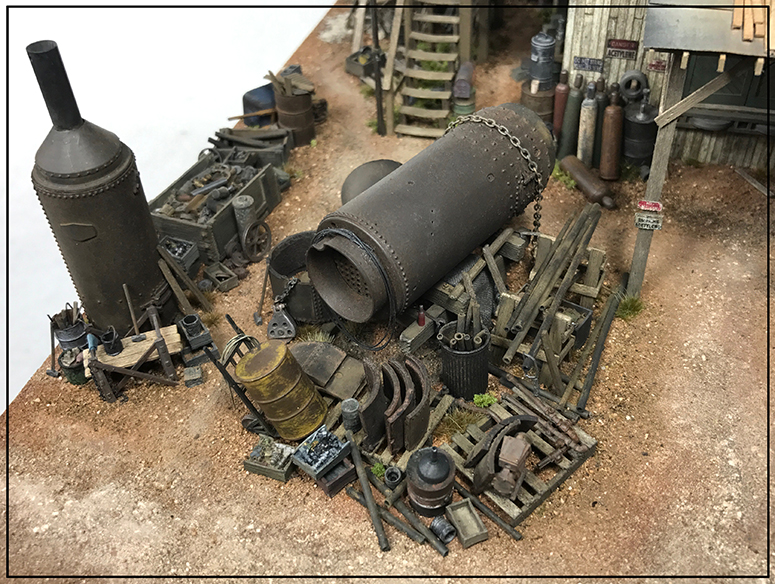 The scrapping yard scene features two boilers being cut up for scrap metal. This is such a fantastic scene and one I have always wanted to create. The boiler on its side is cradled in a brand new scrapping cart that the workers use to move it easily around the yard. The clutter is so realistic in its appearance. There is so much to take in looking at this wonderful scene that measures only 5" square! Notice the piping, valves, scrapped boiler pieces, cylinder, and the neat little scaffold in front of the vertical boiler. As you study the following photographs notice the rich deep, warm colors. This is all created with water based paints, artist chalk, and rubbing alcohol. My techniques have been used all over the the world by many award winning modelers and I am so proud of their achievements and results.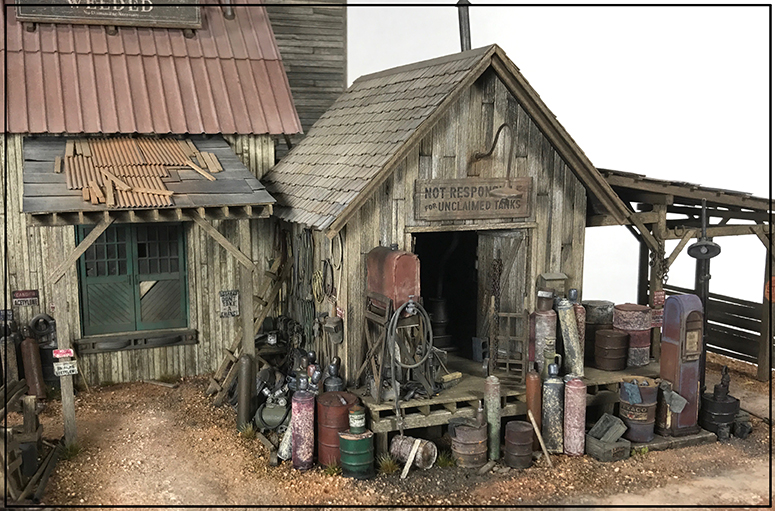 The details on the welding and repair shop dock create a realistically cluttered scene and are included in part one of O'Neills. All of these details speak of a busy operation with the appearance only individual castings can provide. Pay special attention to the wonderful hand truck. This is a new type of detail I created especially for O'Neills. It is impossible to cast such an accurate appearing hand truck in metal or resin so I set out to laser cut them in a prototypically thin material. You are going to love weathering and assembling these new details. Additional laser details include the raised kerosene tank support, oil drum carts, iron railings, welding gloves, hacksaws, fan belts, gaskets, and paint brushes. These details are so amazing in their appearance and simple to assemble and weather.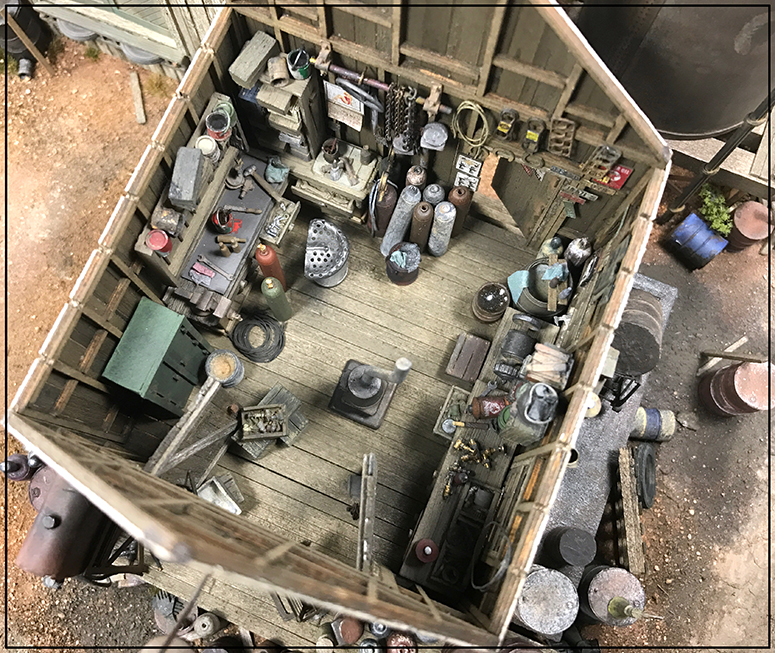 The interior of the 4" square welding shop proves I am seriously crazy! I have seen many best of show contest models that do not come close to this level of finely crafted detail. Tank valves are being degreased and cleaned on the right side of the shop. Tanks are cleaned and painted on the left side then sent over to the main building for filling. The workbenches are a comfortable combination of individual details and cast clutter. The interior is such a wonderful representation of my manufacturing philosophy. A satisfying mix of resin and metal castings along with laser cut detail like the fan belts, gaskets, paint brushes, and clipboards. My manual takes all the mystery out of creating scenes like this with lots of clear photographs and concise instructions on weathering and scene creation.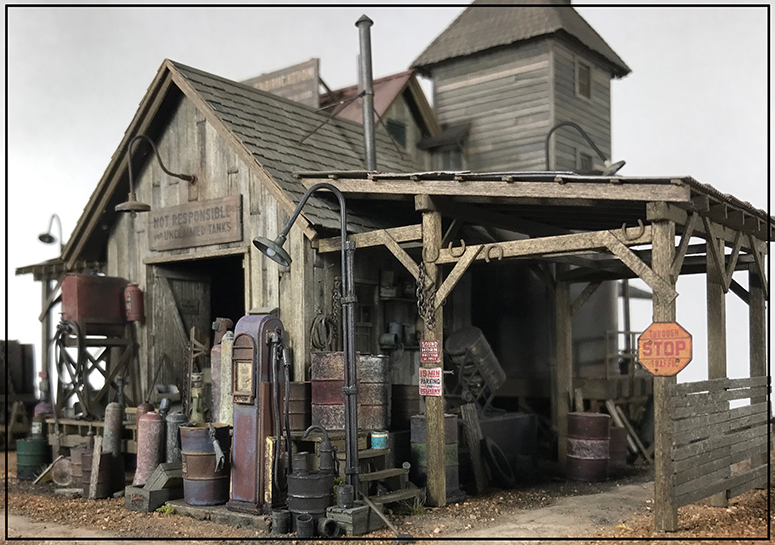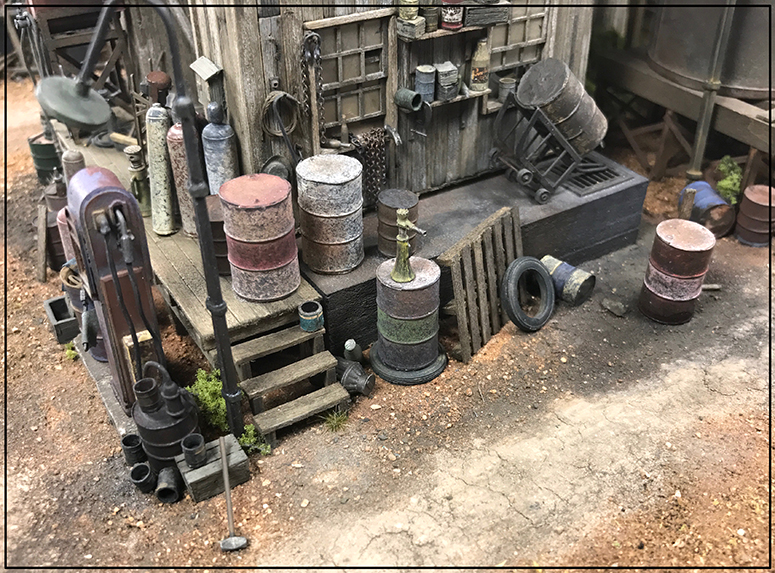 Removing the covered driveway exposes the raised concrete slab and sump underneath. The wonderful oil drum tipping cradle is one of my new laser details. Oil drums were off loaded from trucks using the tires to cushion their landing. They were then clamped onto the cradle and tipped over the sump where the oil would drain and be pumped into the large oil tank. Can't you just smell the oil? I assure you that the oil stain is 100% totally dry in the photograph. I will teach you how to achieve such realism using a water based paint, chalk, and rubbing alcohol. While we are looking at this scene notice the incredibly realistic weathering on the drums. This is so simple to achieve you won't believe it. I can't wait to share these techniques with you. A special thanks to Brian Marriott for his expertise in consulting with me to achieve this highly prototypical scene.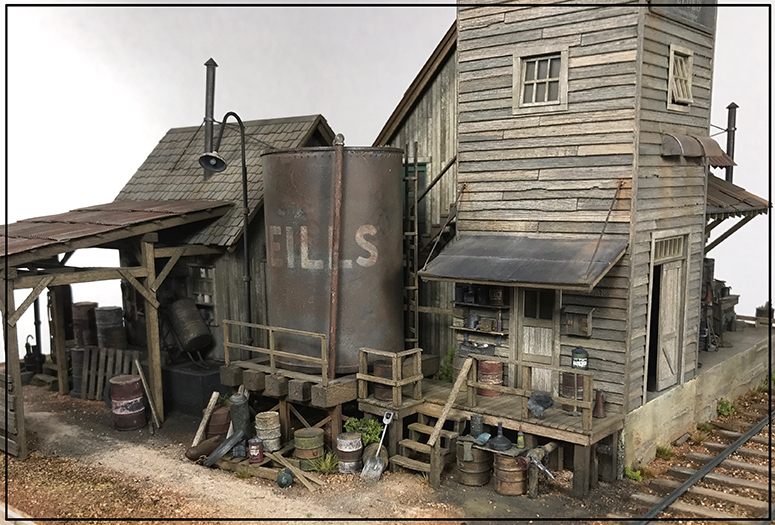 Here is a great view of the large oil tank with the O'Neills stenciling. To get this shot the photographer must have been standing on the front dock of the next Branchline Alley kit, the Brass and Iron Foundry. It burns the used motor oil to fuel its furnace. O'Neills is such a photogenic diorama on all four sides that it is difficult to choose the shots to show online! My famous comprehensive manual and digitally reproduced accurate templates guide you thoughtfully along the construction process. I consider myself a teacher in addition to being a manufacturer. My manual provides guidance and confidence building techniques allowing you to reproduce the results pictured here. To supplement the manual I have also provided a series of short instructional videos on my website that demonstrate important techniques. I am so proud of the number of customers who have won major national awards with the SierraWest kits they have constructed, following the techniques I have developed! These wonderful customers have made SierraWest the most awarded craftsman kit manufacturer ever!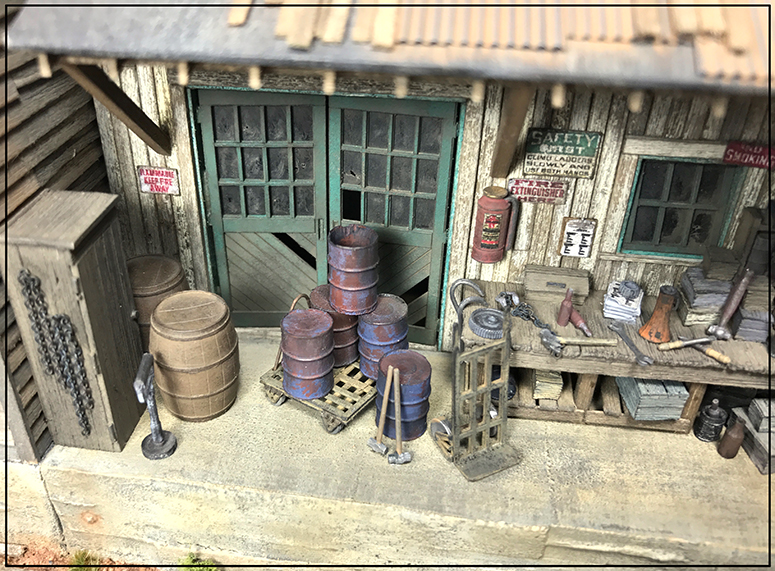 The rear loading dock with the carbide and acetone supplies needed to "brew" the acetylene inside. The cement loading docks are resin castings and add so much character to O'Neills. Remember, this is the back of the diorama. O'Neills includes many laser cut components to aide in your construction. These include assembly jigs for the palettes and saw horses, wall framing, doors, and windows. They are designed to compliment the craftsman building techniques, not replace them. This is very important. Careful thought and design practice combined with decades of experience provide for a unique building experience. I really love the four wheeled cart under the acetone drums.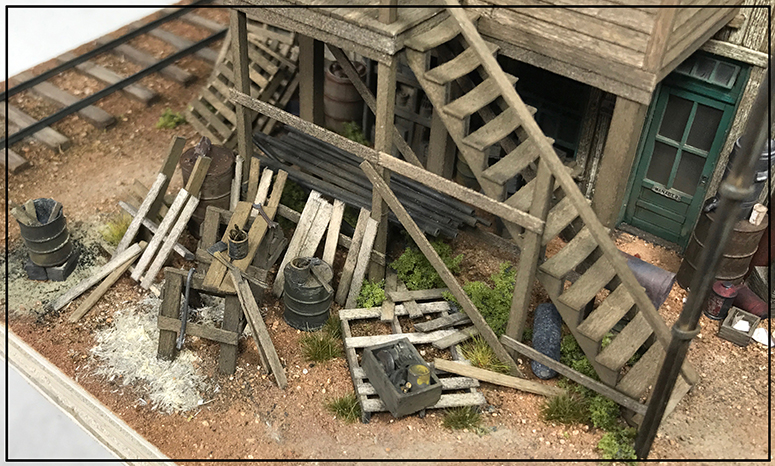 This side view of the downstairs main office and burn barrel area and is one of my favorite views. Old palettes are chopped up and burned in this scene I am never satisfied to sit back and use the same techniques and castings from kit to kit, year after year. I am always looking for better ways to weather, new castings to enhance the diorama, and better scenery materials. This adds interest and provides all of us a unique learning experience that never gets boring or stale. I am so proud that my kits are always evolving and improving!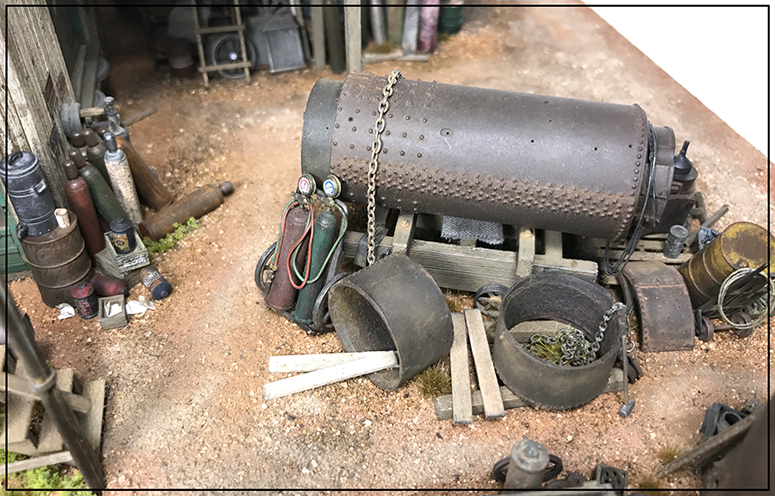 One final view of the boiler cart and scrapping yard. I especially love the welding cart in this scene. It was created by Kevin O'Neill for my Wood Cutters Shack diorama many years ago. I removed it from that diorama to include it here. That really means a lot to me! My friend Ken Karns weathered the boilers and I just love the subtle rusting along the rivet lines. Notice the water cooler and paper cups. I really enjoy creating weathering techniques using a minimum of materials. Artist chalk, my custom Reaper Miniatures water based acrylic paints, and rubbing alcohol comprise the short list of supplies I used throughout the entire diorama.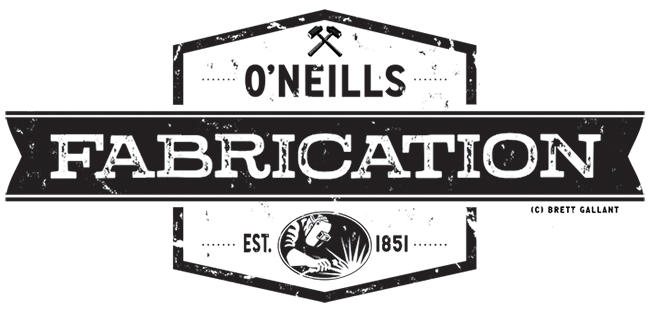 Special Order - Reservation Kit. What is a "Special Order" kit?
These are older kits that I do not make often. Instead of paying in full for this kit up front, you simply make a $50 non-refundable deposit with the balance due when your kit is ready to ship. If you would like to reserve this kit simply check out like normal and pay the $50 plus a small shipping fee. (This is a bookkeeping thing.) Once your kit is ready I will send an email with further instructions. Kits usually take about 90 days to ready for shipment. For more information on this specific kit please contact me prior to reserving.
O Scale O'Neills Fabrication Part Two
Kit 311b | Special Order Reservation
$285 plus shipping and applicable taxes
A $50 Deposit is Due Now, Upon Checkout
Balance Due + Shipping Upon Shipment



the O Scale version is a faithful upscale of my award winning HO Scale diorama (yeah, it's already taken a first place award!) But... I didn't just reproduce the HO Scale kit in O Scale, I added a ton of extra details and detailing... for example the awning over the fueling dock includes wall anchors, a frame, and guy wire supports. More stories are told including the incredible gas pump scene. New weathering techniques take advantage of the wonderful relationship the sierrawest paints have with chalk! These techniques were used on the acetylene tanks, large oil tank, and the corrugated roofing. New laser cut shingles that are so much closer to individual hand laid shake shingles... Re-imagining the way the details are cast. For example - the acetylene tanks. These are so very important to the diorama so I cast them in resin instead of metal. This allows a whole new weathering technique to be utilized. The resin tanks are more difficult to cast but this is the very essence of the two-part kit! I can go that extra mile and not cut corners! (Please only order Part Two if you have ordered Part One.)
The attention to the smallest detail is evident. The story telling is paramount in the development of each new kit. Instructions are provided leading you through every phase of construction including tool selection, assembly, weathering and aging, diorama composition, and scenery creation and application. It is of the utmost of importance to me that the techniques I develop and utilize are reproducible for modelers of all experience levels. When you view the pictures of O'Neills remember this. SierraWest kits are unique in the level and amount of detail provided. Since all four sides are fully detailed, you have a ton of flexibility in placement and view-ability.
Here are just a few of the features of SierraWest kits:
- Award Winning Board on Board Modeling Techniques -
- Learn My Techniques for Multiple Types of Wood Siding,
Masonry, Windows and Doors, and Roofing Materials -
- Large Assortment of New Castings and Realistic Clutter -
- Unique, Incredibly Fine Laser Made Details -
- Comprehensive Fully Illustrated Instructions -
- Thoughtful Time-Tested Techniques that You
Can Replicate to Advance your Skills and Confidence -
- Industry First Laser Cut Jigs and Assembly Aids -
- Intricate Laser Cut Windows, Doors, and Wall Framing -
- Signs Meticulously Researched and Reproduced
for Historical Accuracy and Time Period -
- Metal Roofing, Laser Cut Shingles, and Tarpapers -