Pilot Models Constructed by Brett Gallant
Names, Logos, Designs and Photographs Owned and Copyright Brett Gallant
the O Scale
Brass and Iron Foundry
Subscription Program
Place Your Reservation Now!

Limited to Just 50 Kits
With a little (ok a whole bunch) of help from our good friend and award winning modeler Joel Freedman. Joel will be constructing the components for the pilot model and sending them here to me in North Texas to assemble and photograph for the extensive manual!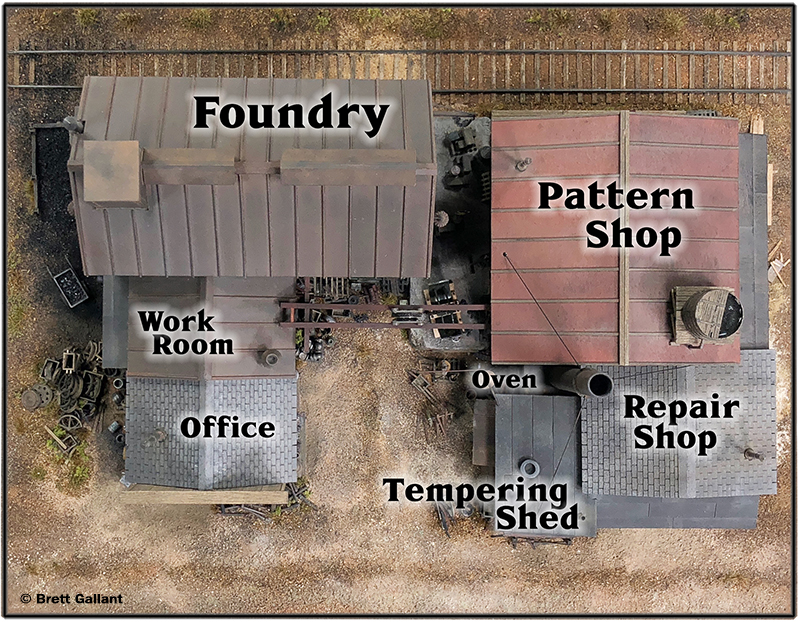 The photograph above is of the HO Scale Foundry. It is a thoughtfully researched multi-structure diorama with so many fascinating angles and scenes. The large stone main Foundry building anchors the diorama. Extending toward the front is a small stone materials preparation workroom and the company office. The clapboard office with its simple false front and recessed entry is a vintage scene that would have been so common anywhere in North America. The Pattern Shop anchors the right side of the diorama with the repair shop and incredible tempering oven/shed scene where truck springs were made in the early days of the automobile. Henry Ford would have been just one of the many characters seen wandering about the scene! The O Scale version is a faithful upscale of my award winning HO Scale diorama. The following kits are planned to be released in the coming 12-18 months.
(all prices listed are estimates and subject to change)
The diorama is two completely separate kits and is being divided up as such
strictly limited to 50 of each kit

Brass and Iron Foundry Part One
314a - Structures $275 - $300
Pattern Shop
Repair Shop
Tempering Shed and Oven

314b - Exterior Details $100 - $125
Pattern Shop
Repair Shop

314c - Exterior Details $55 - $75
Transfer Dock

314d - Exterior Details $75 - $100
Tempering Shed
Tempering Oven
Brass and Iron Foundry Part Two
315a - Structures $300 - $325
Foundry
Work Room
Office

315b - Exterior Details $110 - $135
Work Room
Office

315c - Exterior Details $100 - $125
Gantry Crane and Yard

315d - Exterior Details $75 - $100
Sand Bay
Coal Bin
Part Three
O Scale Foundry Bonus Detail Set
O Scale Brass and Iron Foundry
Subscription Reservation Deposit
Kit 314 | Reserve Now
This is a $50 Non-Refundable Deposit
It Guarantees your spot in the run of 50 kits
More Information will be emailed to those who Subcribe