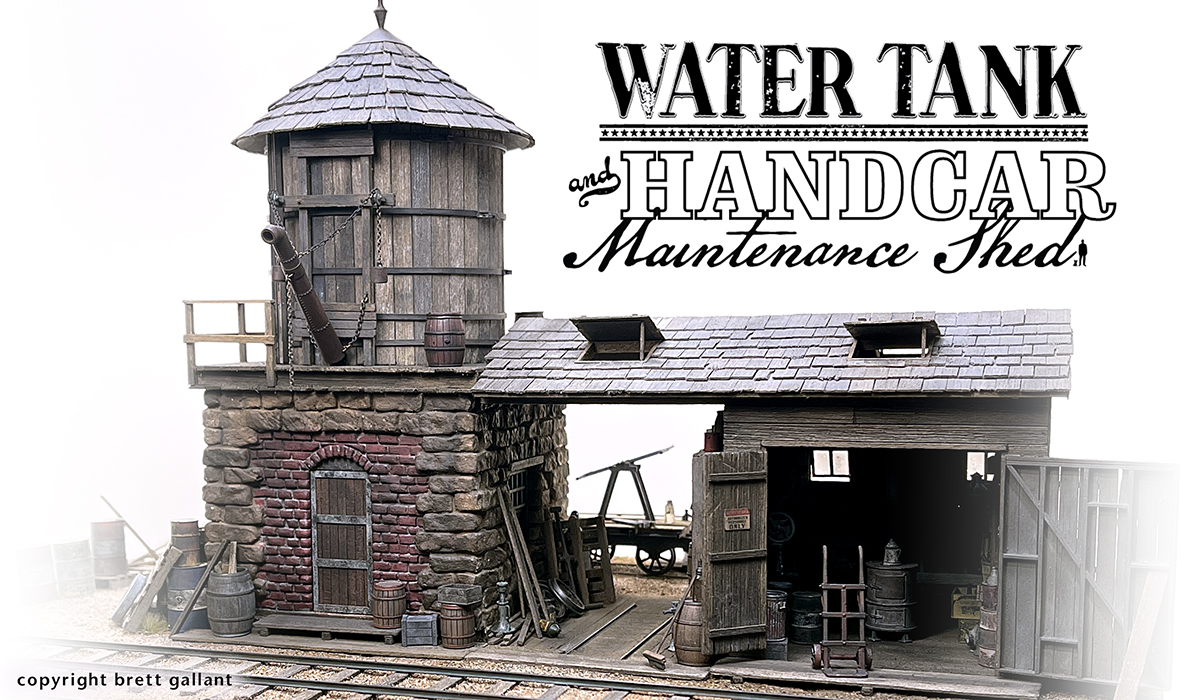 - A Tribute to George Sellios -
Pilot Model Constructed by Brett Gallant
Handcar Concept and Stone Wall Masters by Karl Allison
3D CAD Artwork by Emery Jackson, Jim Murdock, Karl Allison, and Brett Gallant
Names, Logos, Design, and Photographs Copyright Brett Gallant
the O Scale
Water Tank and Handcar Maintenance Shed
Craftsman Kit Number 315

as pictured the diorama measures approximately 13" x 9"
It was Twenty Years Ago Today...
OK, well maybe not exactly twenty years ago today... but it might as well have been! Back in 1998 or so I decided to release my first O Scale Craftsman Kit. The On30 market was starting to explode and I had recently switched to O Scale for my personal modeling. I chose to upscale the Water Tank and Storage Shed kit I released a few years earlier in HO Scale. That kit was a tribute to George Sellios. As I wrote in the introduction to that 1997 Water Tank construction manual: "When I was a young teenager I built my first real craftsman kit. As with many of you it came in a "yellow box". Those kits from the early 1970's inspired me time and time again to sit down and build. That to me is what modeling is all about, making and creating something to be proud of." As it turned out, shortly after starting work on the O Scale Water Tank, I purchased CHB Models from Charlie Brommer. The design morphed into the Mill Engine and Boiler House to showcase the amazing CHB Mill Engine and Boiler kits. Little did I realize that it would be over twenty years before the O Scale Water Tank kit would make its way into the world!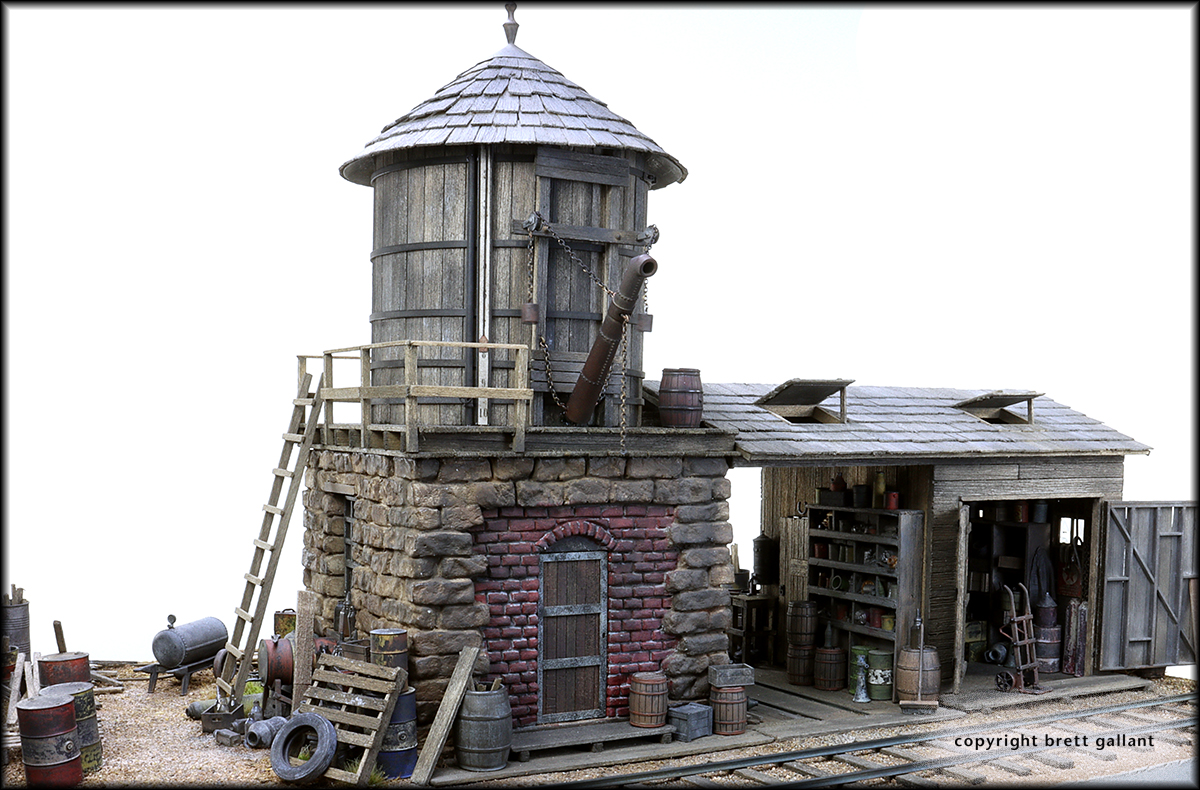 The Water Tank and Handcar Maintenance Shed is the first kit I designed from the ground up in the SierraWest 3D Printing era. While all of my kits currently shipping have been significantly updated with 3D Printed details, 3D Printing castings specifically for the Water Tank while it was in development was paramount in its conception and design. Keep this in mind as you study the photographs. I enjoy telling stories and the many new details created for this kit bring storytelling to the forefront! Many of the wonderfully detailed scenes would not have been possible to the level of accuracy represented here without the mastery of this emerging technology.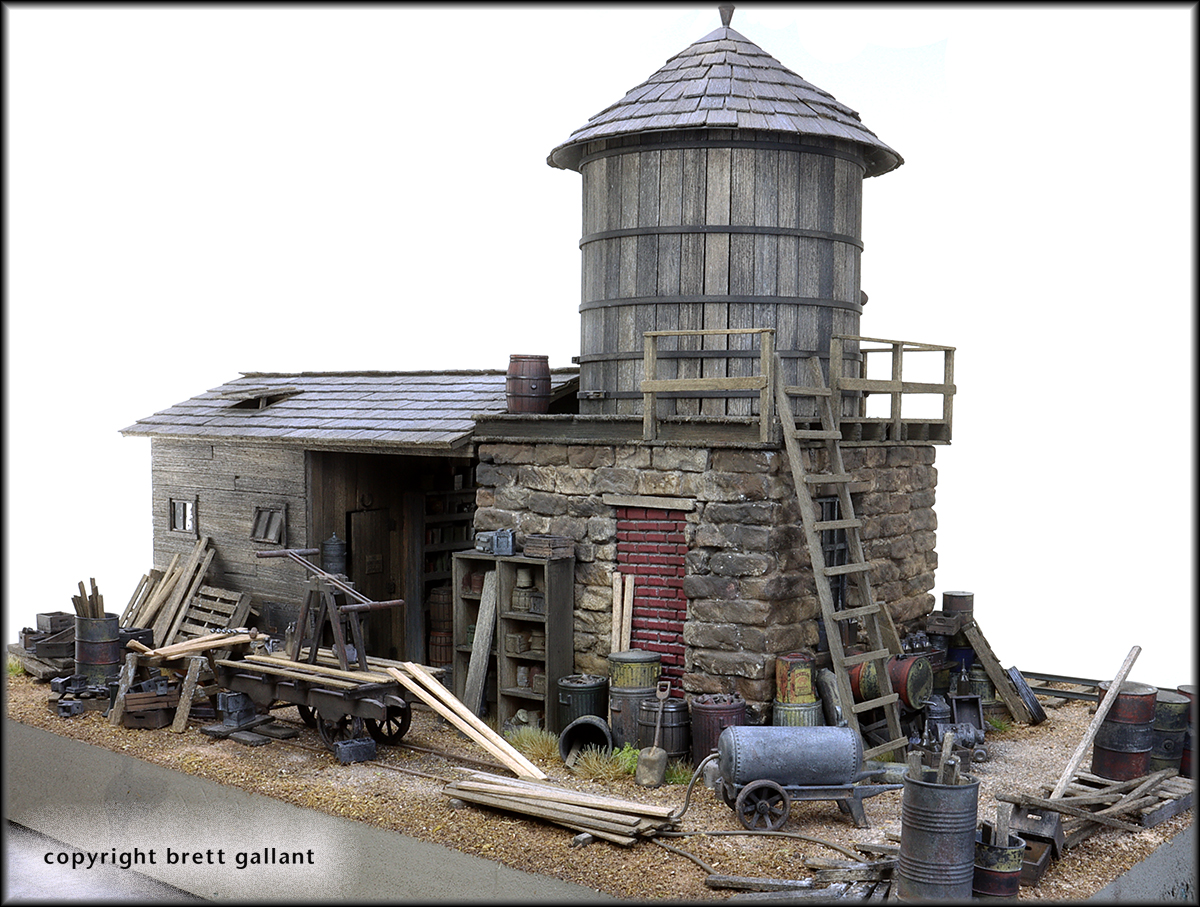 The Maintenance Shed is constructed utilizing individual siding over a tarpaper covered, laser cut wall frame. The laser cut walls create a very accurate frame that is fast and easy to construct. However, it retains the prototypical appearance of a hand-made one. You are then able to concentrate on detailing the siding. The depth and character of the walls are evident in the photographs. The included laser cut window components are designed thoughtfully so they enhance the structures appearance. The laser is used only as a construction aide, not a substitute for quality modeling and sound techniques.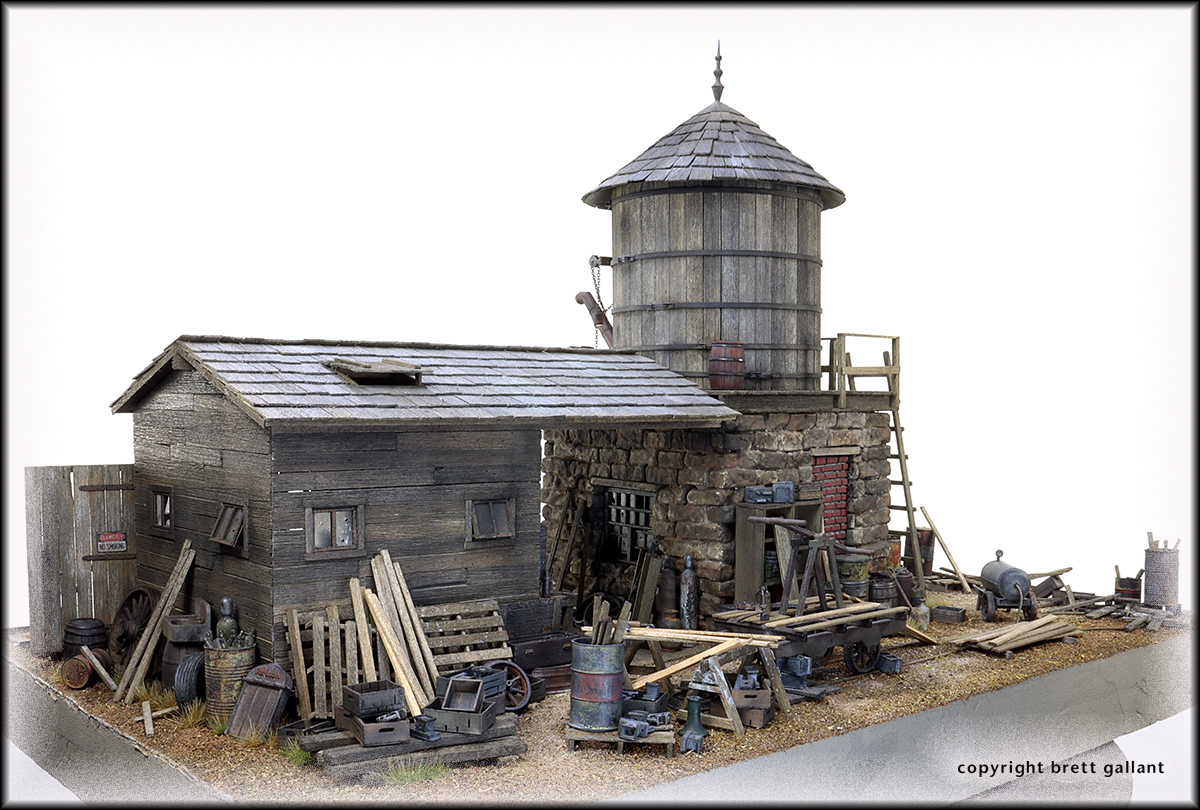 Yes, ALL the incredible details pictured are included! I spend most of my production time creating the many parts found in my kits. I utilize 3D Printed, hand-poured resin, and metal to create my castings with unrivaled clarity and sharpness. Employing three very different materials and proprietary casting techniques allows me a tremendous amount of creative freedom in providing you with the best assortment possible. I take their quality very seriously and make the finest detail parts available. Study the diorama, inside and out... notice how realistic the clutter appears. The many scenes are created using individual components like cans, wrenches, gears, bottles, etc... Weathered and painted separately then glued in place. This allows you to concentrate on creating more realistic appearing scenes with natural variety and unique storytelling. Making it your own by arranging the clutter as you desire is a simple and enjoyable process.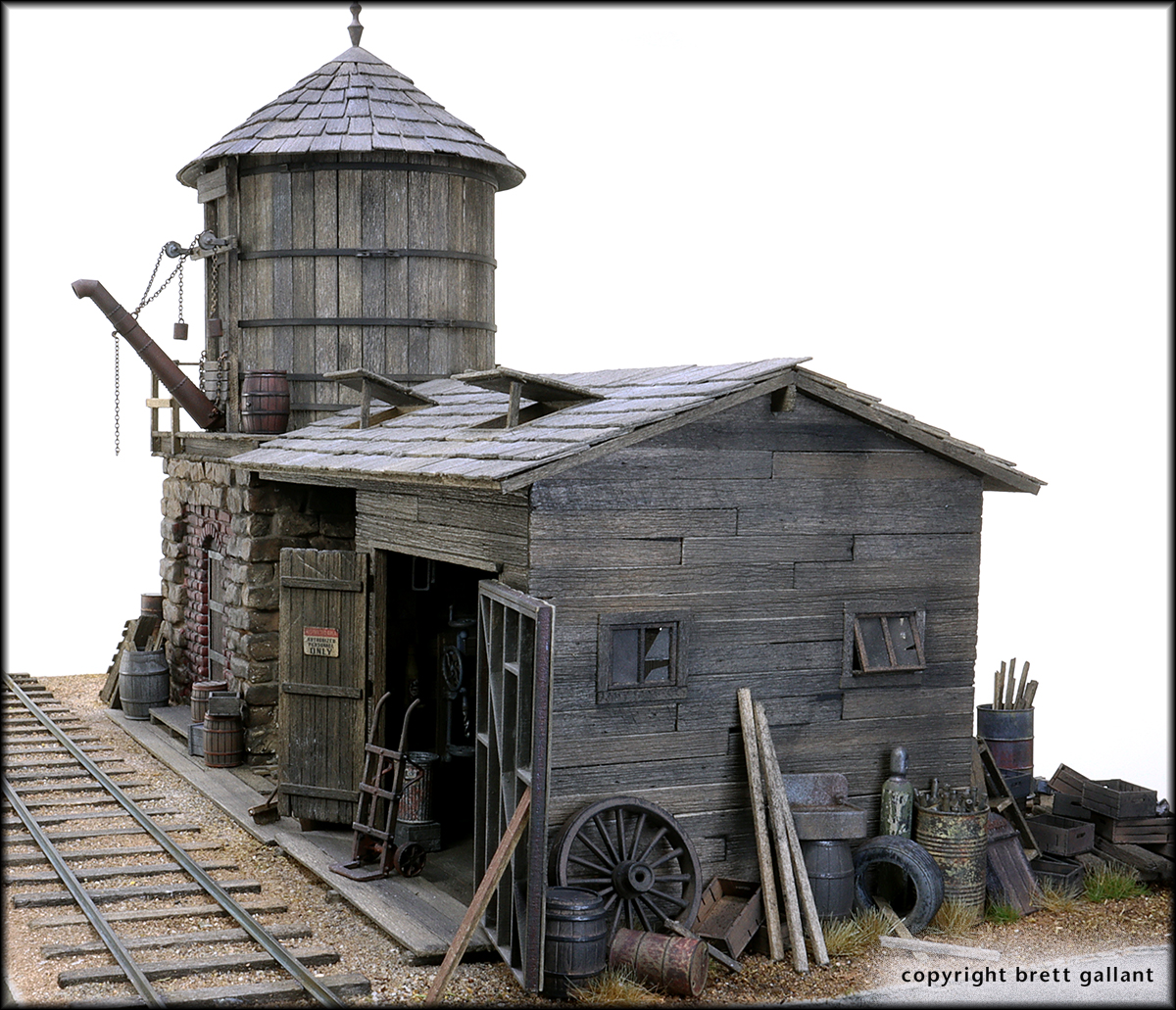 Scene creation and story telling are the focus of my kits. Everything I do in creating a miniature world is designed to provide information to the viewer. The era, age, care (or neglect) of the environment, level of activity, etc... are all created when we build a kit. Wipe the details away and the backbone for that story remains but it is the very details themselves that create interest and form the narrative.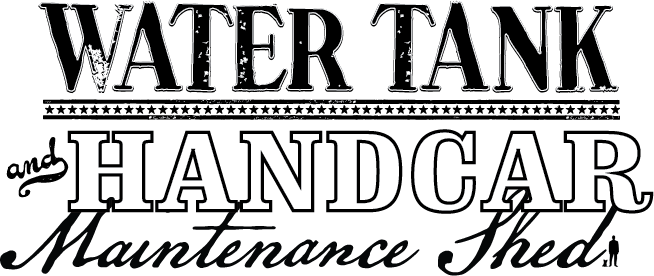 O Scale Water Tank and Handcar Maintenance Shed
Kit 315 | Now Shipping
Everything Pictured is Included Except Track and Scenery
The Diorama Measures Approximately 13" x 9"
price does not include shipping and/or taxes
My modeling passion is creating prototypically detailed scenes like the one's found in the many railroad history books we collect. I want my dioramas to evoke nostalgic memories and feelings reminiscent of the photographs found in those books. Combining castings, laser cut components, and the scenery is the very definition of diorama modeling and a true art form. I love it when non-modelers "get it" discovering the scenes narrative among the various components. My goal is to teach customers how I achieve these results and am so pleased to be able to combine my manual and online video tutorials for an awesome combination. I consider myself a teacher, cheerleader, and mentor as well as a kit manufacturer. This is so important to me.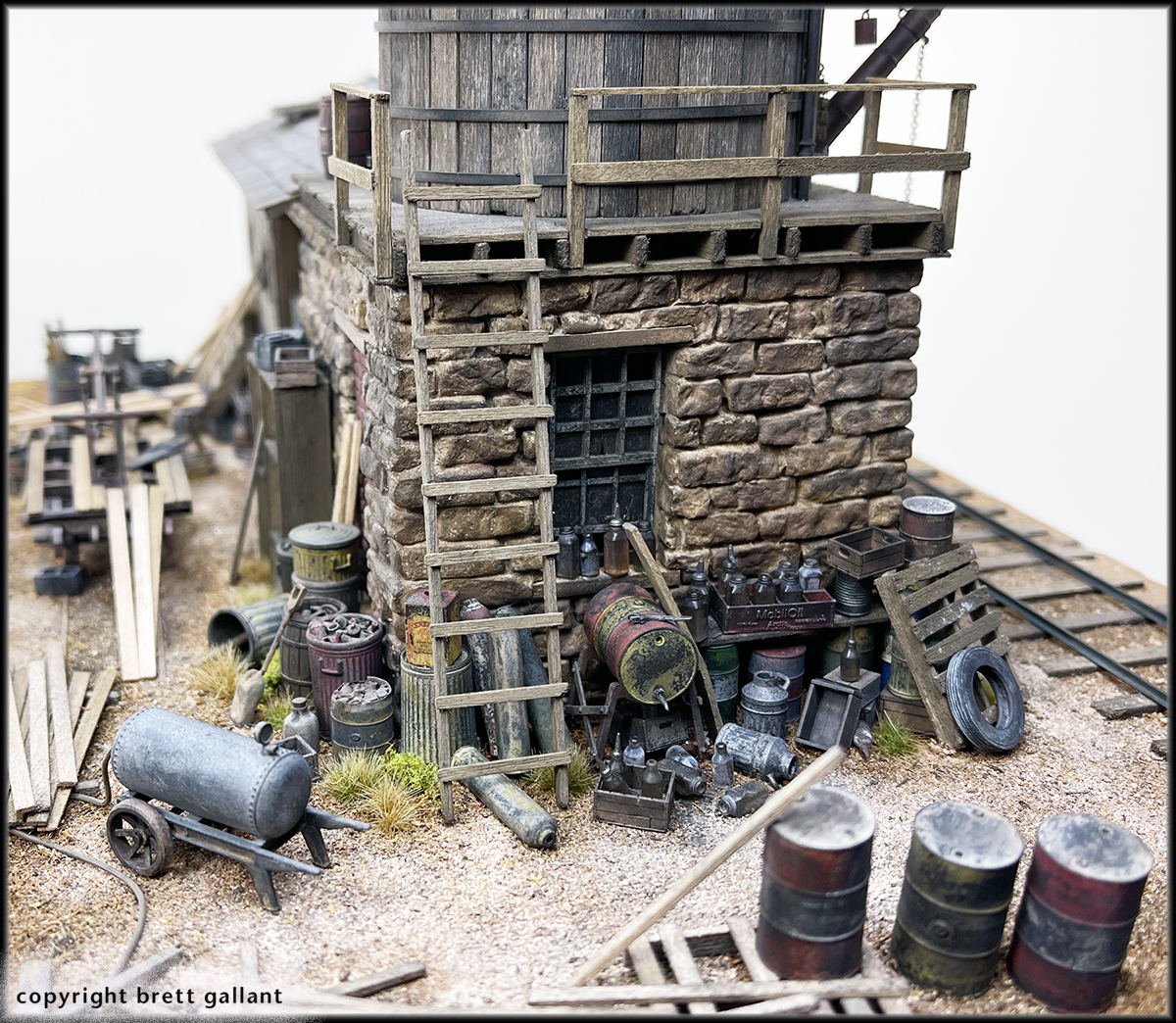 The focal point of the diorama is the wonderful cut stone and brick pump house masterfully created with individual stones by Karl Allison. Meticulously cast in my hand poured resin, it features interlocking corners for a prototypical appearance. Instructions are provided leading you through every phase of construction including tool selection, assembly, weathering and aging, diorama composition, and scenery creation and application. It is of the utmost of importance to me that the techniques I develop and utilize are reproducible for modelers of all experience levels. When you view the pictures of the Water Tank remember this. SierraWest kits are unique in the level and amount of detail provided. Since all four sides are fully detailed, you have a ton of flexibility in placement and view-ability on a layout. Be sure to visit the "University" link on my website for updated supplier listings and short technique videos. Many, many customers have used my techniques, building a SierraWest kit, and won best of show awards at major national shows. I am very proud of them!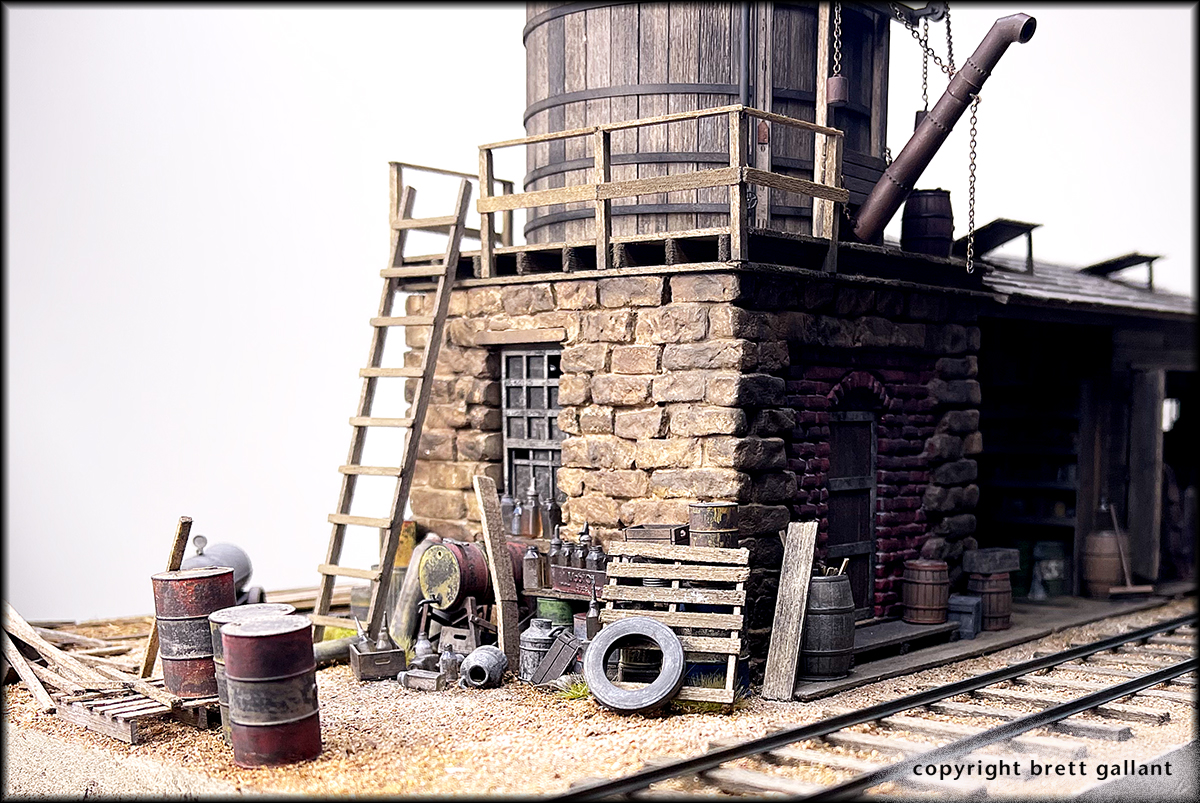 My favorite story is the oil bottle filling scene. Handcars were very important in the early days of railroading. They were inexpensive to maintain and operate and were very adept at delivering crews and small supplies to the job sites. These small bottles were the perfect commodity for a handcar to transport. This scene would not have been possible without 3D Printing! Just look at those "glass" bottles, truly amazing. The finishing techniques are so simple, you will be blown away with the results. Check out the oil drum on its stand as well as the trio of drums off to the edge waiting their turn on the stand to keep those bottles filled.
Inspired by the wonderful modeling of Robert Goyvaerts, this scene with the trash cans, drums, and barrels filled with trash occupies the back of the stone and brick pump house. What an awesome story!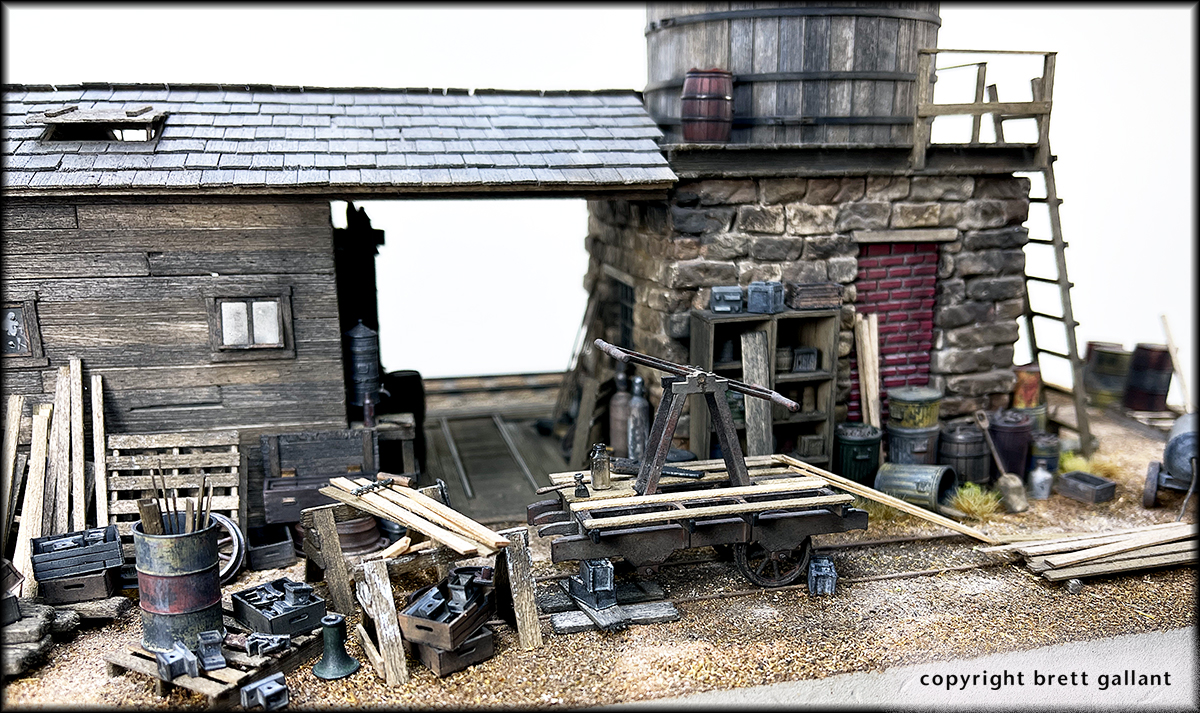 As we move to the back of the diorama the handcar being overhauled becomes the focal point. It is being re-decked and fitted with new wheels. This is a version of the beautiful CHB Models Denver Handcar. Study the photographs carefully, there's a lot of small details like the super detailed auger and hatchet hammer. Does diorama modeling get any better than this?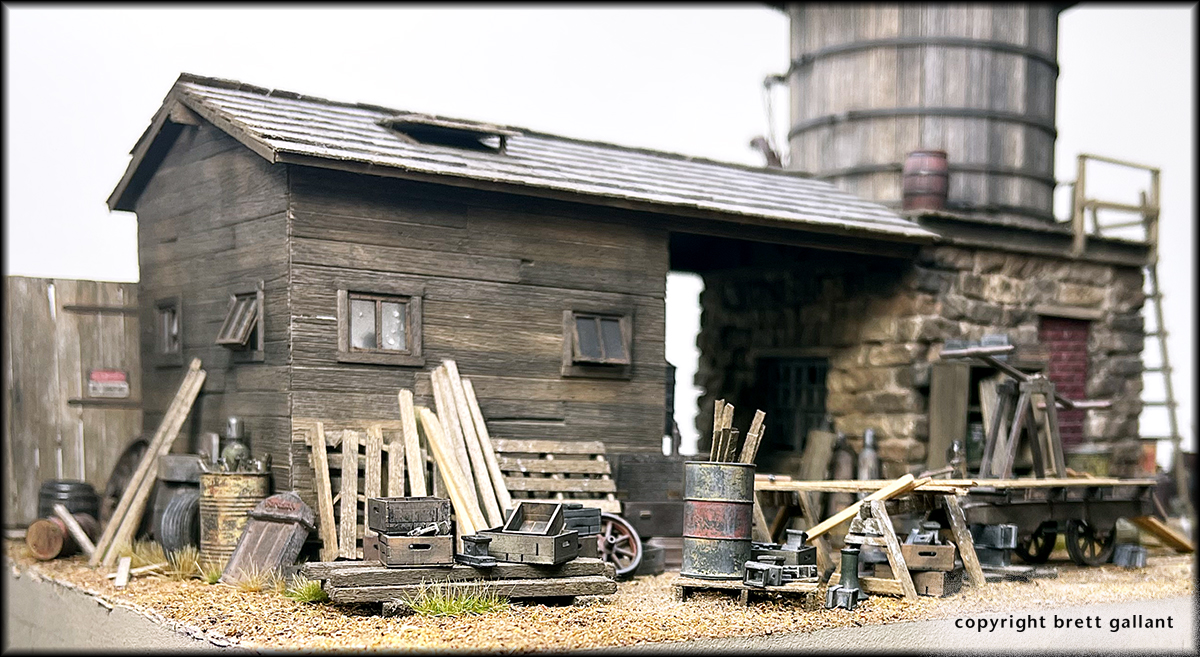 I just love the back corner with the random pallets leaning against the maintenance shed and crates filled with supplies like couplers and brake shoes. The meandering pathway winding its way through all of the junk and clutter makes for yet another story and is just so "rail-roady." There is nothing more classic than a water tank and when combined with the handcar you get pure gold!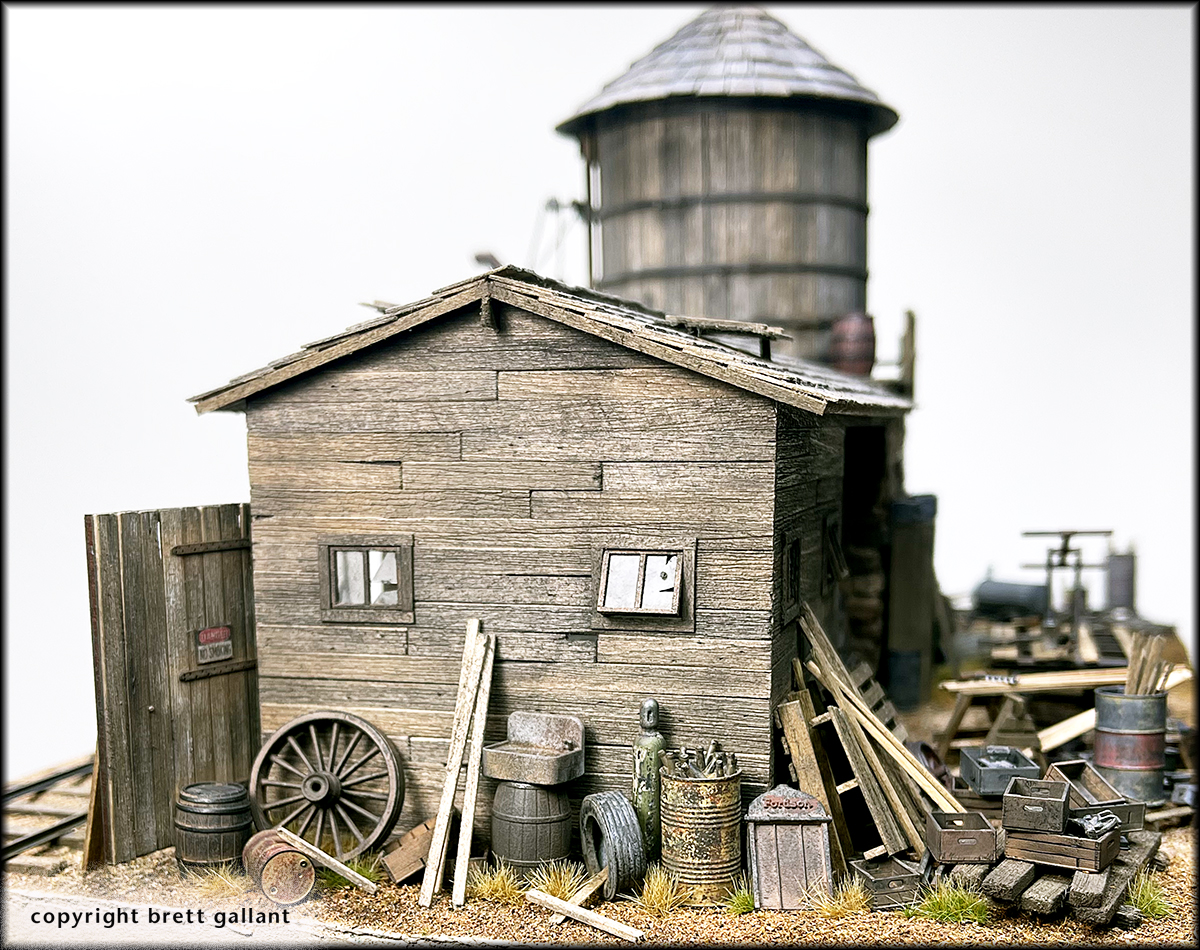 So I didn't forget to detail the far side of the diorama! Check out that old rusty sink and prototypical wagon wheel! What beauties, such simple and common details but executed perfectly only the way 3D Printed details could achieve.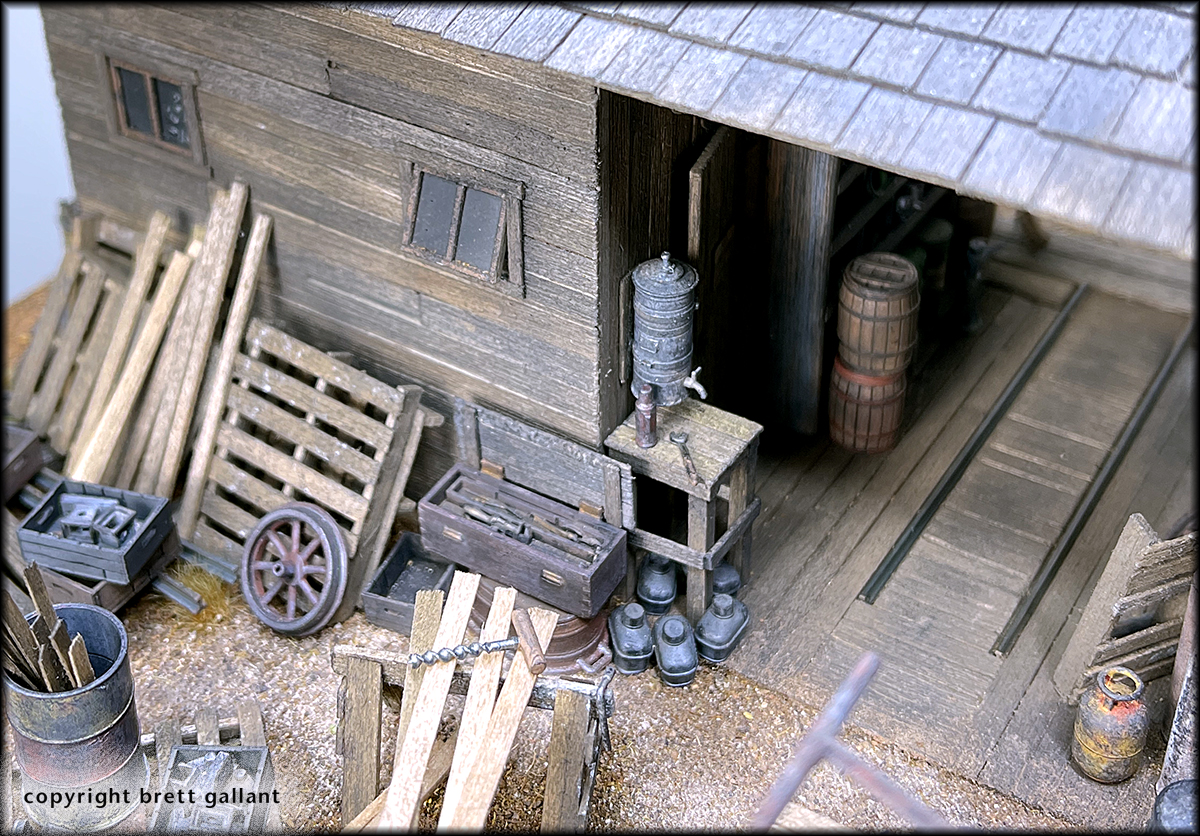 This little scene is very important for two reasons. Back in about 2007, my dear friend Brain Nolan constructed an O Scale Machine Shop diorama. (Yeah it won like 1000 awards!) One of his favorite scenes was a small water dispenser mounted on a wall with a wooden table underneath. Need I say more? Brian was such an inspirational modeler and I am so happy to be able to honor him in this small way. Secondly, I mentioned earlier that handcars were used to transport and deliver small supplies to the field like the oil bottles. Note those small oval "tin lunchboxes" underneath the table. They were a very common item found on the decks of handcars all over North America. The small round cap on top was a removable tin drinking cup. I wonder what was packed inside? I also wonder as well what the boys in the field were drinking? I will go out on a limb and guarantee it wasn't Perrier lemon flavored sparkling water!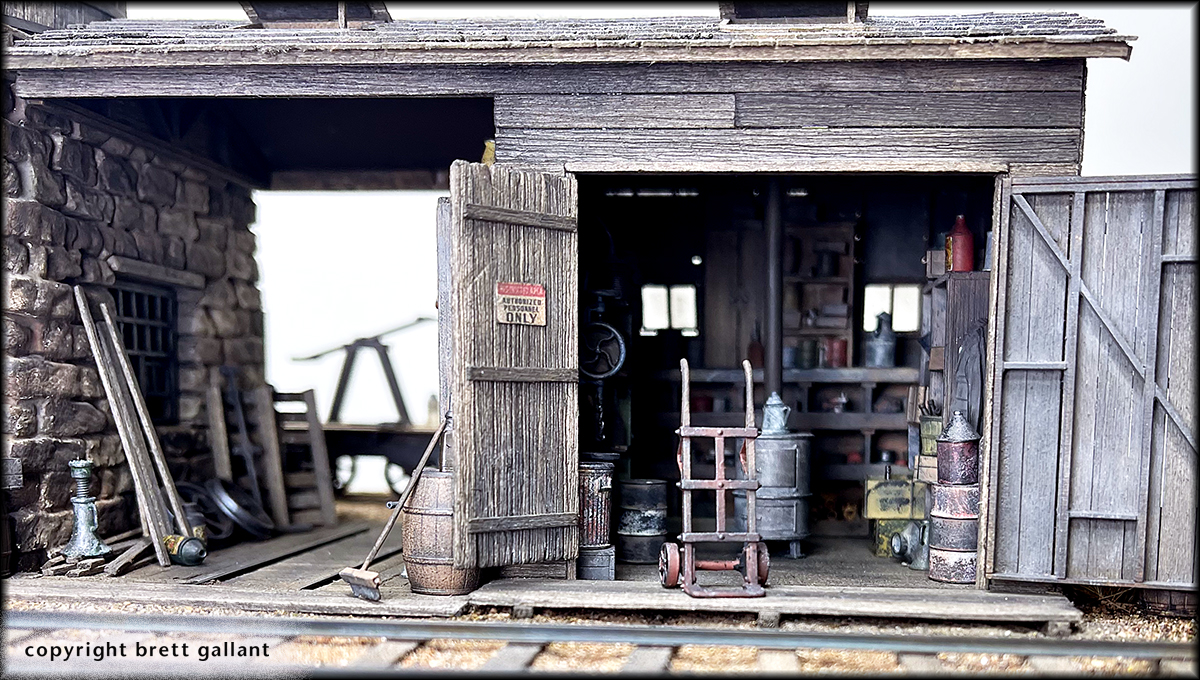 The interior of the small maintenance shed and open handcar bay are as equally detailed as the exterior. I love the small wall-mounted, hand powered drill. What an incredible detail! No assembly required, it's a one-piece 3D Printed detail. Also be sure to check out the old converted oil drum shop stove. Notice the coffee pot on top of that stove? This has been such a fun and fulfilling project, I hope that you find the same enjoyment in building it as I had in producing it! Don't forget I am here if you have any questions or need support while building your version of the O Scale Water Tank and Handcar Maintenance Shed.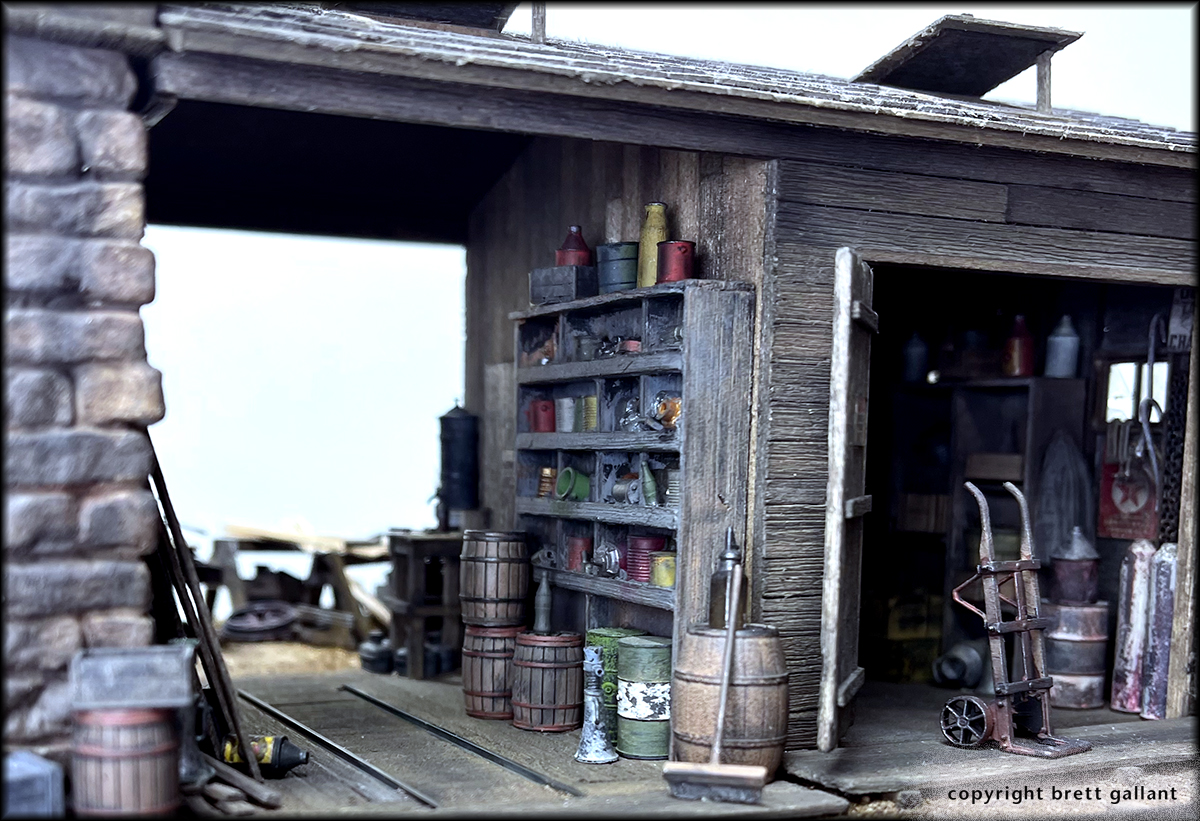 I founded SierraWest in 1995 and have been a one man operation since day one. I make everything by hand to my exacting standards and know you will be pleased with your kit! I will never sacrifice quality for speed and always provide exceptional customer service and support including fast response to emails and phone calls. I am always here if you have any questions so please feel free to contact me anytime before or after you order. Thank you sincerely for you support! Be sure to click on the video below and watch a complete narrated tour of the Water Tank diorama.
Here are just a few of the features of SierraWest kits:
- Award Winning Board on Board Modeling Techniques -
- Learn My Techniques for Detailing Wood Siding,
Windows and Doors, and Roofing Materials -
- Large Assortment of New Castings and Realistic Clutter -
- Unique, Incredibly Fine Laser Made Details -
- Comprehensive Fully Illustrated Instructions -
- Thoughtful Time-Tested Techniques that You
Can Replicate to Advance your Skills and Confidence -
- Industry First Laser Cut Jigs and Assembly Aids -
- Intricate Laser Cut Windows, Doors, and Wall Framing
Designed to Enhance the Structures Appearance -
- Signs Meticulously Researched and Reproduced
for Historical Accuracy and Time Period -